Regular price
Sale price
$19.97
Unit price
per
Sale
Sold out
3000 mg Strength per Capsule
200 Capsules per Bottle
Powerful 10:1 Extract
100% Vegetarian
Pharmaceutical Quality
FDA and GMP Certified
Made in the USA
View full details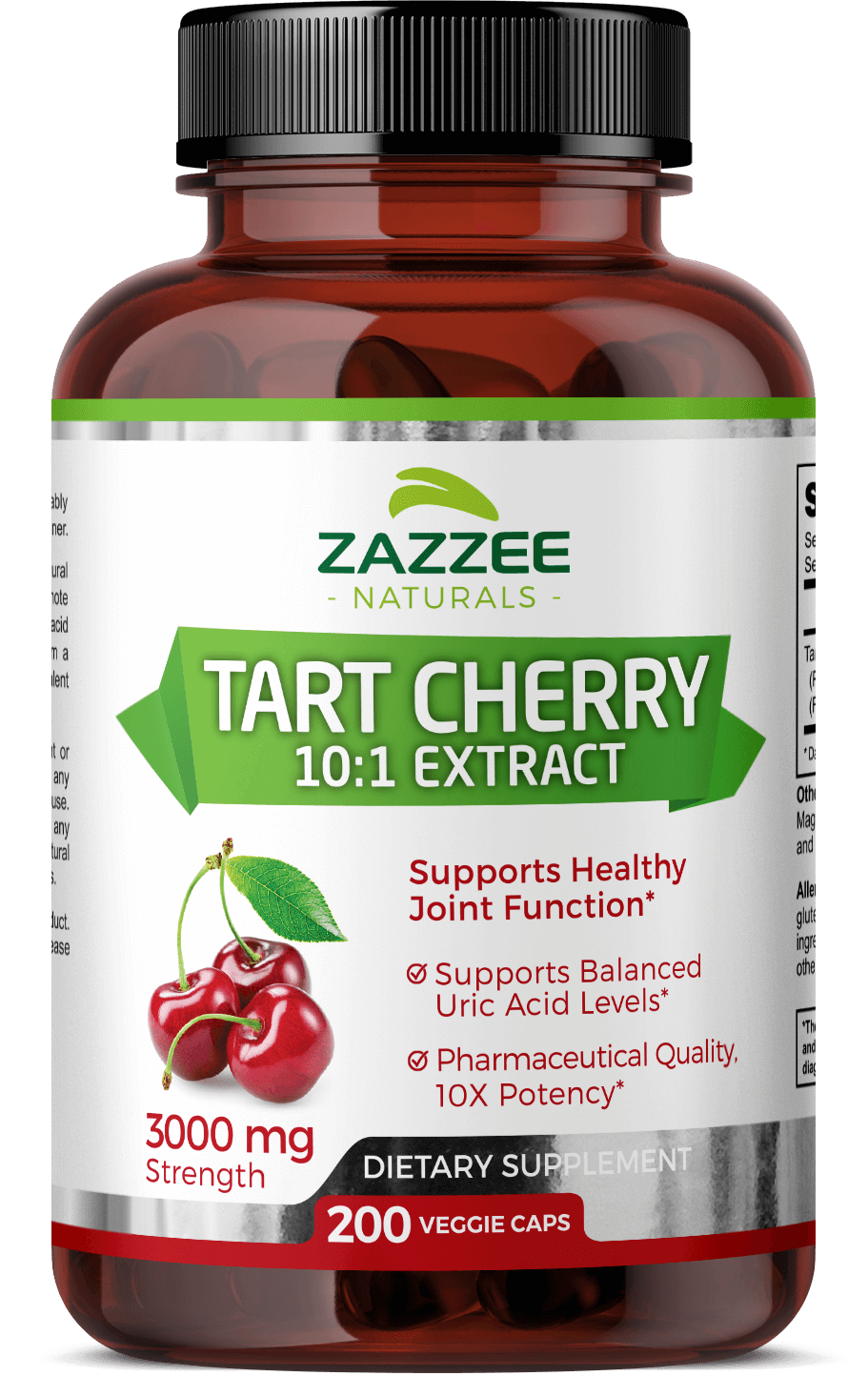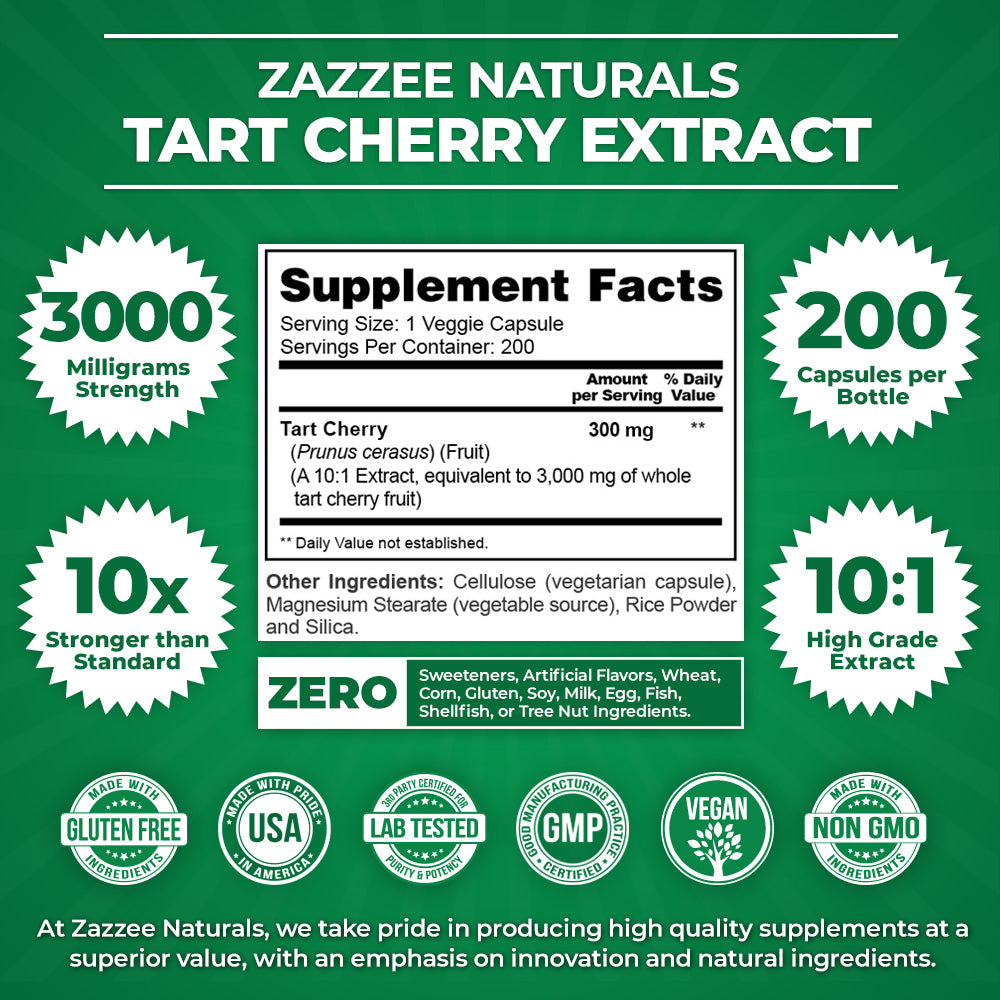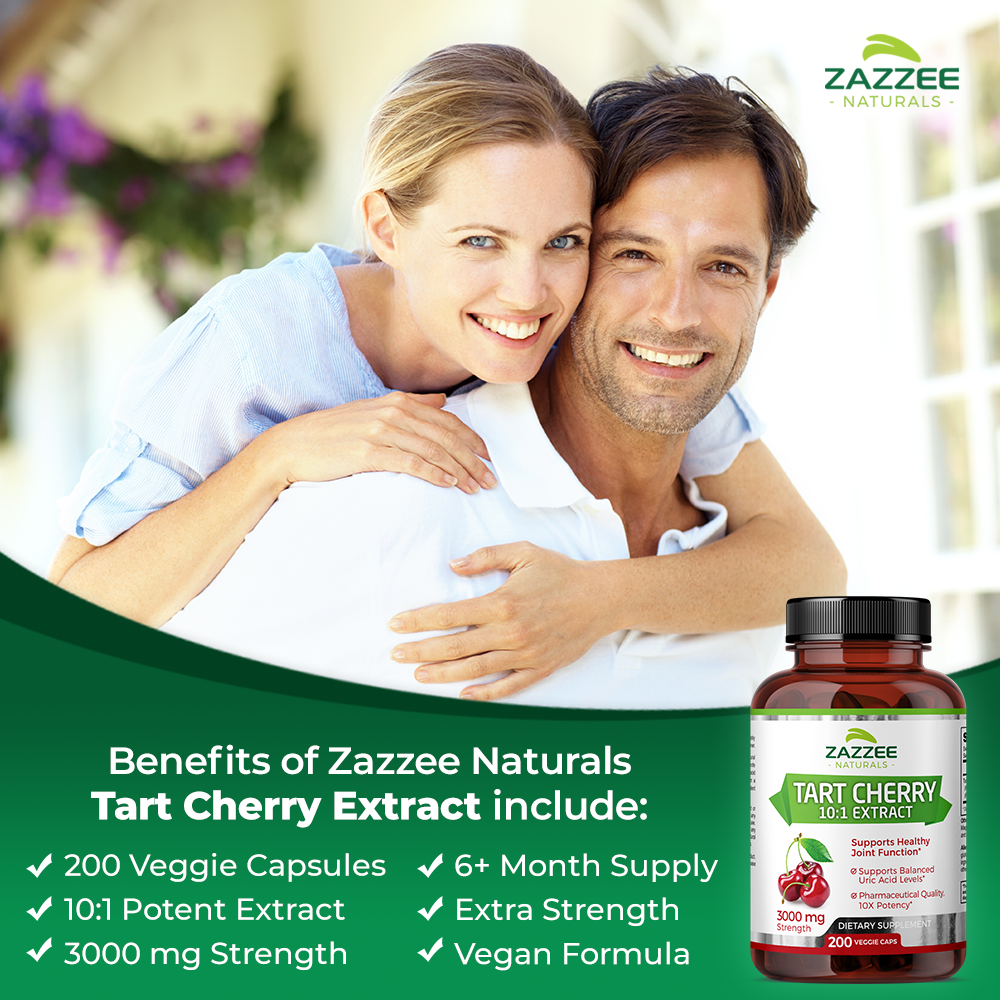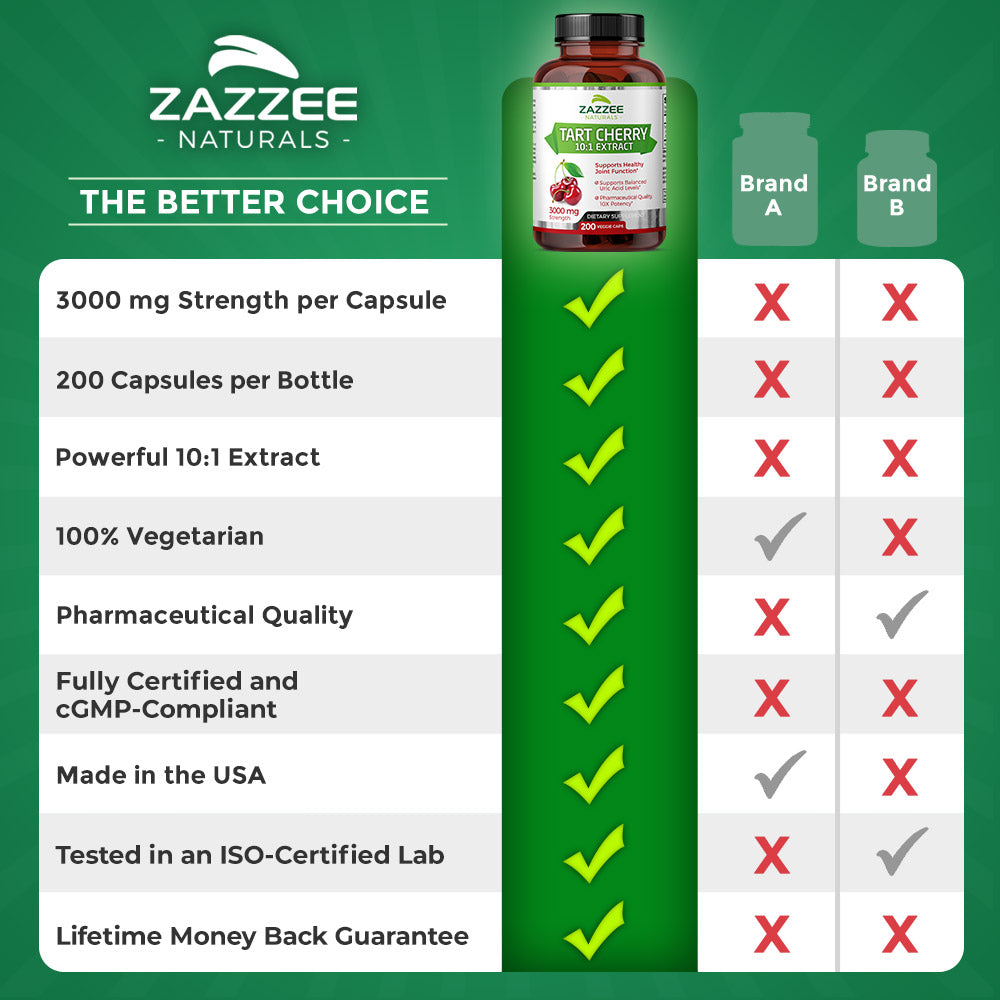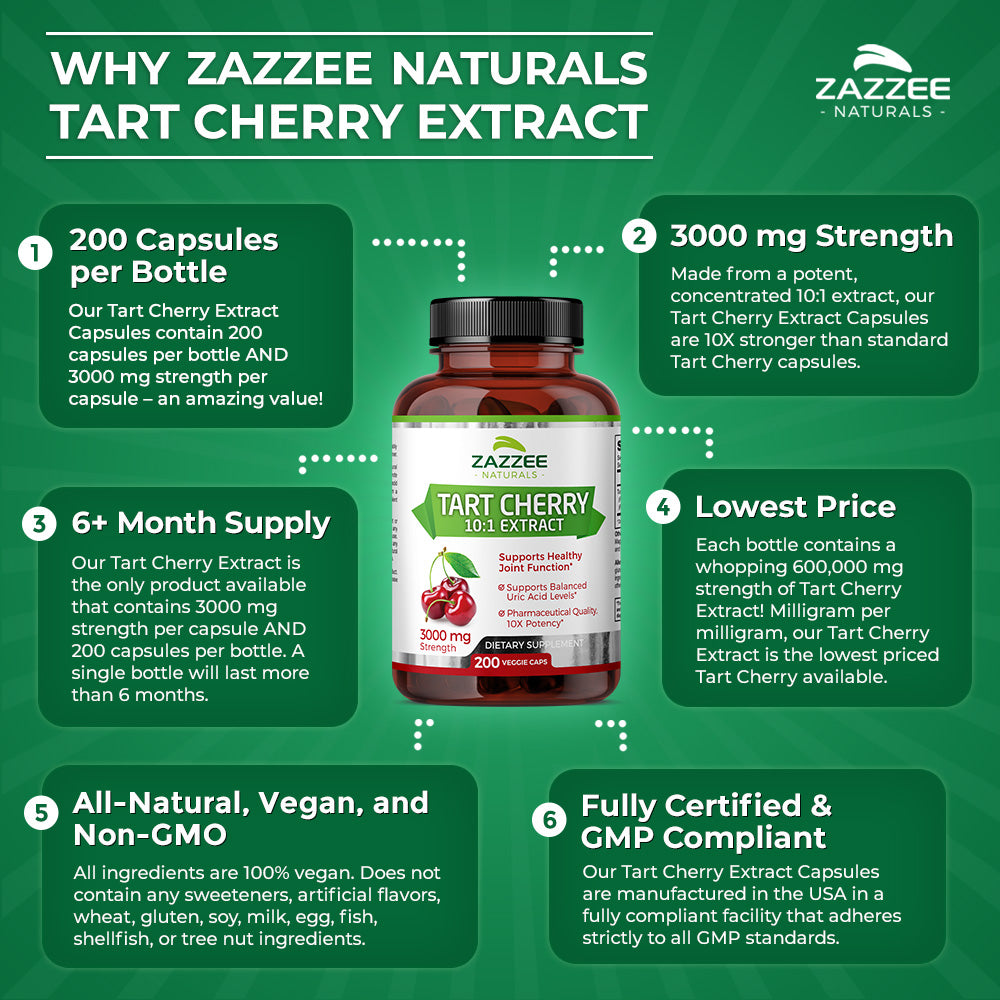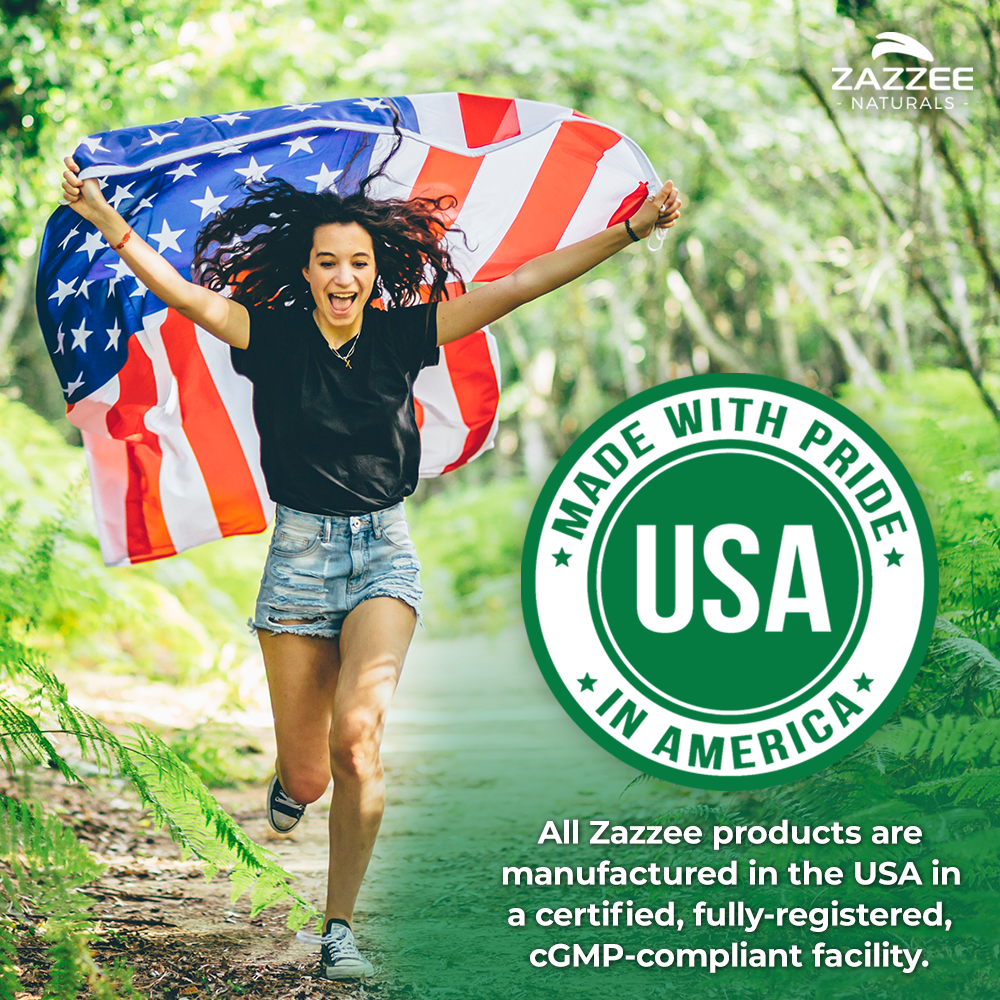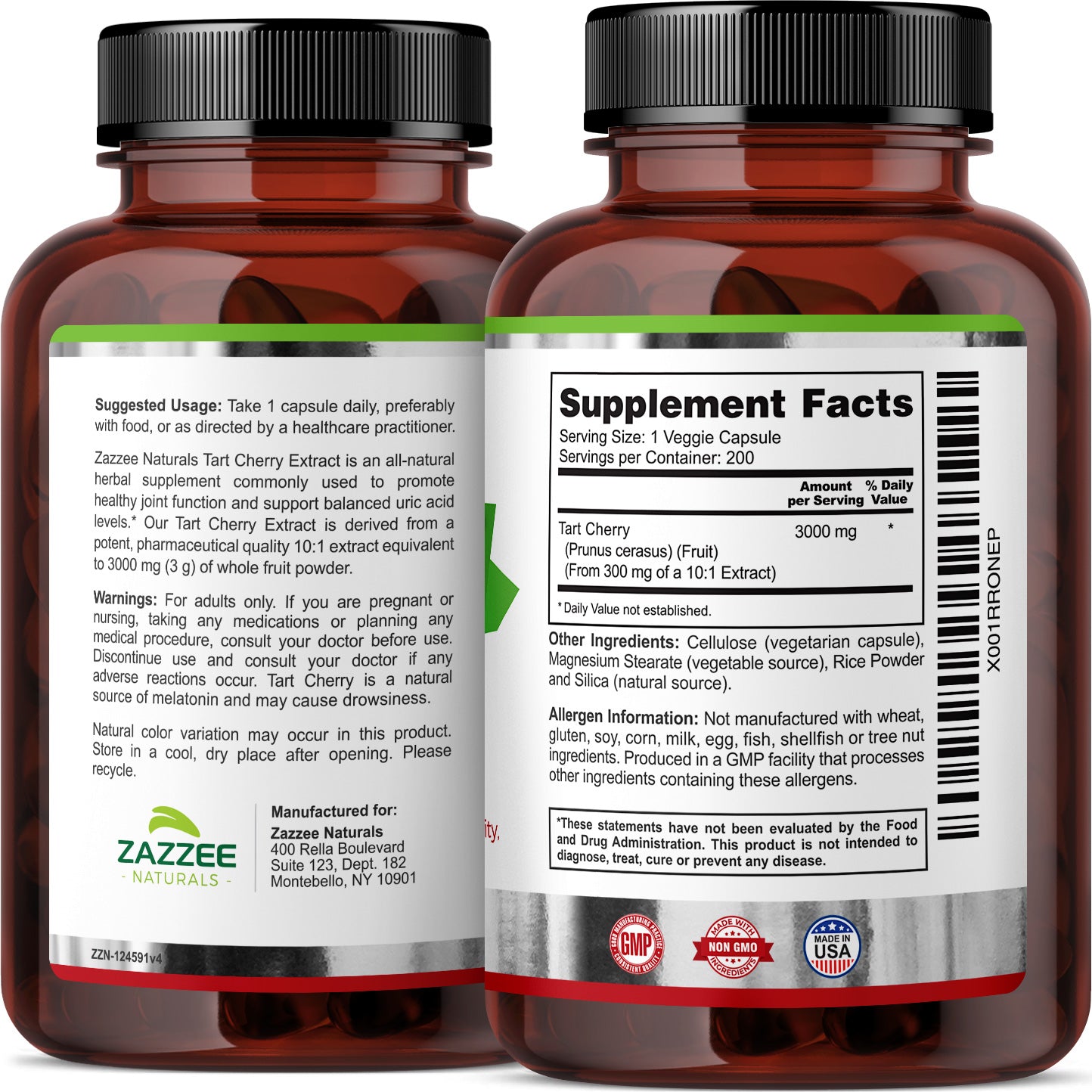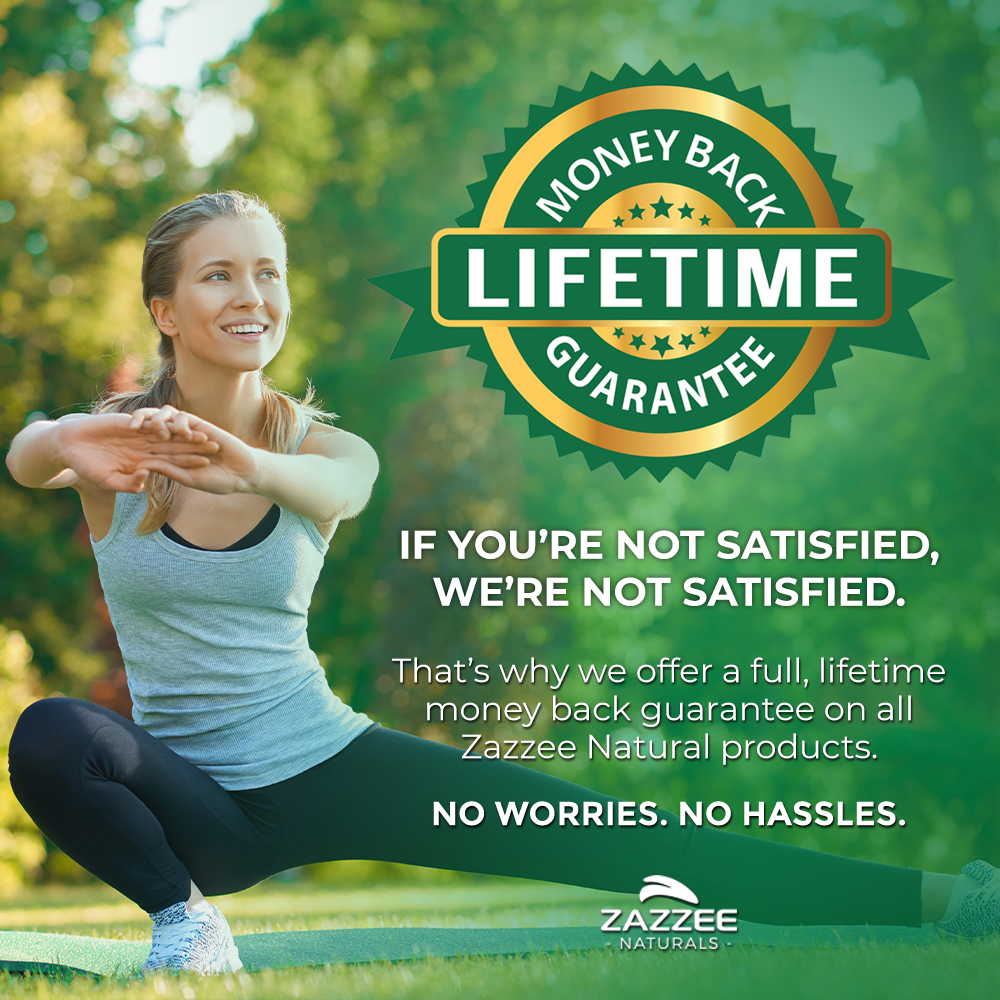 PRODUCT HIGHLIGHTS



Outstanding Value

Our Tart Cherry Extract contains 3000 mg strength per capsule AND 200 capsules per bottle – an amazing value! A single bottle contains more than a 6-month supply. Compare this to other leading brands that require 2 capsules per serving, contain far less than 200 capsules, and do not provide a 3000 mg strength dosage. Our Tart Cherry Extract is a bargain not be found elsewhere!




Maximum Strength Available

Our Tart Cherry Extract is the strongest dosage available! Each capsule contains 3000 mg strength of Tart Cherry Extract made from a potent, powerful 10:1 extract.




Natural, Vegan & Non-GMO

Our Tart Cherry Extract does not contain any sweeteners, artificial flavors, wheat, gluten, soy, milk, egg, fish, shellfish or tree nut ingredients. Enjoy the amazing benefits of tart cherries without the unwanted sugar and excess calories of eating dozens of cherries.




Joint Comfort, Pain Relief & Better Sleep

Our Tart Cherry Extract is a powerful, potent Uric Acid cleanser that helps relieve stiff joints. Tart Cherry has been shown in dozens of studies to reduce inflammation. Additionally, Tart Cherry is loaded with natural melatonin and proanthocyanidins that help to support health sleep cycles. Relax, feel less pain and drift off into a peaceful sleep with Tart Cherry Extract!




Gold Standard Production

Your health and safety mean everything to us. For that reason, our Tart Cherry Extract is manufactured in the USA, in an FDA certified facility with adherence to good manufacturing policies and under the most stringent quality control. You can rest assured that you get the best value for your money!

OUR QUALITY ASSURANCES
Vegan

All ingredients are 100% vegan and made from the purest sources available.

Lab Tested

All ingredients are third-party tested to ensure quality, potency and purity.

FDA Registered Facility

Produced in FDA certified facility under the most stringent quality standards.

Gluten Free

All ingredients in this product, as well as the capsules, are 100% gluten free.

Non GMO

We ensure that all ingredients, including the capsules, are completely non-GMO.
Why Use Zazzee Tart Cherry Extract?
Our Tart Cherry Extract is a powerful, potent Uric Acid Cleanser that helps relieve stiff joints. Tart Cherry has been shown in dozens of studies to reduce inflammation and help to support healthy sleep cycles.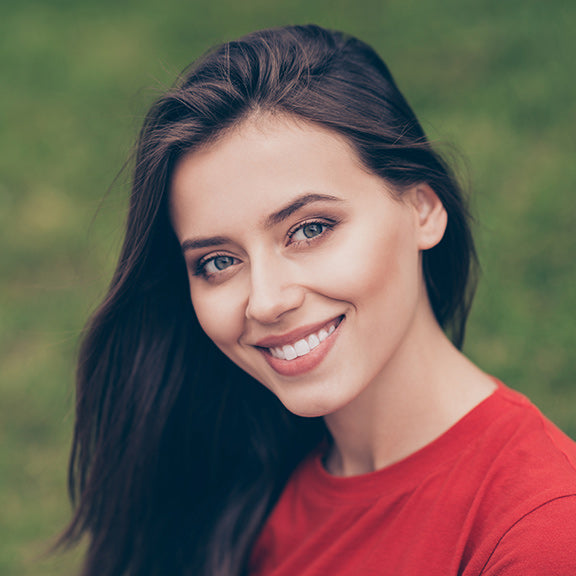 Five Star Reviews from Amazon
Hard to believe how quickly it works!
I received this one day earlier than expected, took it...Benefits immediately started kicking in....I noticed that the creakiness I usually expect when getting up from sitting more than an hour....was greatly alleviated. Also, my super cold toes each night are now normal...really. I cannot be happier. This will be a regular routine for me. Good to know it's made in USA as well.
Nov 19, 2018
Most extract available in a capsule.
Use this as a daily supplement to help avoid gout before it starts!
Oct 4, 2018
AMAZING
I ordered these on the recommendation of a friend, The results are nothing less than wonderful. I have arthritis in my knee that was limiting my activities. It took about 3 or 4 days before I felt the effects of the Tart Cherry but it did reduce the swelling and I am latterly pain free with normal activity.
Jun 21, 2019
Effective for Pain Relief & Inflammation
Several years ago, I had a gout flare up. I've been free from medicine for over eight years (my memoir has the longer version) and I wanted to find a natural option for gout. I started taking tart cherry supplements 1-2 times daily. It amazingly worked wonders for me! A few weeks ago, my husband had a gout flare up so I ordered him this brand of tart cherry extract. His condition was much worse than mine. His entire foot was red, inflamed, and swollen. It was so excruciating for him that he couldn't even walk. Seriously, that tart cherry extract couldn't get here fast enough! Thankfully, I have Prime and it arrived in two days. What a godsend! It was extremely effective for my husband and within a few days his symptoms were GONE!!! As a big believer in pure ingredients, I highly recommend this specific brand of tart cherry extracts.
Apr 15, 2019
Works well against gout attacks!
Had a gout attack in my ankle for 3 days before ordering the cherry extract by recommendation from a friend. He was taking a different brand. I wanted to look for the highest strength of tart cherry extract that came in a pill because my ankle was red, swollen and tender. As soon as I received the pills, I took it at a dose of 2 capsules, 3X a day, because I was in so much pain. By the next morning, I already noticed that the angry red color of my ankle was starting to dissipate and the pain was not as bad either. By the 3rd day, I was able to at least walk a bit and by day 5, I was pretty much back to normal except for a little stiffness in the ankle. This pill saved me from the extreme pain and stiffness! I highly recommend this Zazzee Tart Cherry Extract for gout attacks as it worked perfectly for me.
Aug 18, 2019