Regular price
Sale price
$29.97
Unit price
per
Sale
Sold out
120 Capsules per Bottle
120,000 SPU per Capsule
Enhanced Absorption
4 Month Supply
Delayed Release Capsule
100% Vegetarian
FDA and GMP Certified
View full details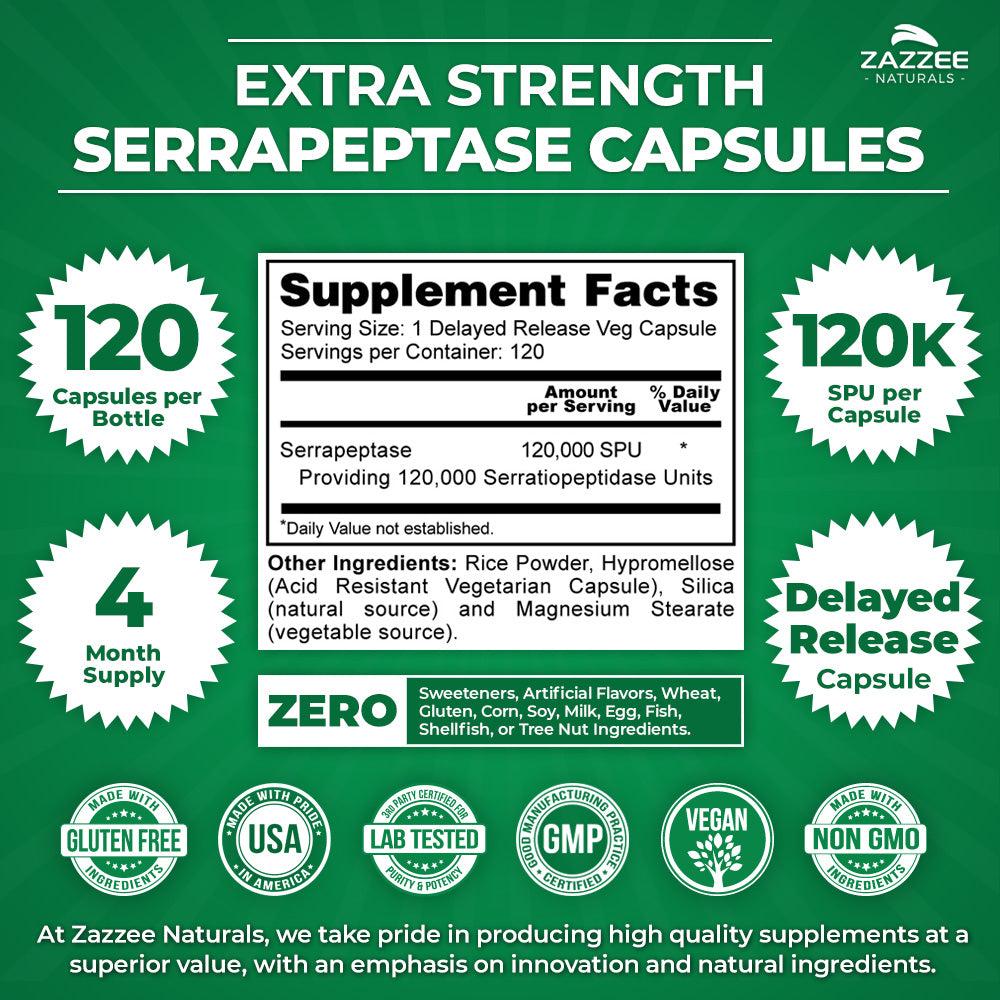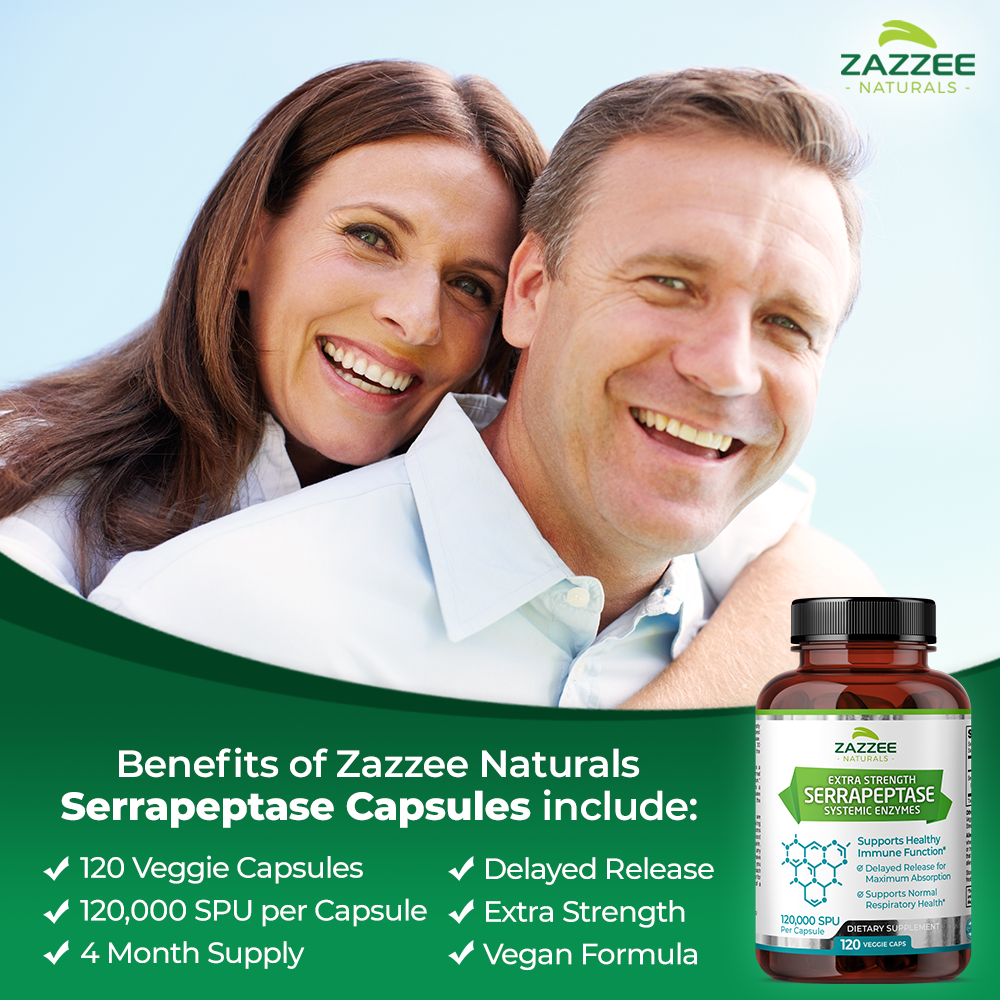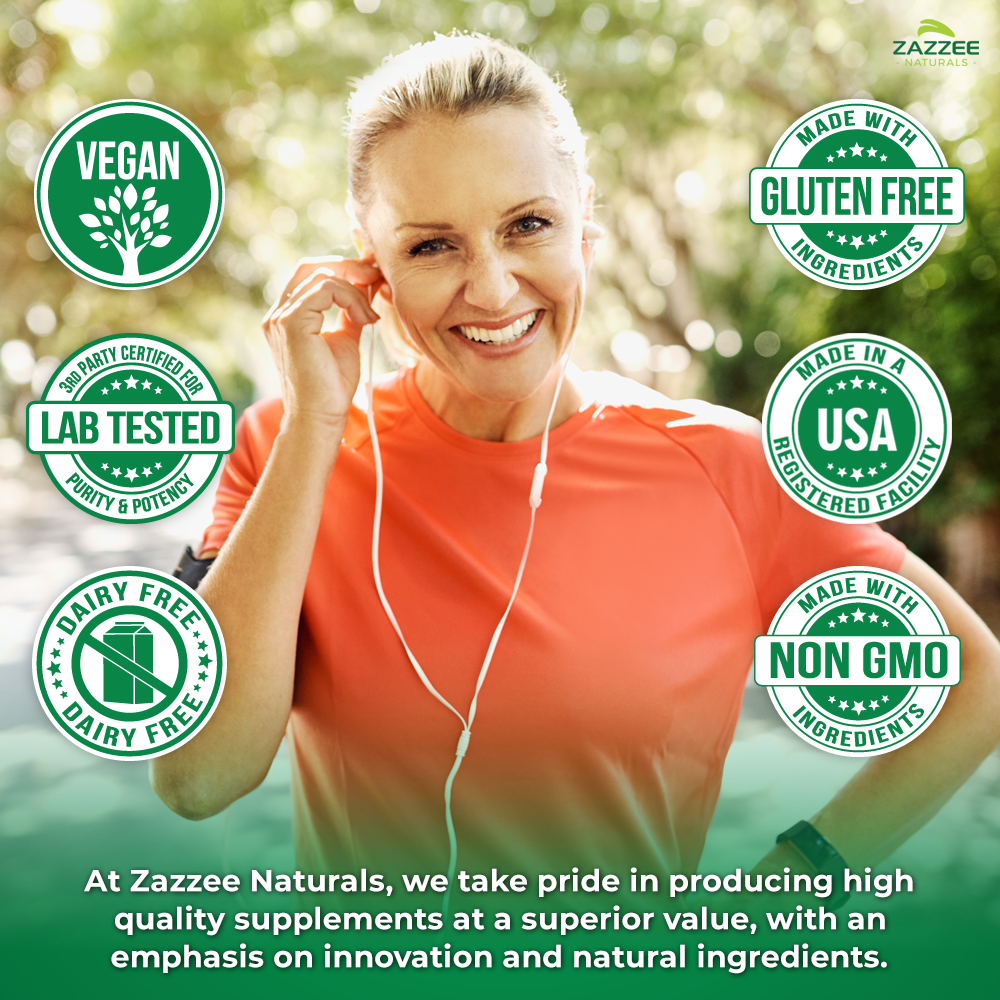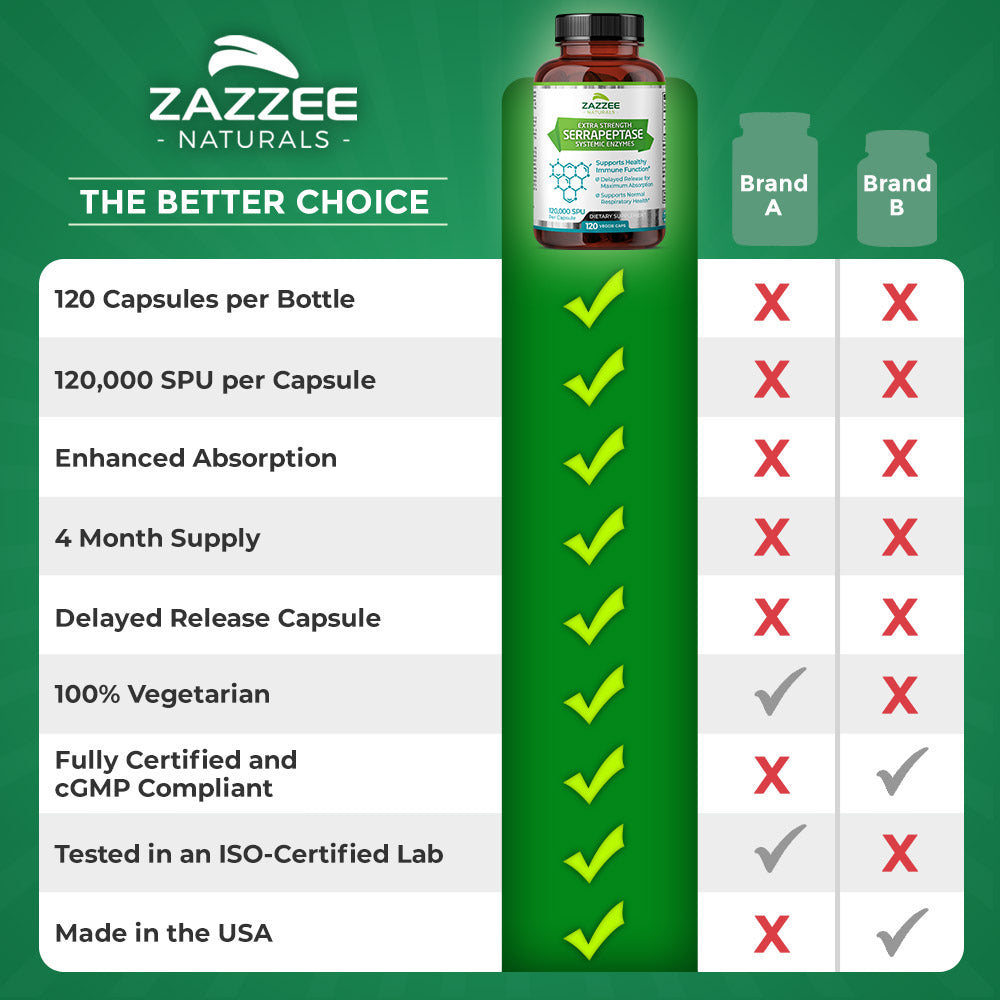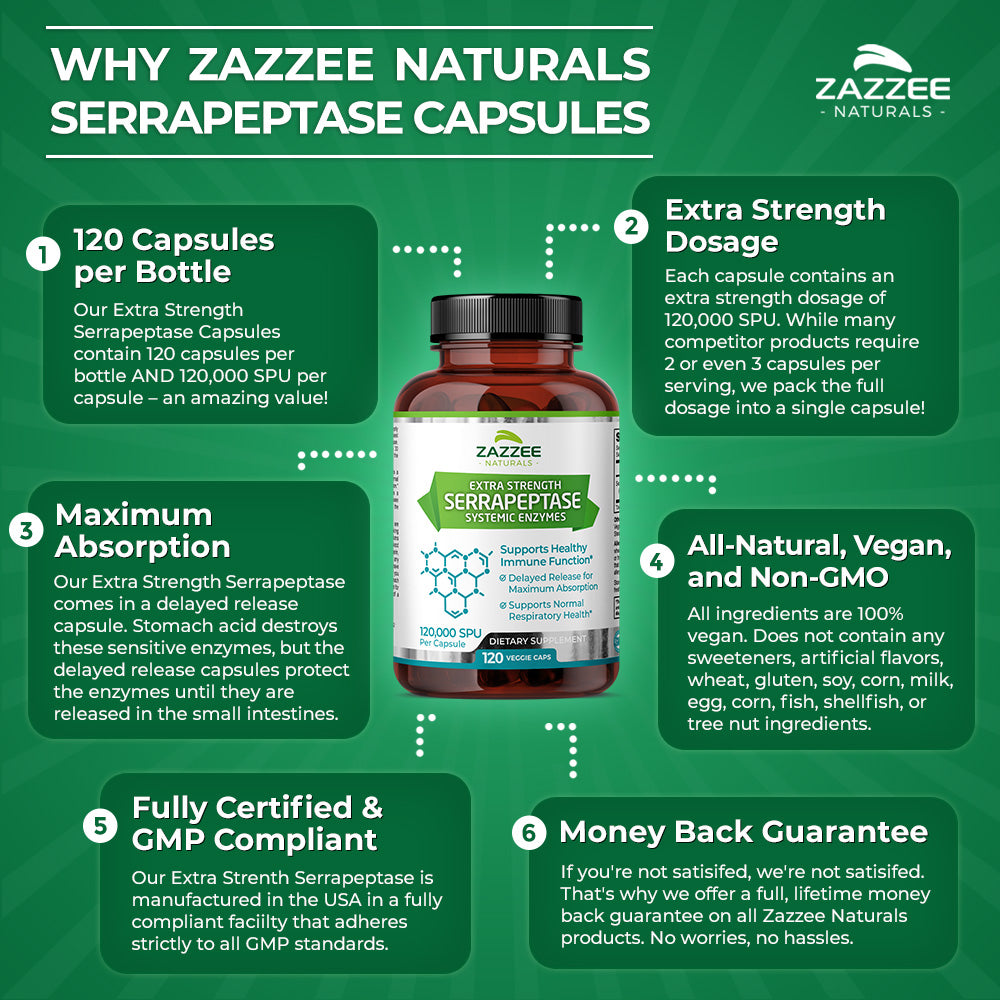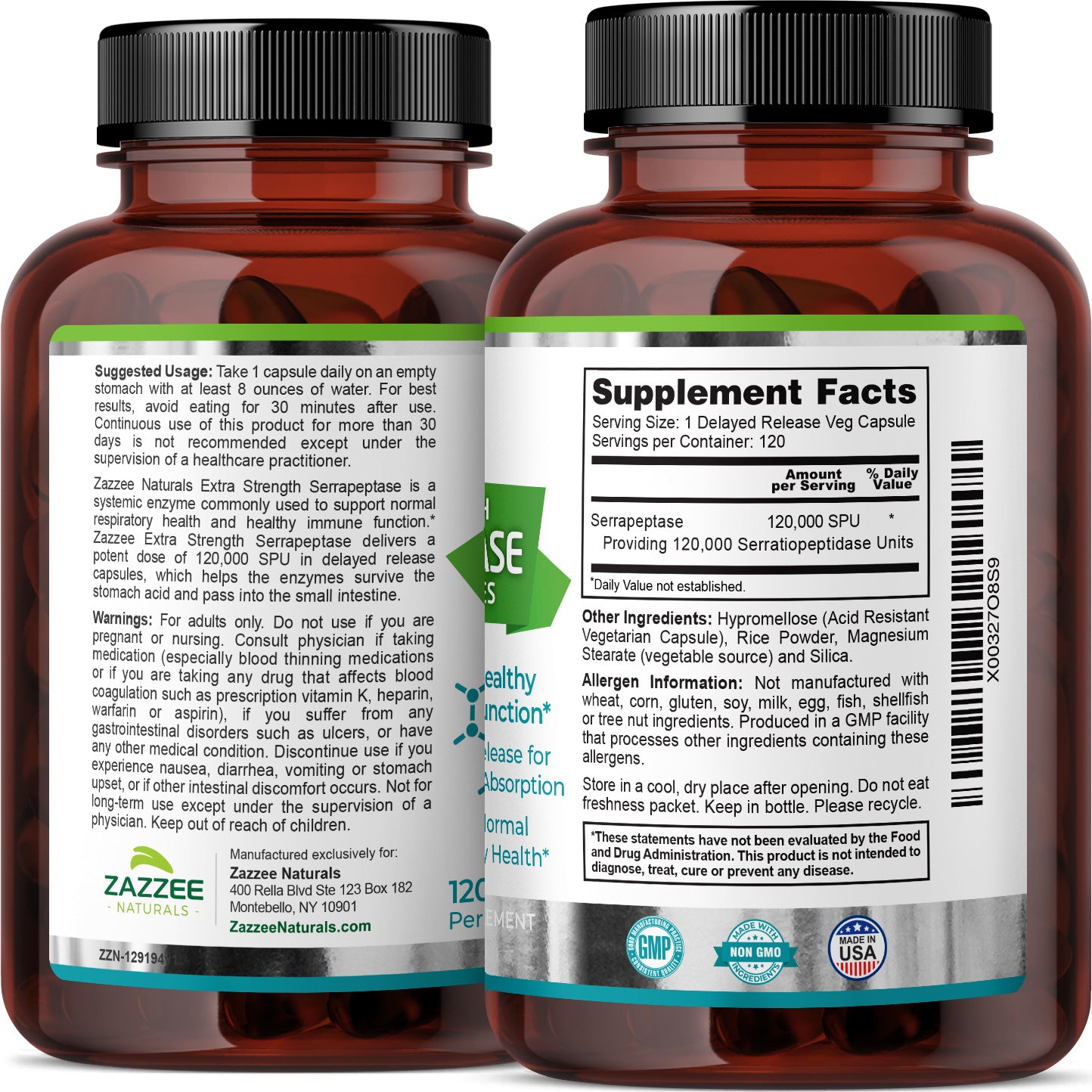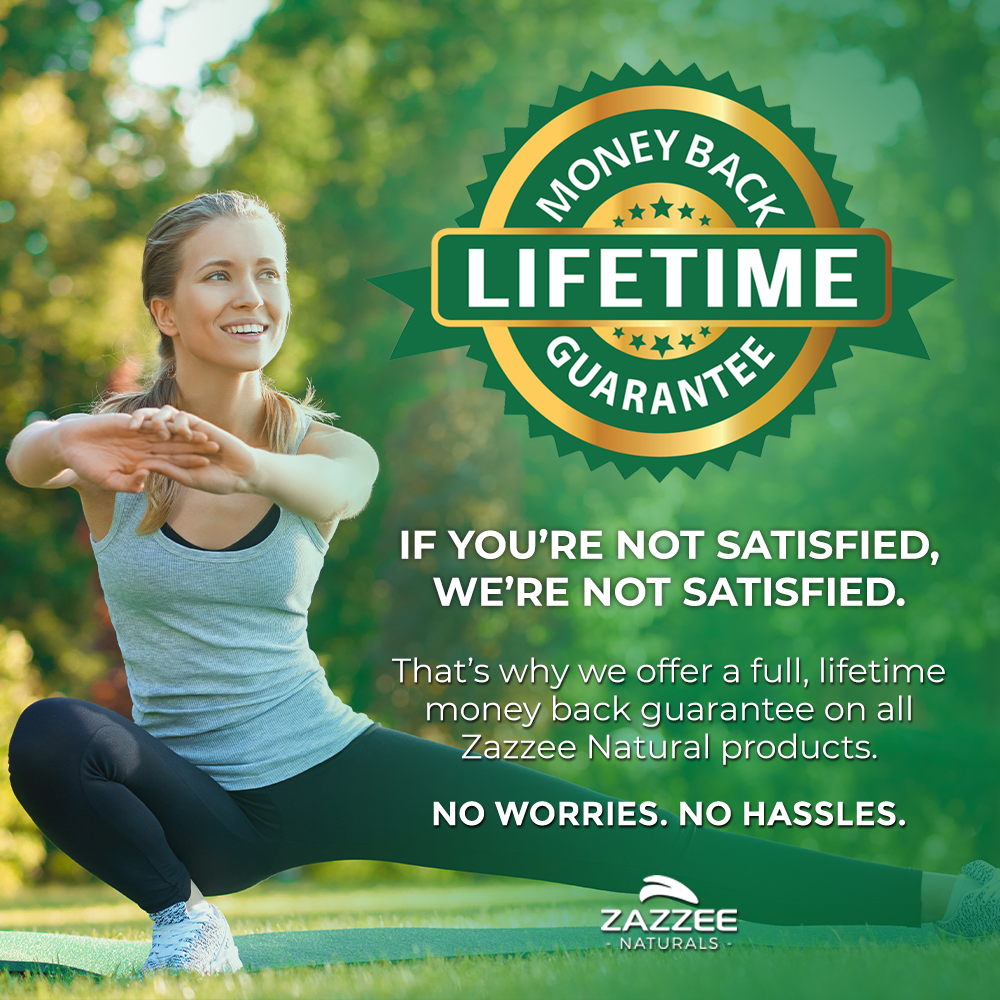 PRODUCT HIGHLIGHTS



Outstanding Value

Our Extra Strength Serrapeptase Capsules contain 120 capsules per bottle, 120,000 SPU per capsule AND come in absorption-enhancing delayed release capsules – an amazing value! Compare this to other leading brands that provide lower dosages, contain less capsules per bottle, and are not in "must-have" delayed release capsules. Our Extra Strength Serrapeptase is a bargain not be found elsewhere!




Extra Strength - 120,000 SPU per Capsule

Each capsule contains an extra strength dosage of 120,000 SPU. This dosage is per capsule, which means that each bottle provides a full 4 month supply!




Enhanced Absorption with Delayed Release Capsules

Stomach acid destroys these delicate enzymes. To prevent this, our Extra Strength Serrapeptaste comes in delayed release capsules, which enable the enzymes to survive past the stomach acid and pass into the small intestine for maximum absorption.




Natural, Vegan, & Non-GMO

All ingredients, including the capsule, are 100% vegan. Our Extra Strength Serrapeptase does not contain any sweeteners, artificial flavors, wheat, corn, gluten, soy, milk, egg, fish, shellfish, or tree nut ingredients. Enjoy the amazing benefits of our potent Serrapeptase without worrying about what else might be hiding in each capsule!




Gold Standard Production

Your health and safety mean everything to us. For that reason, our Extra Strength Serrapeptase is manufactured in the USA, in a fully certified facility with adherence to good manufacturing policies and under the most stringent quality control. You can rest assured that you get the best value for your money!

OUR QUALITY ASSURANCES
Vegan

All ingredients are 100% vegan and made from the purest sources available.

Lab Tested

All ingredients are third-party tested to ensure quality, potency and purity.

FDA Registered Facility

Produced in FDA certified facility under the most stringent quality standards.

Gluten Free

All ingredients in this product, as well as the capsules, are 100% gluten free.

Non GMO

We ensure that all ingredients, including the capsules, are completely non-GMO.
Why Use Zazzee Serrapeptase?
Our Extra Strength Serrapeptase delivers a potent dose of 120,000 SPU in a delayed release capsule, which insures that the enzymes survive the stomach acid and pass into the small intestine.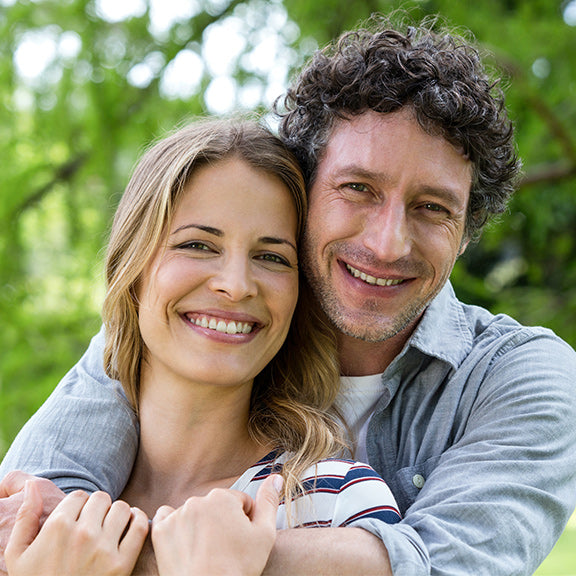 Five Star Reviews from Amazon
Great Supplement to Keep on Hand
We always keep serrapeptase on hand in case of inflammation. It's great to use in the case of something like a sprain or any other injury. It can help reduce inflammation and speed up healing. This one is gluten free and vegan which is great. It's also free of sweeteners, corn, soy, milk, egg, fish, shellfish and tree nuts according to the label. It's also vegan. The price on this is extremely low compared to other brands. It's also delayed release which is potentially helpful.
Feb 20, 2022
High Potency
love the high potency of these capsules... if I ever have any kind of surgery, I will take this for a few weeks afterward to help inhibit scar tissue. Serrapeptase breaks down inflammation and scar tissue, without affecting healthy tissue. This is a great natural anti-inflammatory to have on hand.
Mar 19, 2022
What a great investment into our health
This is a great product. We have learned that Serrapeptase is good for us, but I can't believe the well being and energy that we have since we started this product. It's great and I recommend that everyone try this product.
Dec 26, 2022
Works great!
I have been using serrapeptase for years to clear unwanted protein through out my body...It works great! I've cleared up cysts, fibroids, scar tissue and even used to help with arterial gunk. I usually purchase a different brand but this one had the same dosage so decided to try it and was very pleased... will definitely purchase again!...
Nov 26, 2022
If there was a miracle supplement, this would be it!
I found out serrapeptase while reading up on the benefits of nattokinase. I'm a chronic sufferer of a lot of allergies. I took serrapeptase to relieve some of my hypersensitivity symptoms. I didn't expect it to clear the urticaria in my legs almost immediately (like on the 3rd day of taking it.). So far, so good. I hope it clears my sinus problems real quick too.
May 3, 2022