Regular price
Sale price
$18.97
Unit price
per
Sale
Sold out
500 mg Strength per Capsule
USDA Certified Organic
120 Capsules per Bottle
100% Vegetarian
Manufactured in an FDA Certified Facility
Made in the USA
Tested by Confirmed FDA Lab
View full details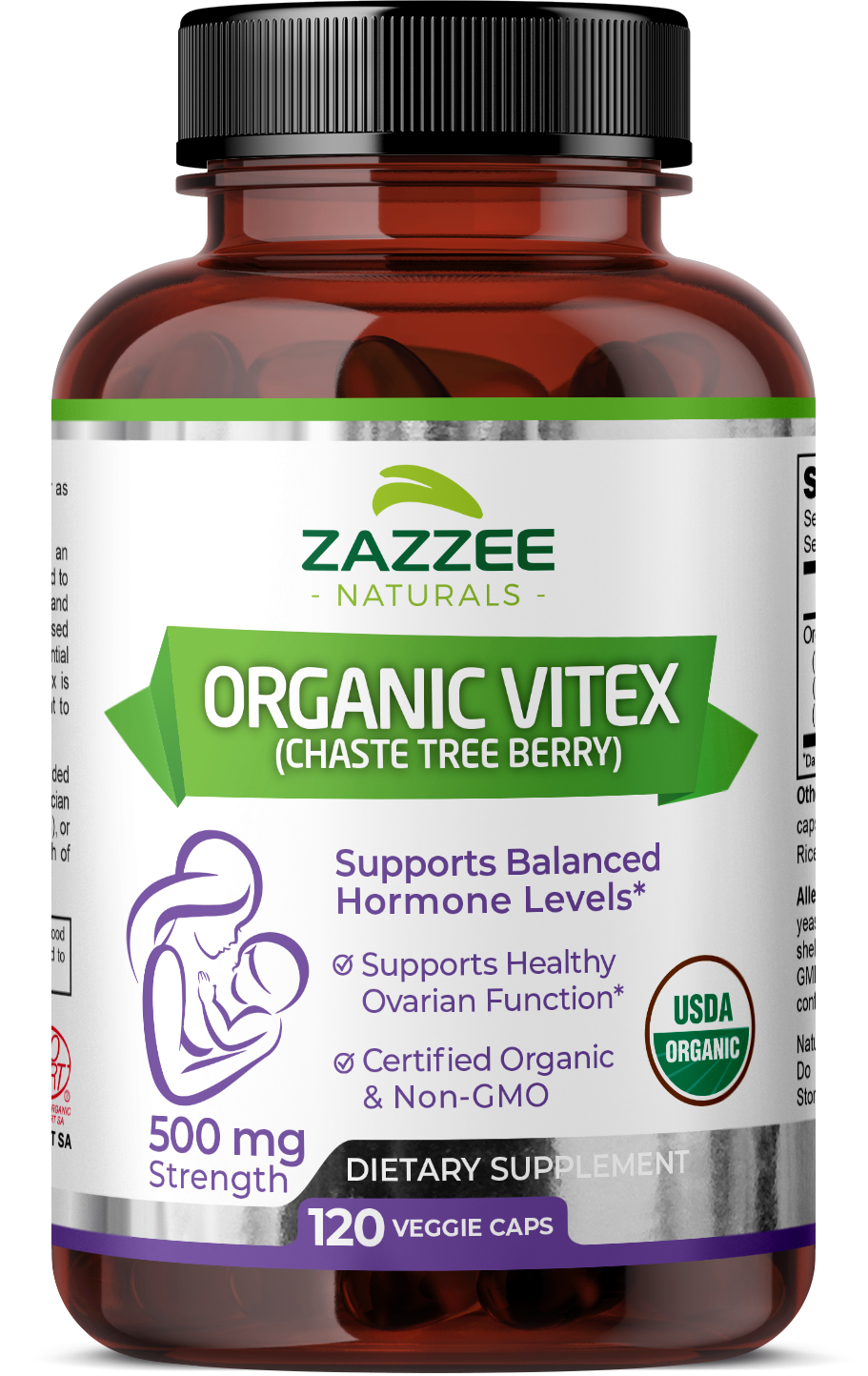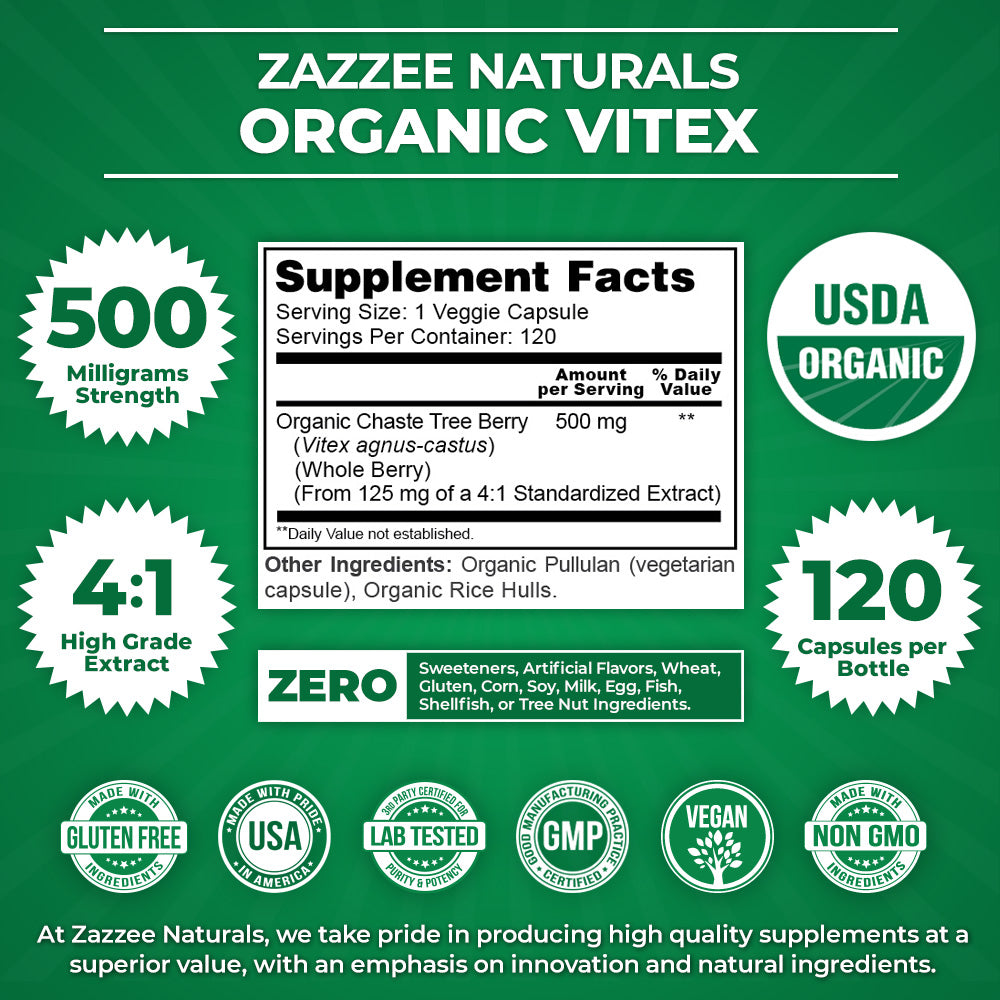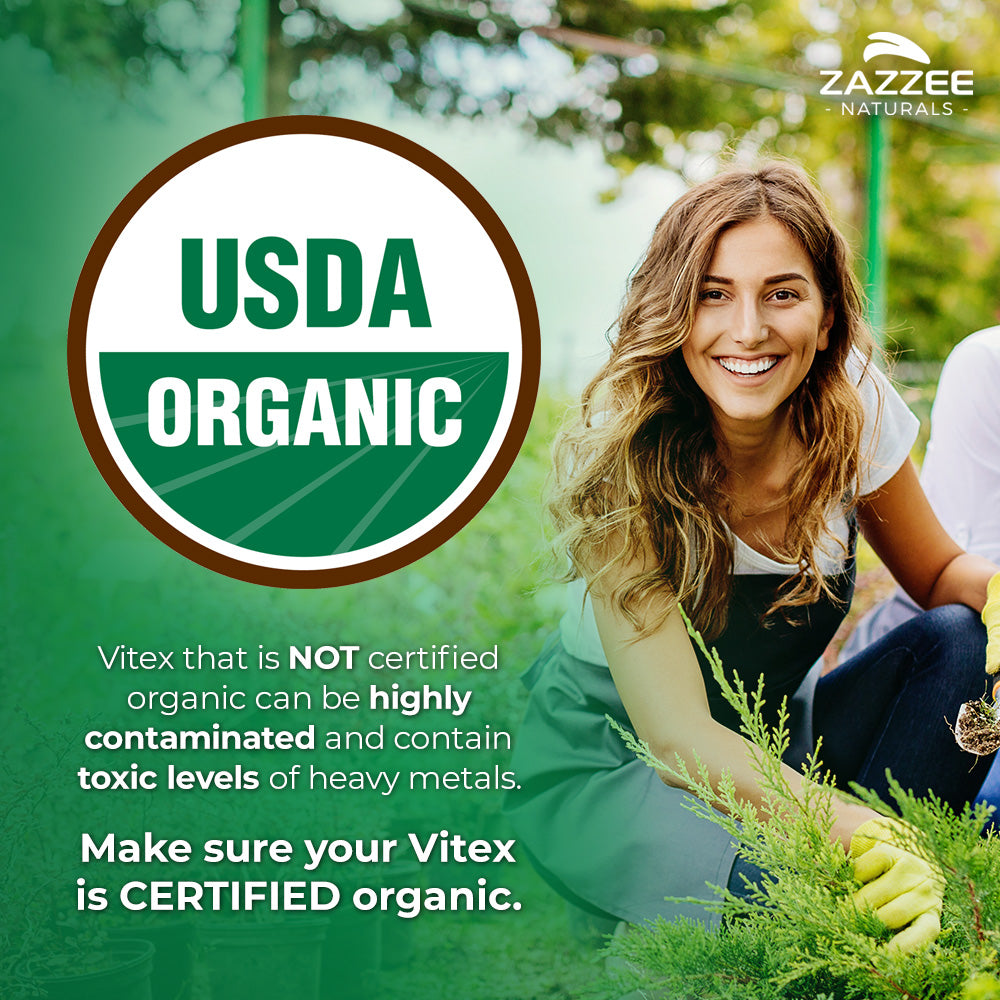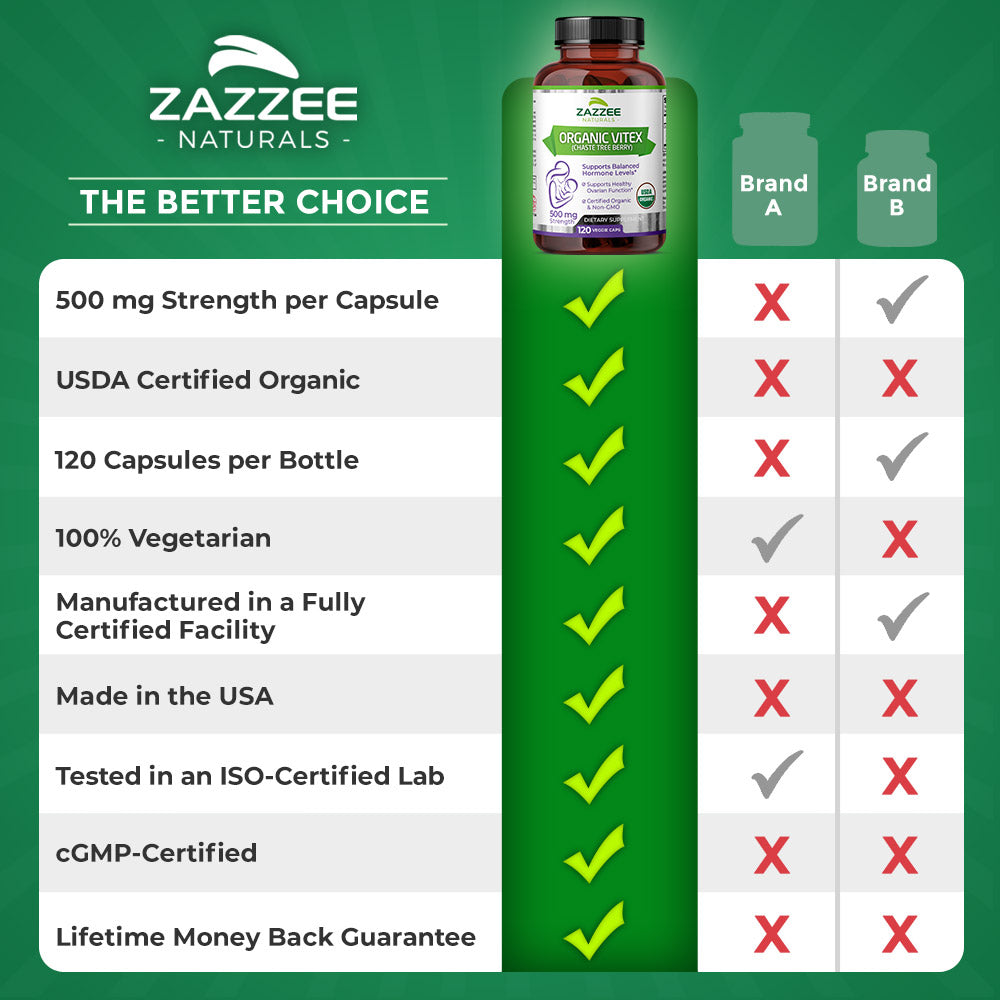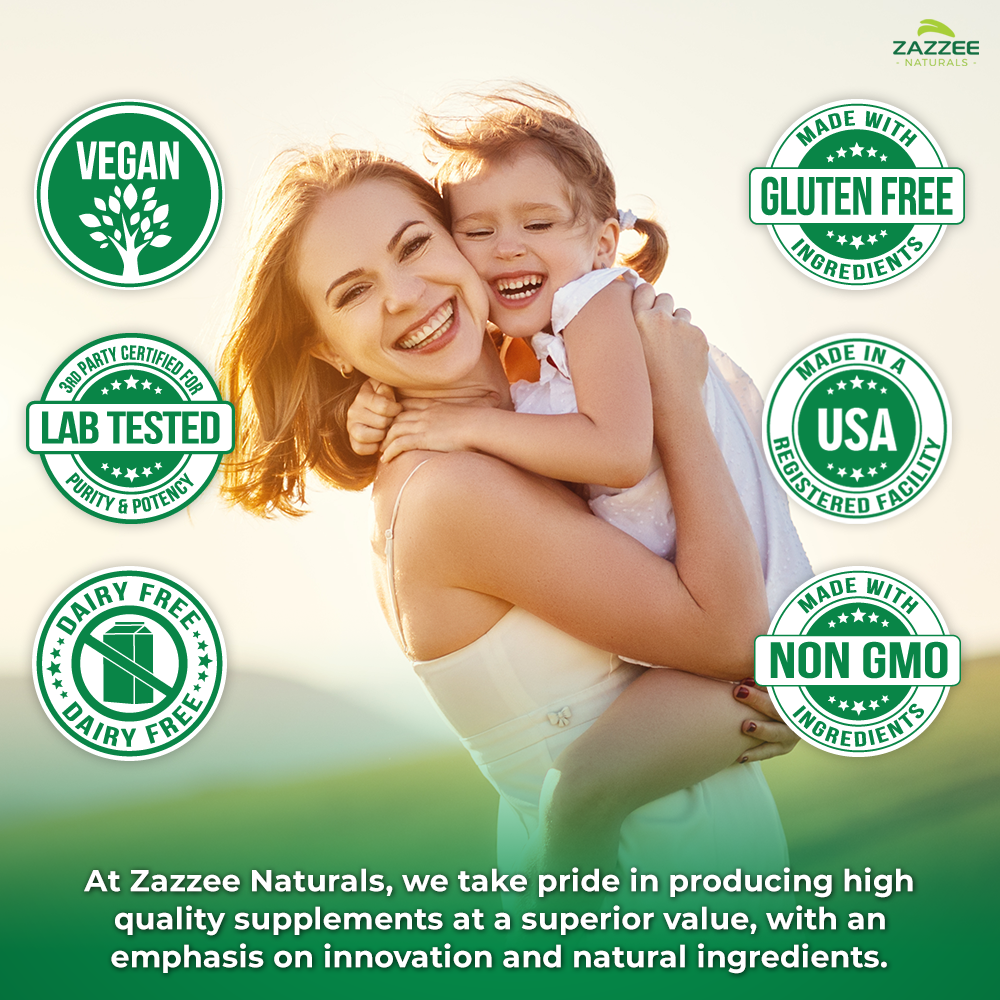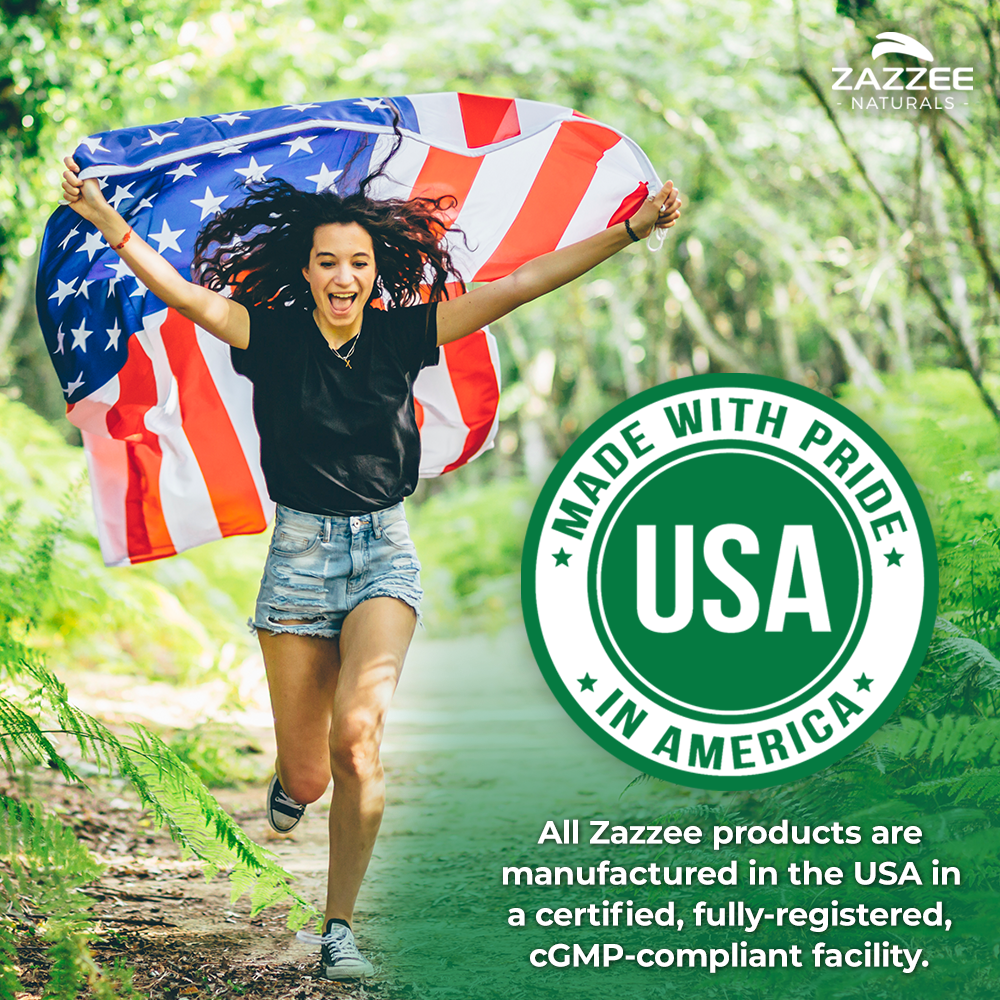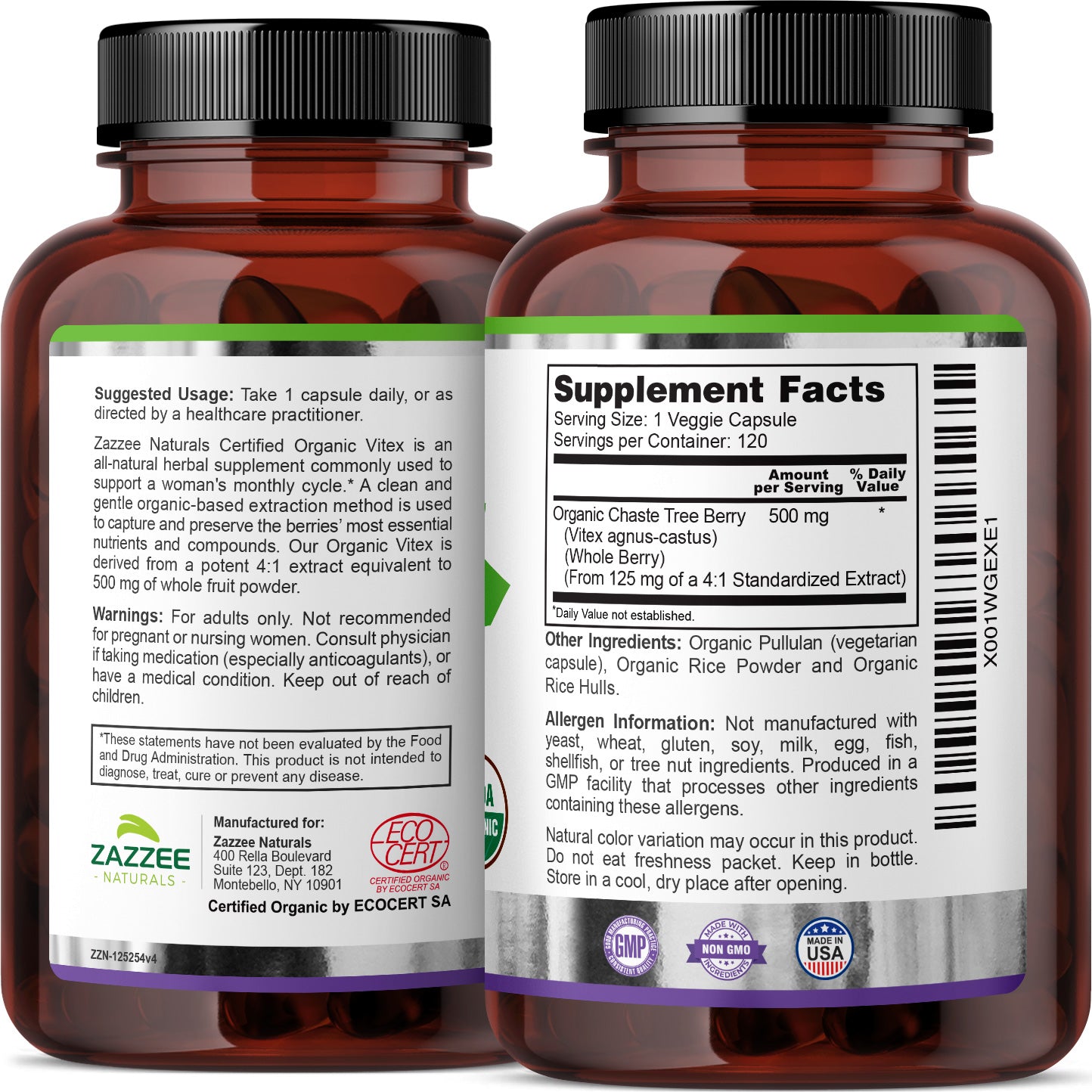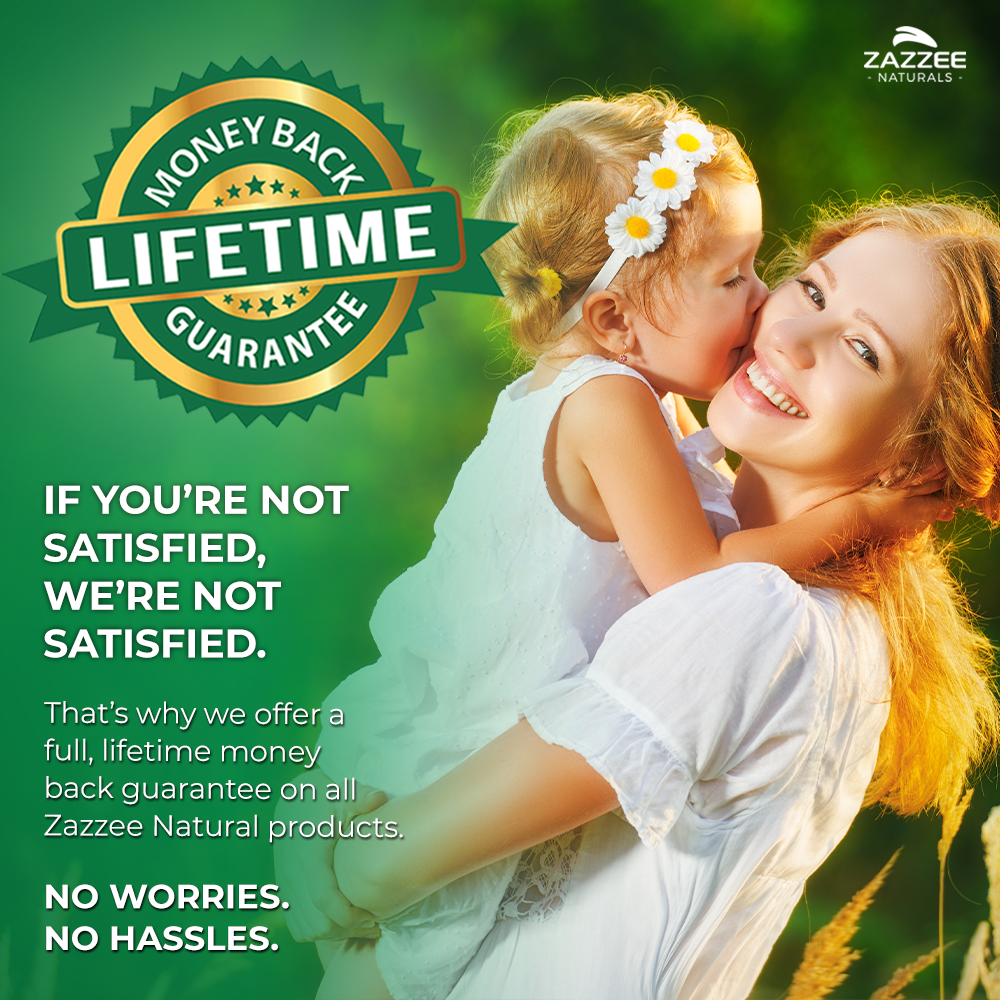 PRODUCT HIGHLIGHTS



Outstanding Value

Our Organic Vitex contains 500 mg strength per capsule AND 120 capsules per bottle – an amazing value! A single bottle contains a 4-month supply. Compare this to other leading brands that require 2 capsules per serving, do not provide a 500 mg strength dosage, and are not Certified USDA Organic. Our Organic Vitex is a bargain not be found elsewhere!




USDA Certified Organic

Any Vitex that is not CERTIFIED organic can be contaminated and toxic to your body. With Zazzee Naturals USDA Certified Organic Vitex, you can be sure your Vitex is organic, all-natural, vegan, and non-GMO. More, while other competing products use various chemicals as fillers, binders, and excipients, our Organic Vitex instead contains only all-natural, organic stabilizers.




Fertility, Hormone, & Menstrual Support

Vitex (Chaste Tree Berry) has a long history in supporting healthy ovarian function, hormonal balance, a healthy menstrual cycle, egg quality, and overall reproductive health. The daily dosage provides 500 mg strength of Vitex, which many clinical studies have shown to be the ideal dosage for fertility and reproductive support.




100% Vegetarian

All ingredients, as well as the capsules, are 100% vegetarian, and made from the purest sources available. The capsules are made from organic cellulose, derived from plants.




Gold Standard Production

Your health and safety mean everything to us. For that reason, our Organic Vitex is manufactured in the USA, in an FDA certified facility with adherence to good manufacturing policies and under the most stringent quality control. You can rest assured that you get the best value for your money!

OUR QUALITY ASSURANCES
Vegan

All ingredients are 100% vegan and made from the purest sources available.

Lab Tested

All ingredients are third-party tested to ensure quality, potency and purity.

USDA Organic

This products meets the strict standards of the USDA for Organic Certification.

FDA Registered Facility

Produced in FDA certified facility under the most stringent quality standards.

Gluten Free

All ingredients in this product, as well as the capsules, are 100% gluten free.
Why Use Zazzee Organic Vitex?
Vitex (Chaste Tree Berry) supports healthy ovarian function, hormonal balance, a healthy menstrual cycle, egg quality, and overall reproductive health. Our capsules contain 500 mg strength of Vitex, the ideal dosage for fertility and reproductive support.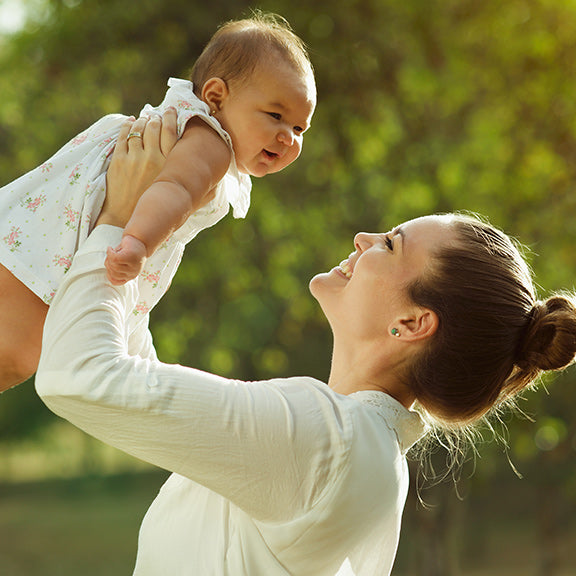 Five Star Reviews from Amazon
Awesome Organic Vitex
Not only is this product non-GMO and gluten free, it is also VEGAN and ORGANIC! Finally a company is offering Organic Vitex at a normal price. Each capsule looks and feels natural. Thank you, for such a high quality supplement.
Feb 7, 2019
The greatest brand I ever tried for Vitex
I have polycystic ovarian syndrome, which messes up my hormones a bit, and I also have very strong PMS symptoms. My PCP prescribed Chaste Tree Berry 2 years ago for me to take first thing in the morning. I have been good about it because I feel it helps; however, I recently changed the brand to Zazzee and this is BY FAR the best I've tried! I went through my PMS time without a SINGLE negative symptom. I HIGHLY recommend this brand for Vitex.
Mar 19, 2019
This product helps my menstrual cycles
I've been taking vitex for about 4 months and have noticed a great improvement with my sleep and my menstrual cycles. I like that this brand is organic and comes in 500 mg capsules (I take one in the morning and one in the evening). I'm in my early 40's and was experiencing difficulty falling asleep during the 2nd half of my cycle (likely due to low progesterone) but after about 2 months on vitex, I'm sleeping great every night!
Jan 2, 2020
Great Product!!
I have been using this product prior to my cycle as well during and my results from it are great! My PMS symptoms did not happen as well the fatigue I used to experience during my menstrual. Great Product so far for me!!
Jul 16, 2019
Amazing for absent or infrequent periods due to PCOS
***IF YOU HAVE PCOS AND ARE LOOKING FOR AN HONEST AND RAW SUCCESS STORY WITH THIS PRODUCT READ ONI!!!*** I never write amazon reviews but wanted to share my story because this product has been an instrumental part of my healing process. Some backstory: I am in my early 20s and was diagnosed with "lean" non-insulin resistant PCOS back in June. I had been taking a combined hormonal contraceptive continuously for about 3 years and believe it had been masking my symptoms..but anyway, the point is that I had not had a period on my own in a long time. Upon getting off the pill in January of this year, I did not get my period for months. It was then discovered that I had ovarian cysts and elevated free testosterone. Seeking alternative options to the conventional "get back on the pill" treatment, I sought out a naturopathic doctor. I have been taking this product for about 2 months at the recommendation of my naturopathic doctor (in addition to SLF forte). I just got my period back a few days ago without any major dietary modifications!! I am so psyched that this women's wonder drug/all-natural supplement is holding up to its promise! Also, I have minimal cramping with this period (I used to get really horrible cramps). Highly recommend if you want to normalize hormone levels!
Sep 3, 2019