Regular price
Sale price
$19.97
Unit price
per
Sale
Sold out
Made with Organic Lemon Balm
180 Capsules per Bottle
Powerful 10:1 Extract
100% Vegetarian
Tested by Confirmed FDA Lab
Made in the USA
Lifetime Money Back Guarantee
View full details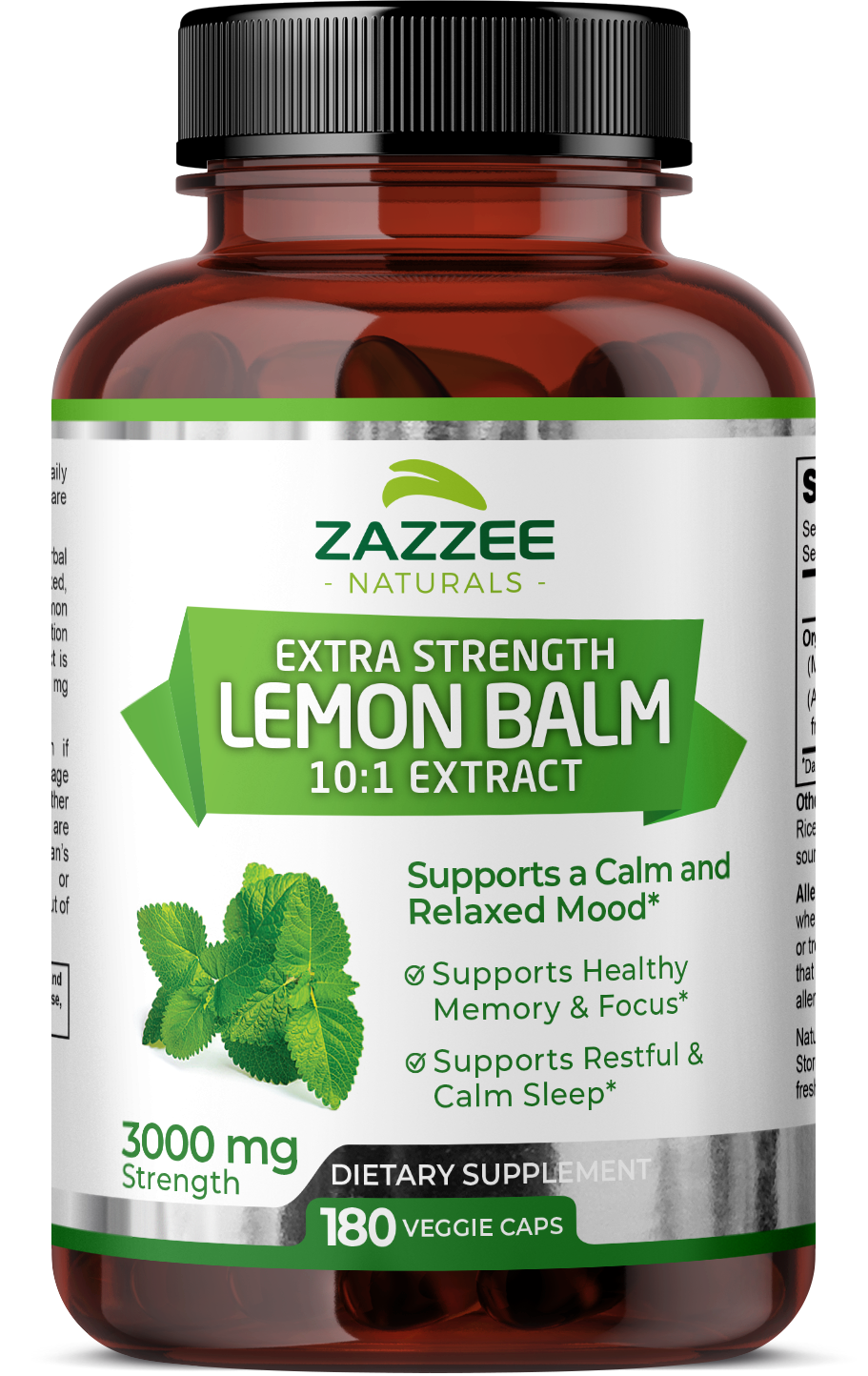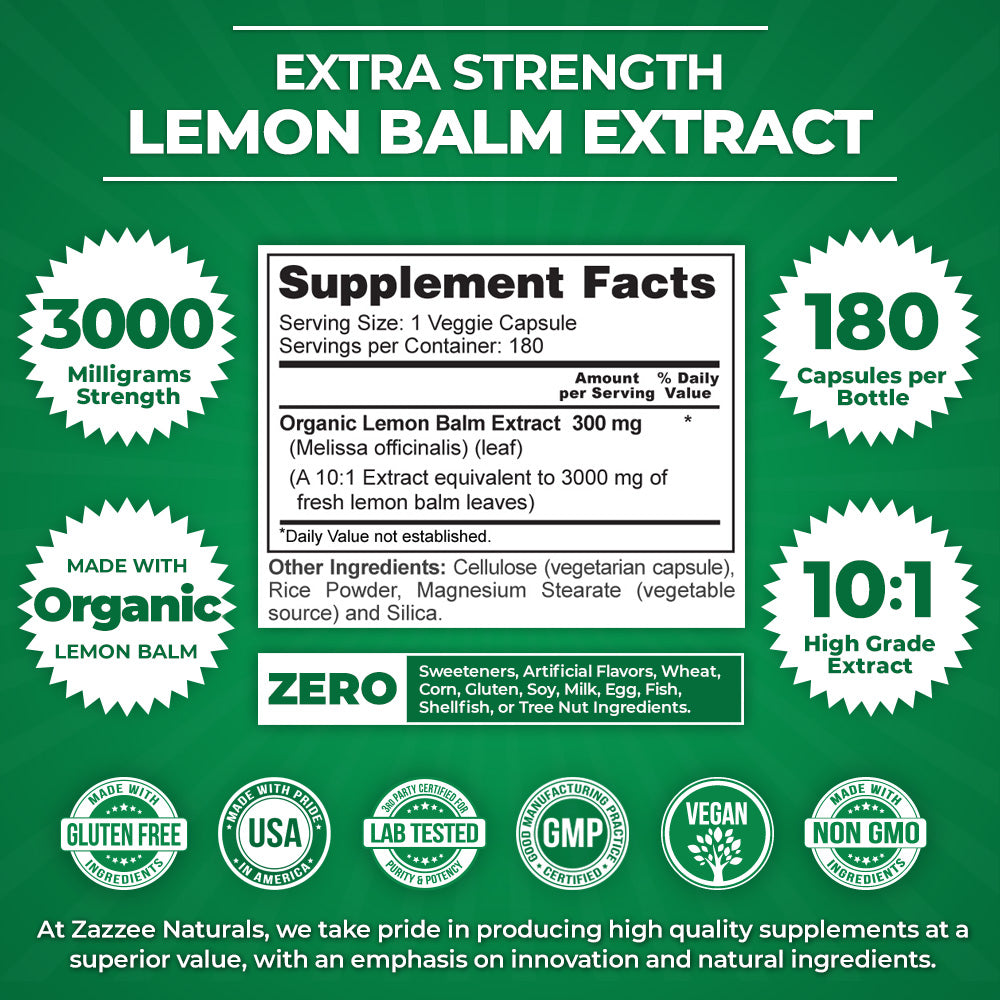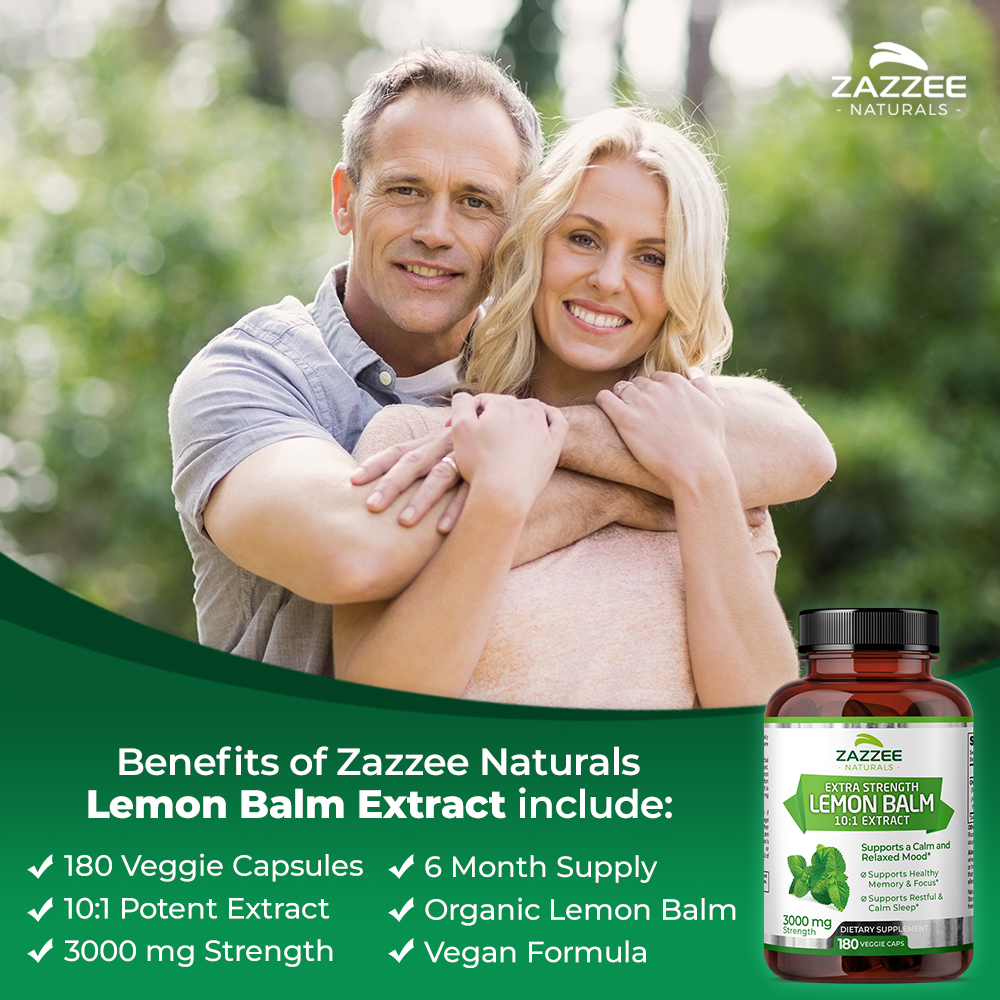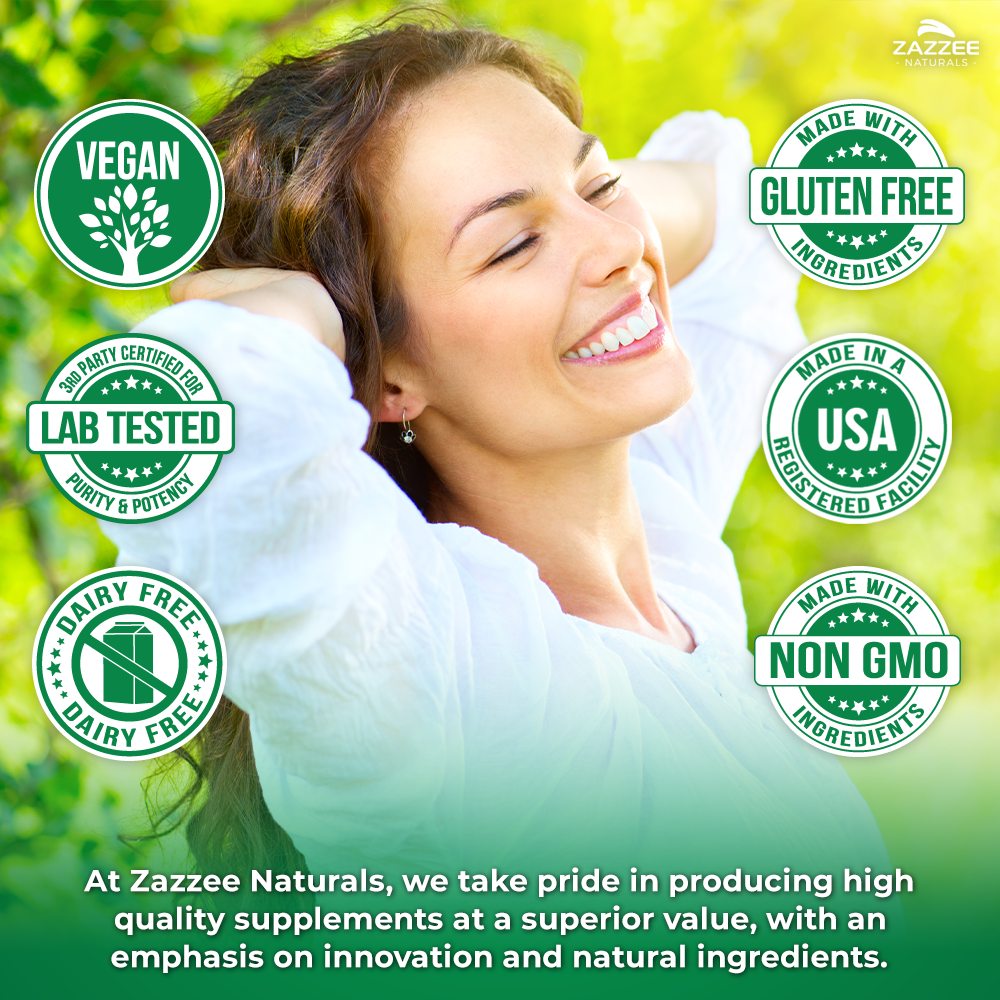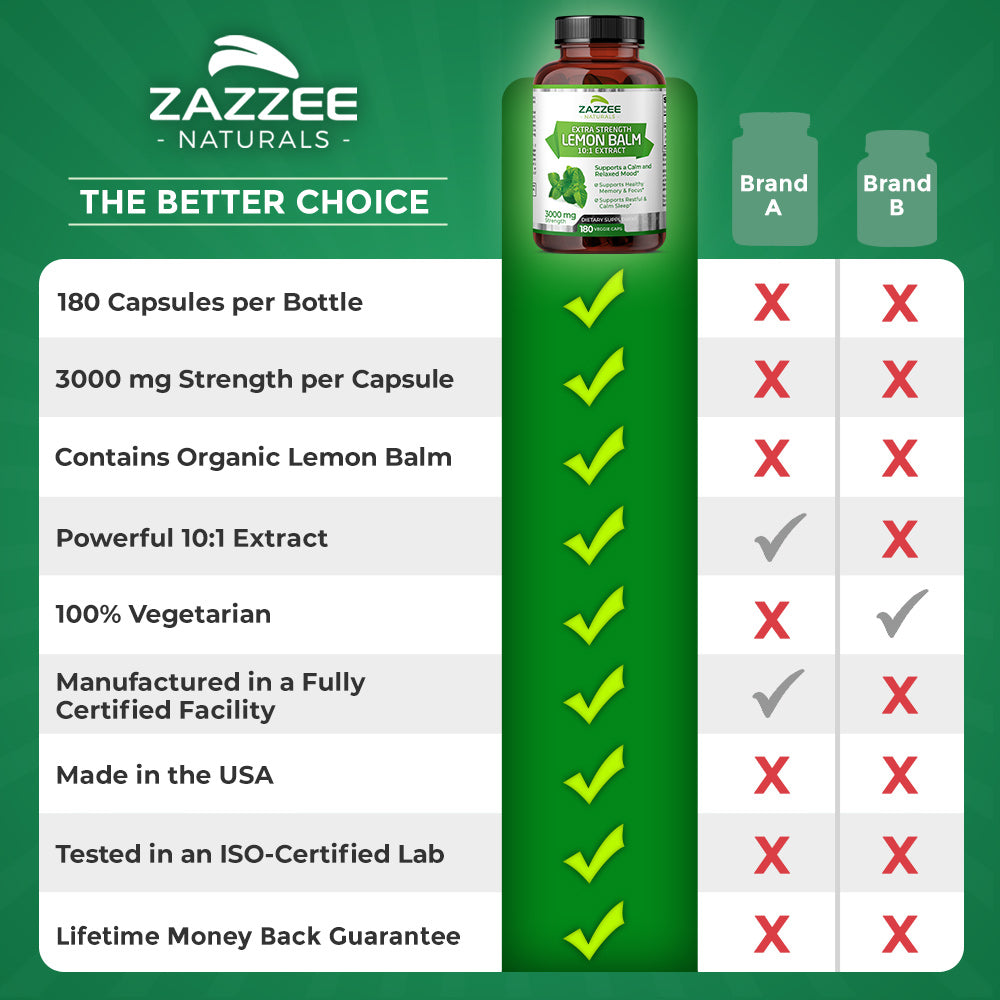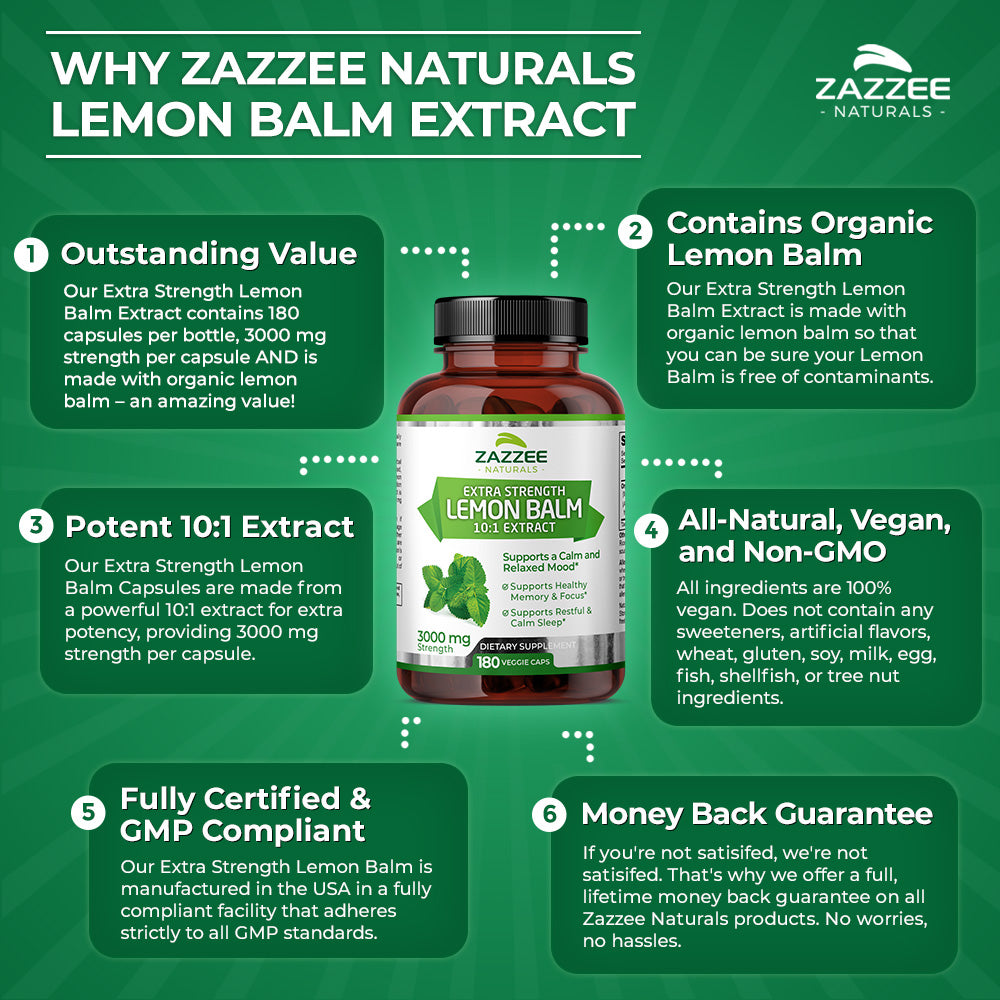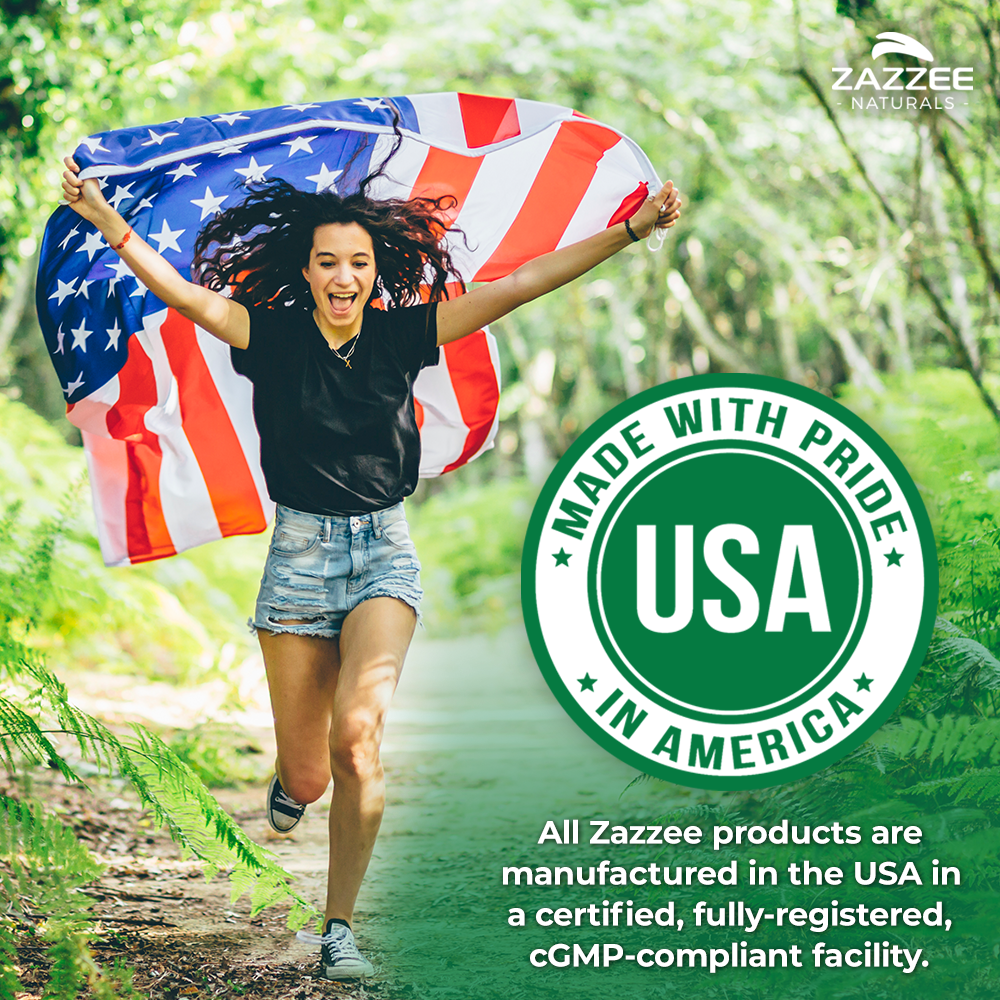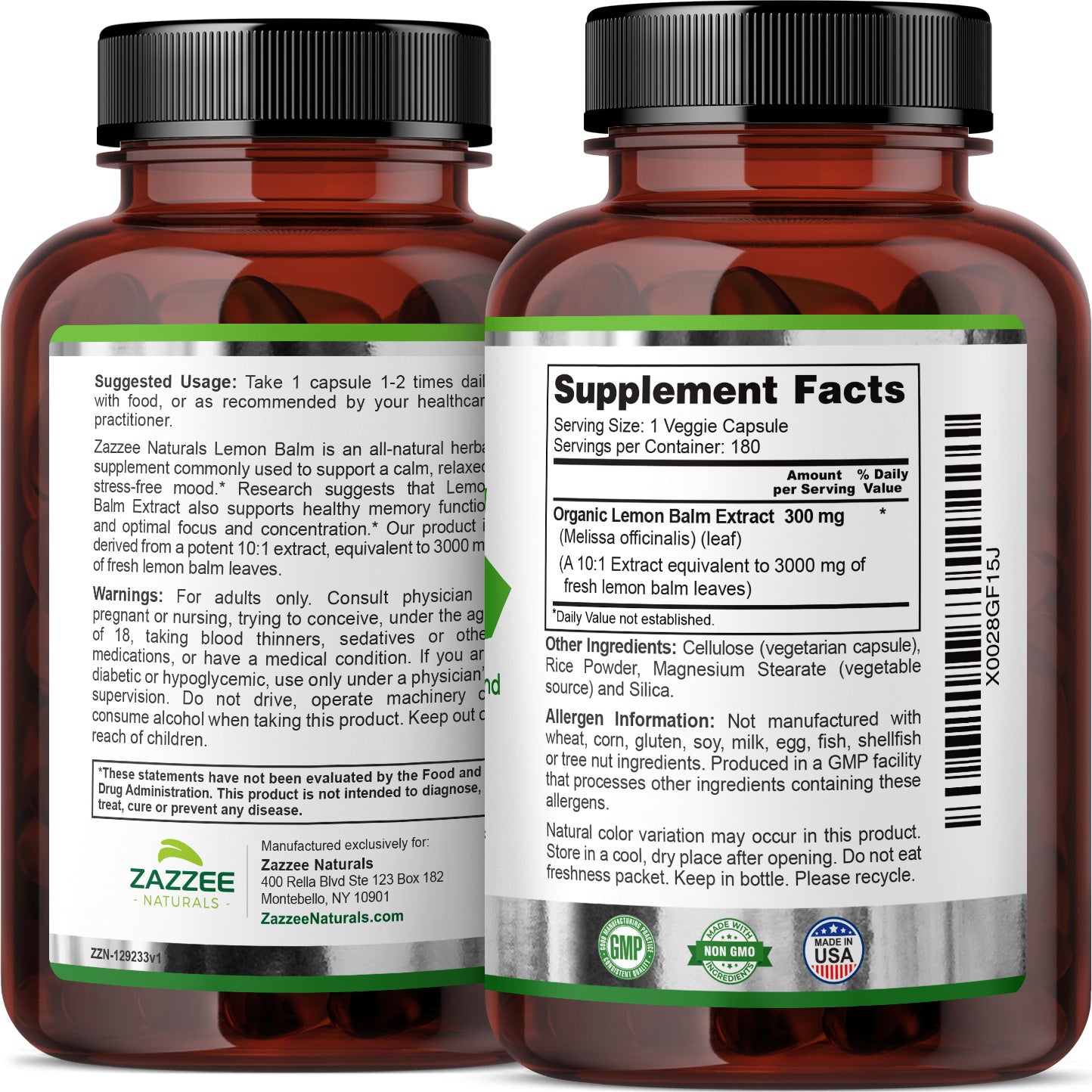 PRODUCT HIGHLIGHTS



Outstanding Value

Our Lemon Balm Extract contains 180 capsules per bottle AND 3000 mg strength per capsule – an amazing value! Compare this to other leading brands that have lower dosages, contain less than 180 capsules, and do not provide a 3000 mg strength dosage. Our Lemon Balm Extract is a bargain not be found elsewhere!




Maximum Strength Available

Our Lemon Balm Extract is the strongest dosage available! Each capsule contains 3000 mg strength of Lemon Balm Extract made from a potent, powerful 10:1 extract.




Organic Lemon Balm

Any Lemon Balm that is not organic can be contaminated and toxic to your body. With Zazzee Naturals Organic Lemon Balm Extract, you can be sure your Lemon Balm is organic, all-natural, vegan, and non-GMO.




Natural, Vegan, & Non-GMO

All ingredients, including the capsule, are 100% vegan. Our Organic Lemon Balm Extract does not contain any sweeteners, artificial flavors, wheat, corn, gluten, soy, milk, egg, fish, shellfish, or tree nut ingredients. Enjoy the amazing benefits of Lemon Balm Extract without worrying about what else might be hiding in each capsule!




Gold Standard Production

Your health and safety mean everything to us. For that reason, our Organic Lemon Balm Extract is manufactured in the USA, in a fully certified facility with adherence to good manufacturing policies and under the most stringent quality control. You can rest assured that you get the best value for your money!

OUR QUALITY ASSURANCES
Vegan

All ingredients are 100% vegan and made from the purest sources available.

Lab Tested

All ingredients are third-party tested to ensure quality, potency and purity.

FDA Registered Facility

Produced in FDA certified facility under the most stringent quality standards.

Gluten Free

All ingredients in this product, as well as the capsules, are 100% gluten free.

Non GMO

We ensure that all ingredients, including the capsules, are completely non-GMO.
Why Use Zazzee Organic Lemon Balm Extract?
Our Lemon Balm Extract is made with Organic Lemon Balm and is the strongest dosage available, with each capsule containing 3000 mg strength made from a potent, powerful 10:1 extract providing you with strong support for anxiety and healthy sleep.
Five Star Reviews from Amazon
Great product!!
I had to go this route because I want to get off pharmaceutics, mood stabilizers. I am pairing it with another Herbal supplement that was recommended in my research. For me it is helping and not altering me in a negative way. I shared this with another family member that has digestion issues. She has become regular. The bloating, and other stomach issues dissipated. Noticeable change less than 24 hrs after taken. We are both extremely satisfied and will be continuing to use this product!
May 31, 2020
The BEST, even over my homegrown organic, for highly concentrated source!
I was skeptical initially. Could I REALLY just take 1? YES! YES! YES! So excited & so glad I came across this! Sleep is mine again!
May 3, 2020
Smells great and REALLY WORKS For Anxiety
The capsules have a lovely, full, rich lemon scent. I noticed an effect from the first dose. These really help with my mood and anxiety and help a great deal with falling asleep at night. I take two a day. Full disclosure -- I take a valerian root extract as well. I have read that lemon balm works well with valerian.
Feb 21, 2020
This Lemon Balm is very nice, great calming and relaxing
I have been adding this to my evening cool down routine and I'm sleeping very well. This isn't really an herb to fall asleep, but it's more just for rest and better sleep. You can check the internet for all the possibilities, but in the capsule I think relaxing and letting go of stress is great. I like this product. Seems to taste right when I open a capsule to taste the powder. The capsules are easy to swallow and I am not having any odd effects, gastrointestinal or otherwise either. Really happy with this order.
Feb 19, 2020