Regular price
Sale price
$15.97
Unit price
per
Sale
Sold out
120 Capsules per Bottle
7500 mg Strength per Capsule
Min. 25% Gymnemic Acid
Potent 25:1 Extract
100% Vegetarian
FDA and GMP Certified
Made in the USA
View full details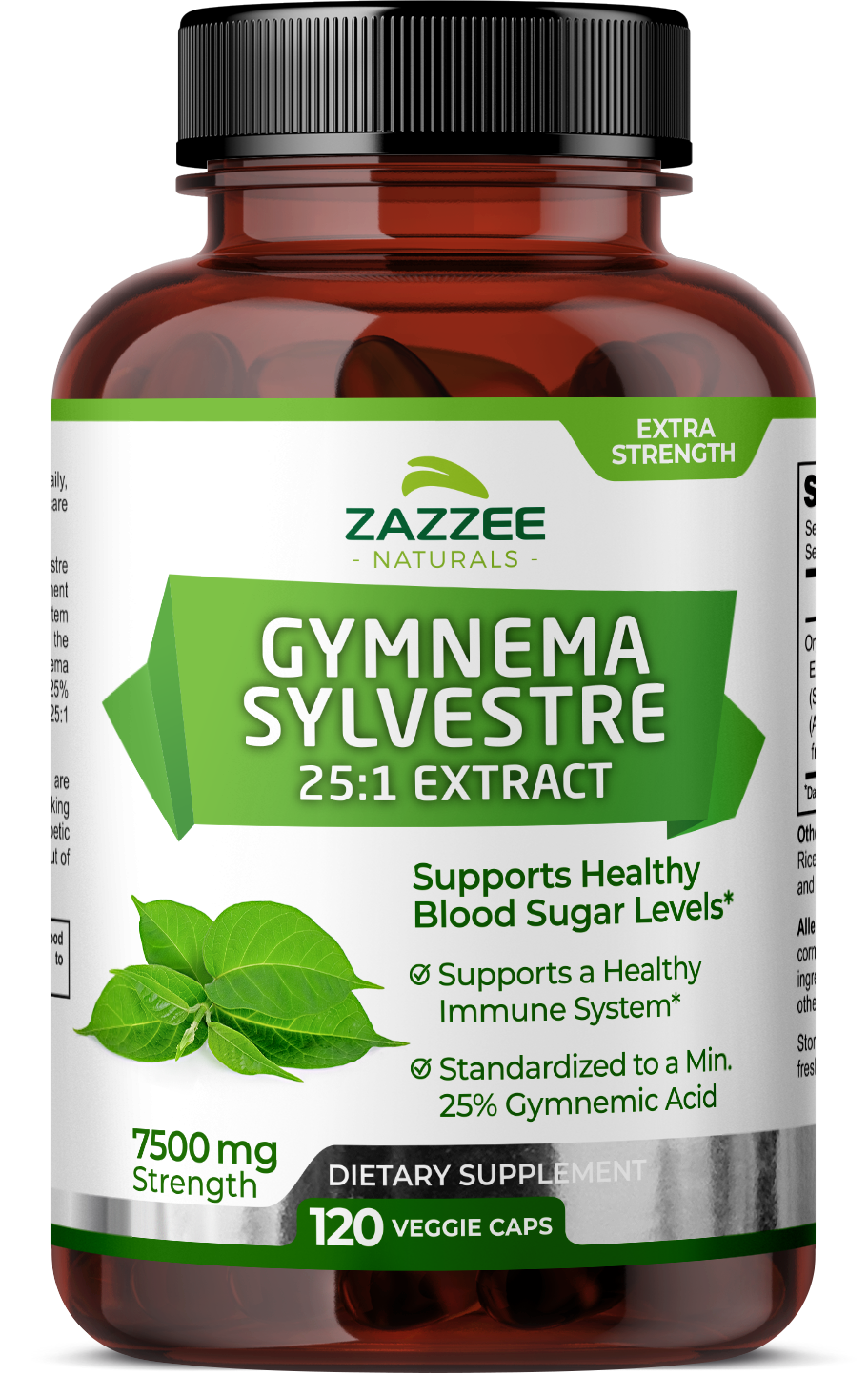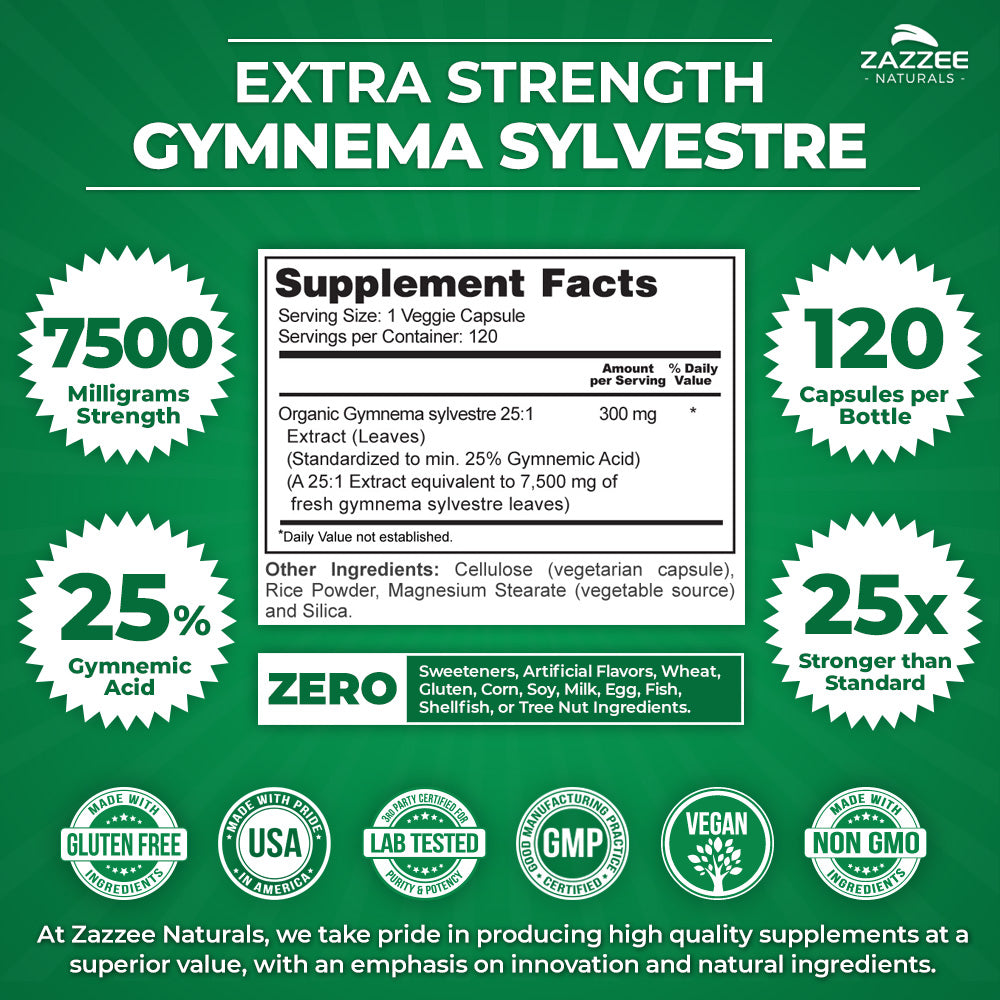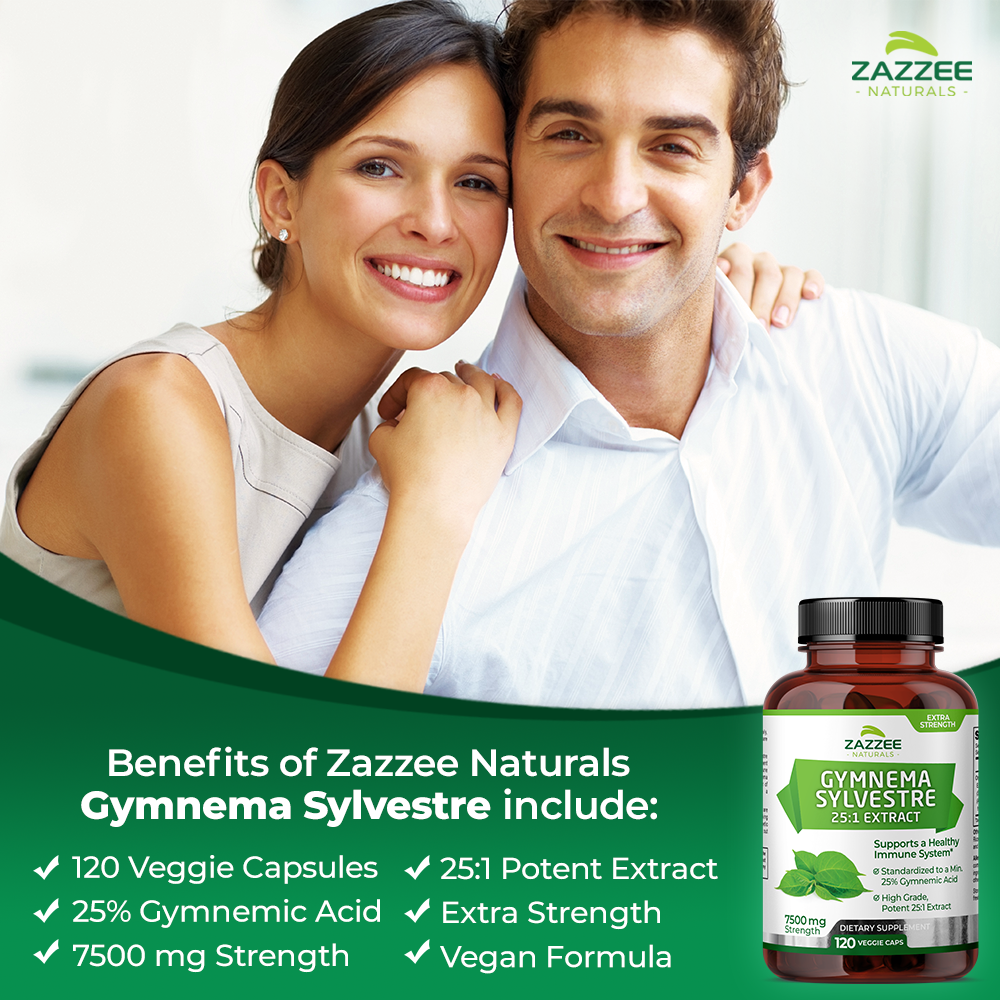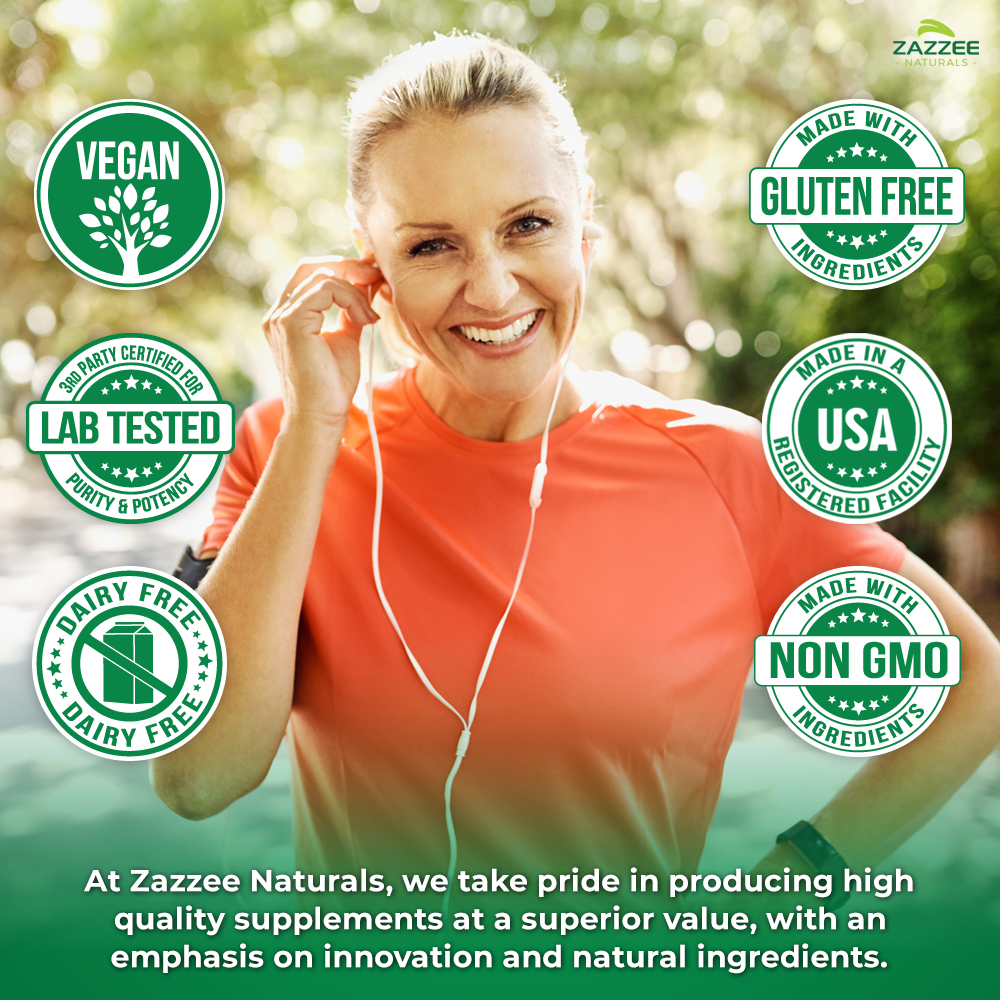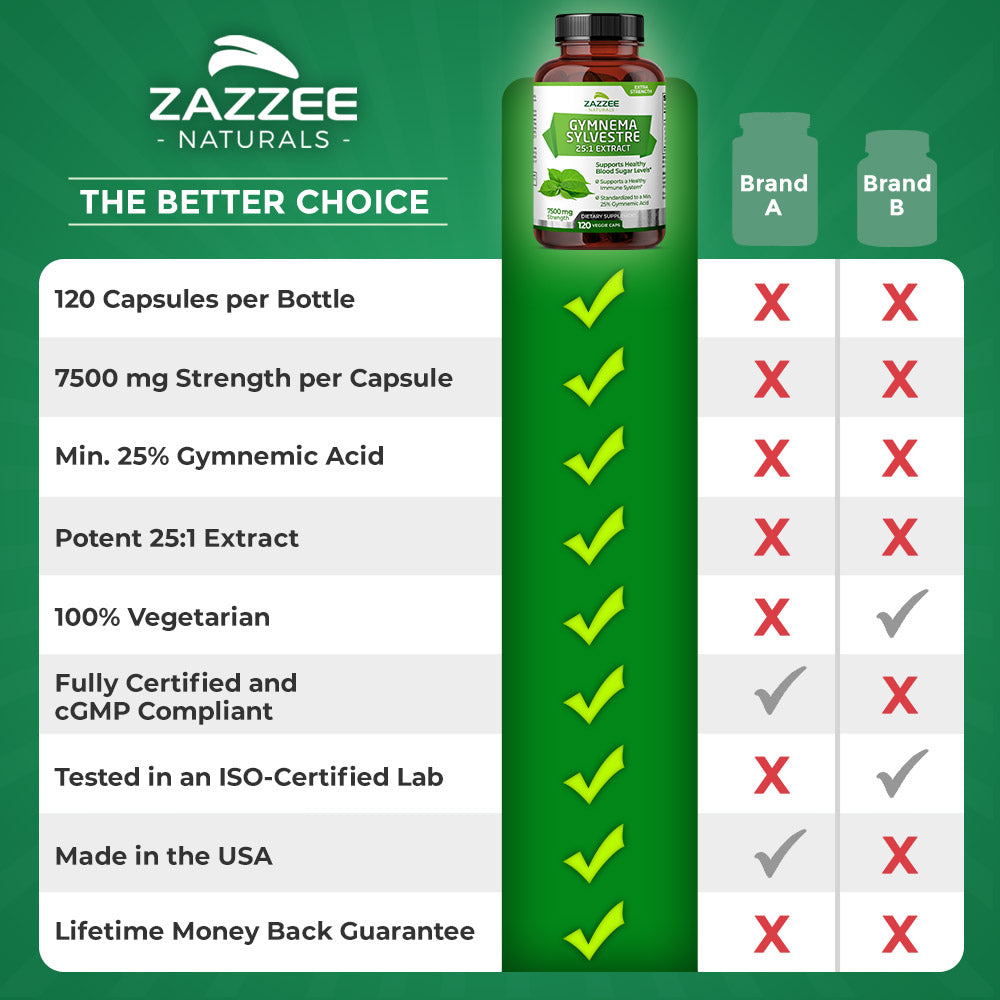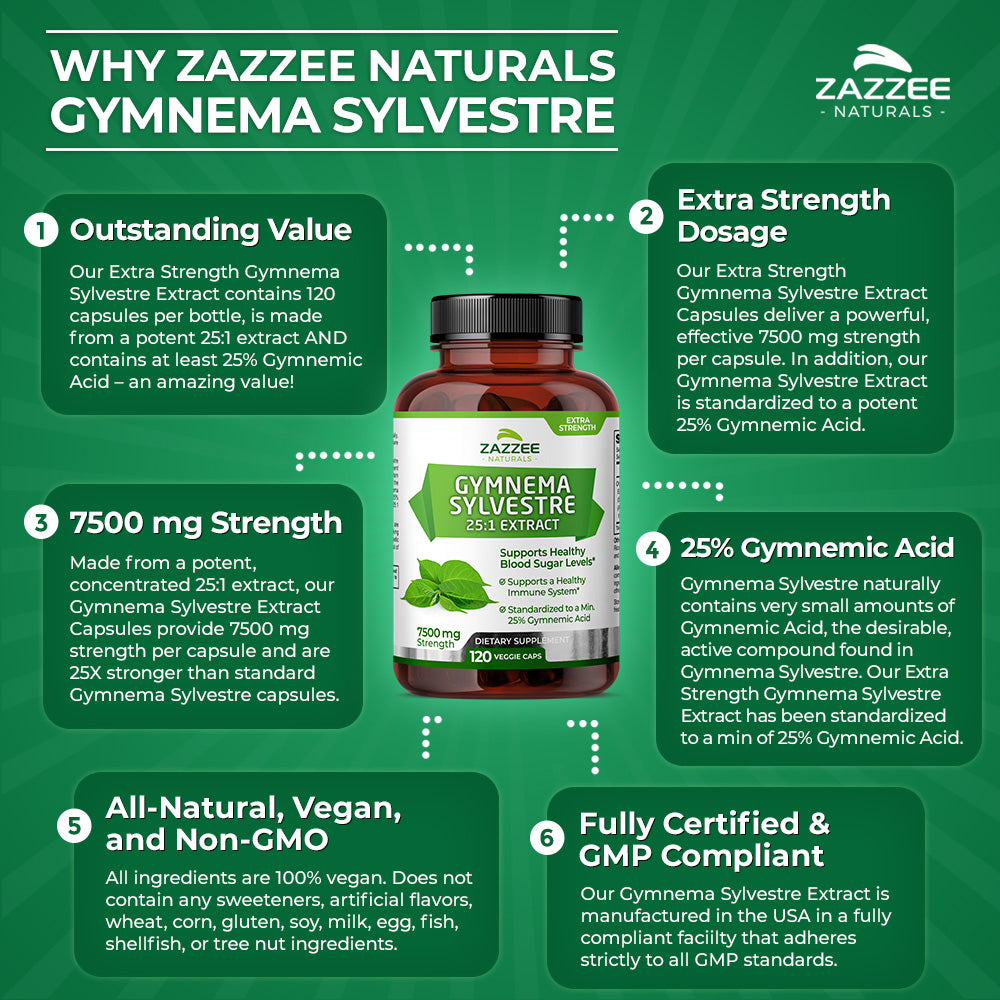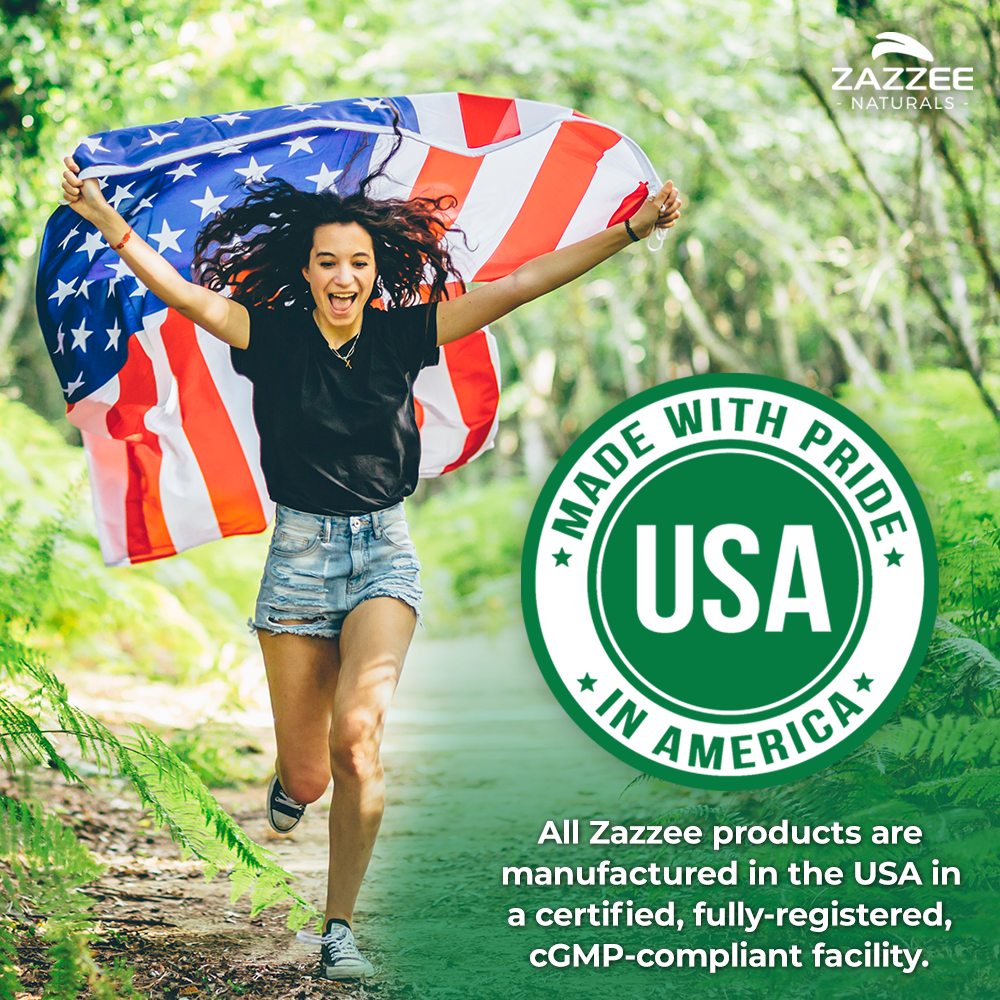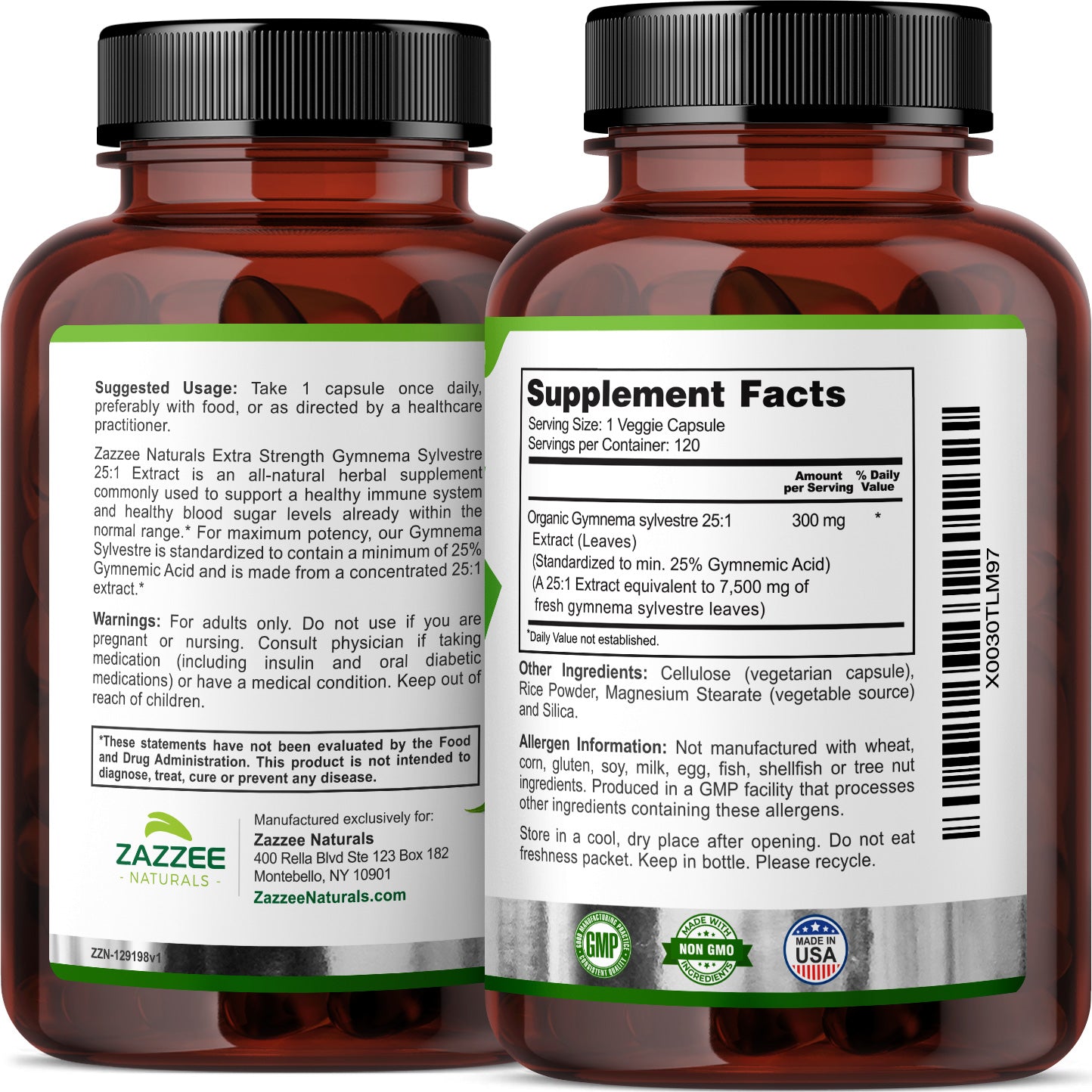 PRODUCT HIGHLIGHTS



Outstanding Value

Our Extra Strength Gymnema Sylvestre Extract contains 7500 mg strength per serving, is made from a potent 25:1 extract AND contains 120 capsules per bottle – an amazing value! Compare this to other leading brands that contain less than 120 capsules, use a much less potent, non-extract powder, and do not contain 25% Gymnemic Acid. Our Extra Strength Gymnema Sylvestre Extract is a bargain not be found elsewhere!




25% Gymnemic Acid, Super Potent

Each serving contains 7500 mg strength of Gymnema Sylvestre Extract made from a potent, powerful 25:1 extract. Combine that with a minimum of 25% Gymnemic Acid, and our Extra Strength Gymnema Sylvestre Extract is one of the strongest dosages available!




Organic Gymnema Sylvestre

Any Gymnema Sylvestre that is not organic can be contaminated and toxic to your body. With Zazzee Naturals Organic Gymnema Sylvestre Extract, you can be sure your Gymnema Sylvestre is organic, all-natural, vegan, and non-GMO.




Natural, Vegan, & Non-GMO

All ingredients, including the capsule, are 100% vegan. Our Extra Strength Gymnema Sylvestre Extract does not contain any sweeteners, artificial flavors, wheat, corn, gluten, soy, milk, egg, fish, shellfish, or tree nut ingredients. Enjoy the amazing benefits of our potent Gymnema Sylvestre Extract without worrying about what else might be hiding in each capsule!




Gold Standard Production

Your health and safety mean everything to us. For that reason, our Extra Strength Gymnema Sylvestre Extract is manufactured in the USA, in a fully certified facility with adherence to good manufacturing policies and under the most stringent quality control. You can rest assured that you get the best value for your money!

OUR QUALITY ASSURANCES
Vegan

All ingredients are 100% vegan and made from the purest sources available.

Lab Tested

All ingredients are third-party tested to ensure quality, potency and purity.

FDA Registered Facility

Produced in FDA certified facility under the most stringent quality standards.

Gluten Free

All ingredients in this product, as well as the capsules, are 100% gluten free.

Non GMO

We ensure that all ingredients, including the capsules, are completely non-GMO.
Why Use Zazzee Gymnema Sylvestre Extract?
Gymnema Sylvestre Extract is commonly used to support a healthy immune system and healthy blood sugar levels already within the normal range.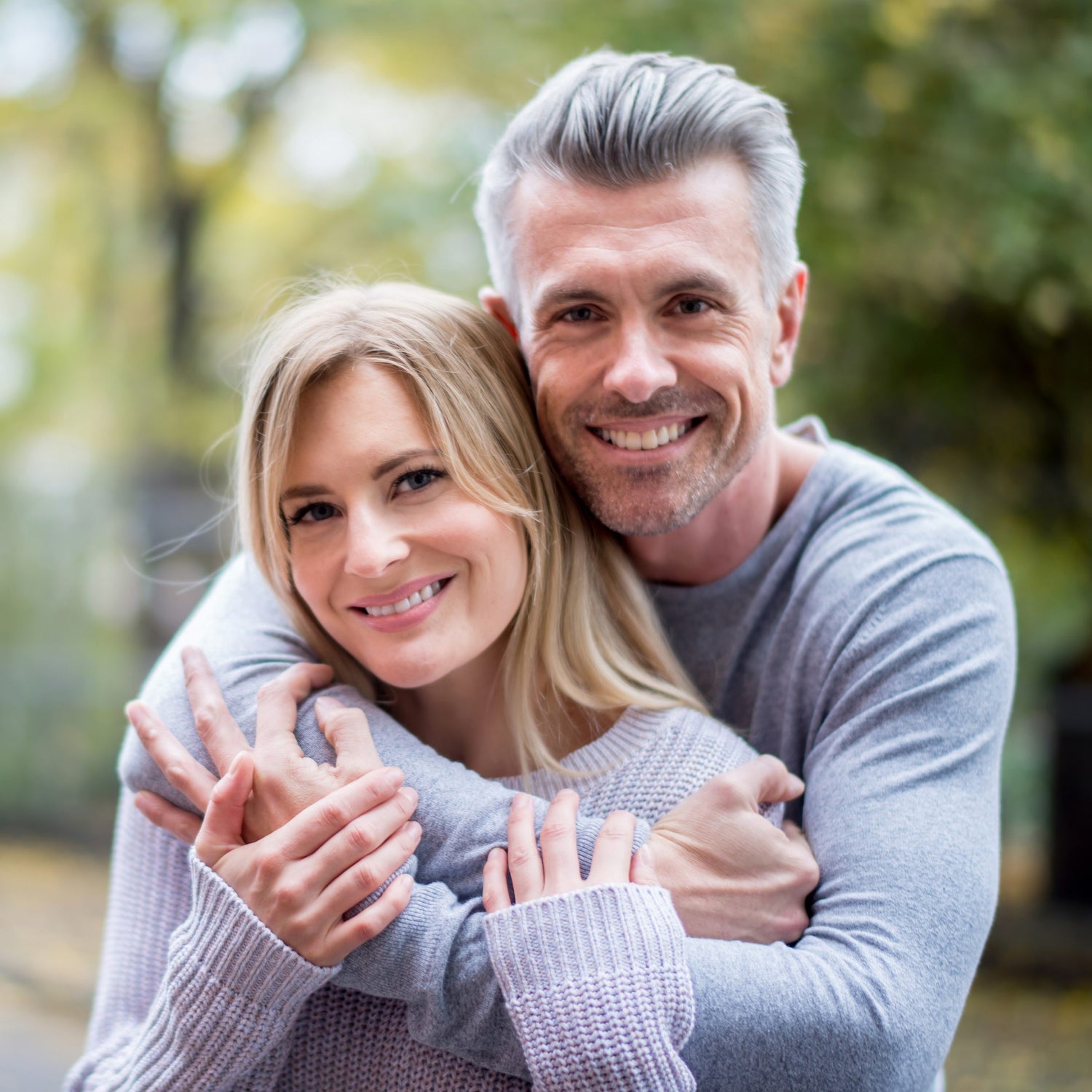 Five Star Reviews from Amazon
I feel much healthier.
This vegan capsule greatly improves bladder control and I have felt more energetic. I am so grateful I have found this extract.
Jan 13, 2023
Excellent OTC to control blood glucose levels
I found this product in an Ayurvedic reference. apparently known as the "blood sugar killer" for thousands of years. Works very well, better than metformin, being pushed by pharma industry. My Dr. is surprised how good my glucose levels are really was surprised after he learned from me that I'm not taking Metformin any longer.
Dec 8, 2022
...What sugar cravings?
I usually never write reviews (unless the item is horrible), but this is a game-changer! Sugary items like donuts, cakes, or ice cream, etc... tastes "off" after you take this pill. It doesn't make the item taste bad per se but different- not desirable. I am currently trying to reverse insulin resistance- and this has helped me so much with my sugar cravings…A must-buy!
May 29, 2022
It Works!
It changed my taste of & cravings for sweets. This skeptic is convinced, although it's my 1st bottle…
Nov 28, 2022