Regular price
Sale price
$21.27
Unit price
per
Sale
Sold out
300 mg of DIM per Serving
Over 3 Month Supply
Lowest Price per mg of DIM
100 Capsules per Bottle
10 mg BioPerine
Plus 100 mg Pure Broccoli Extract
100% Vegetarian
View full details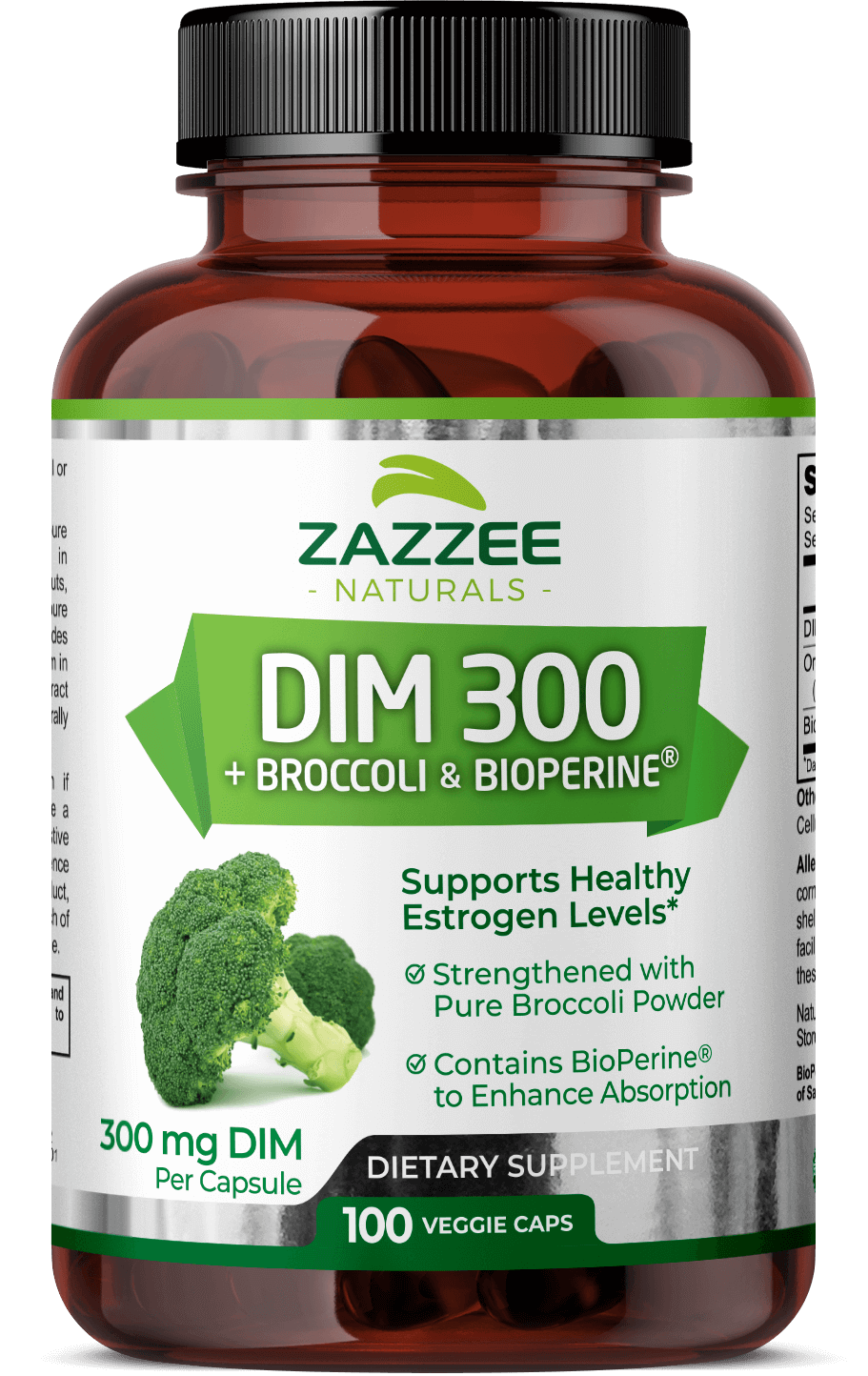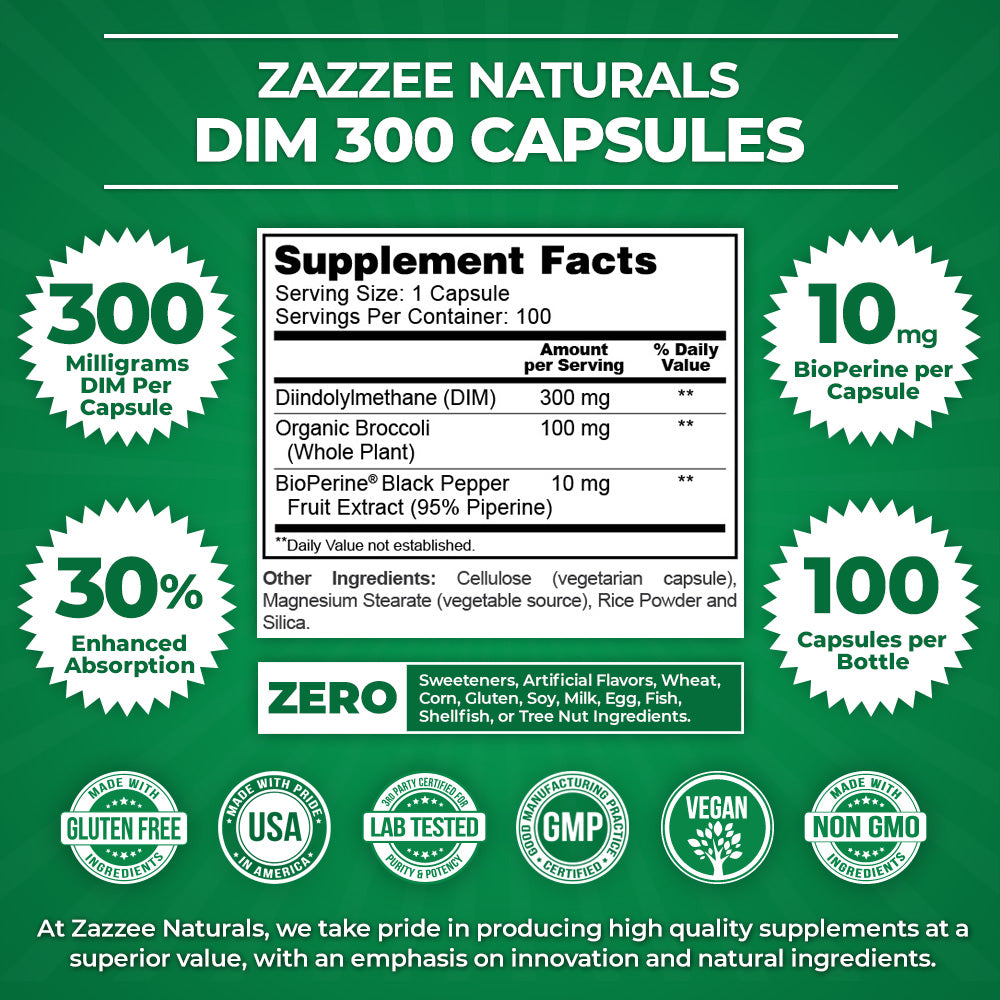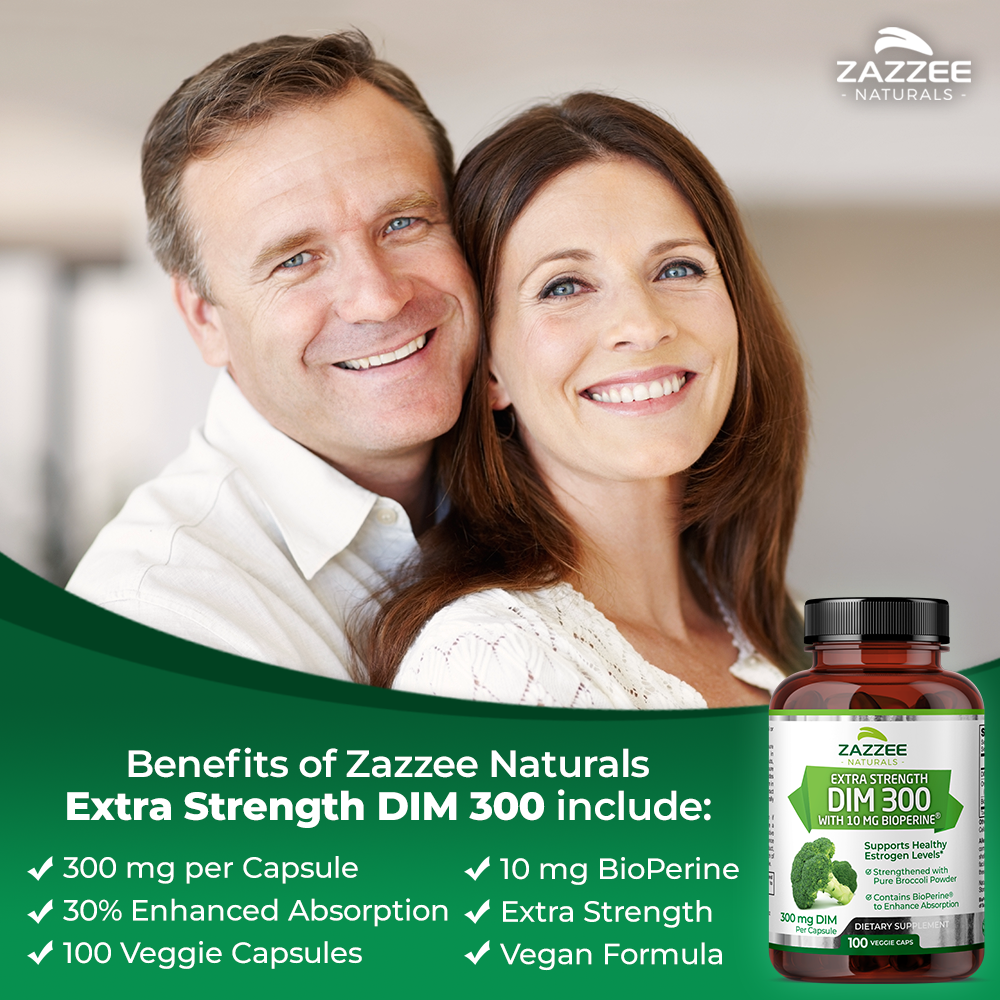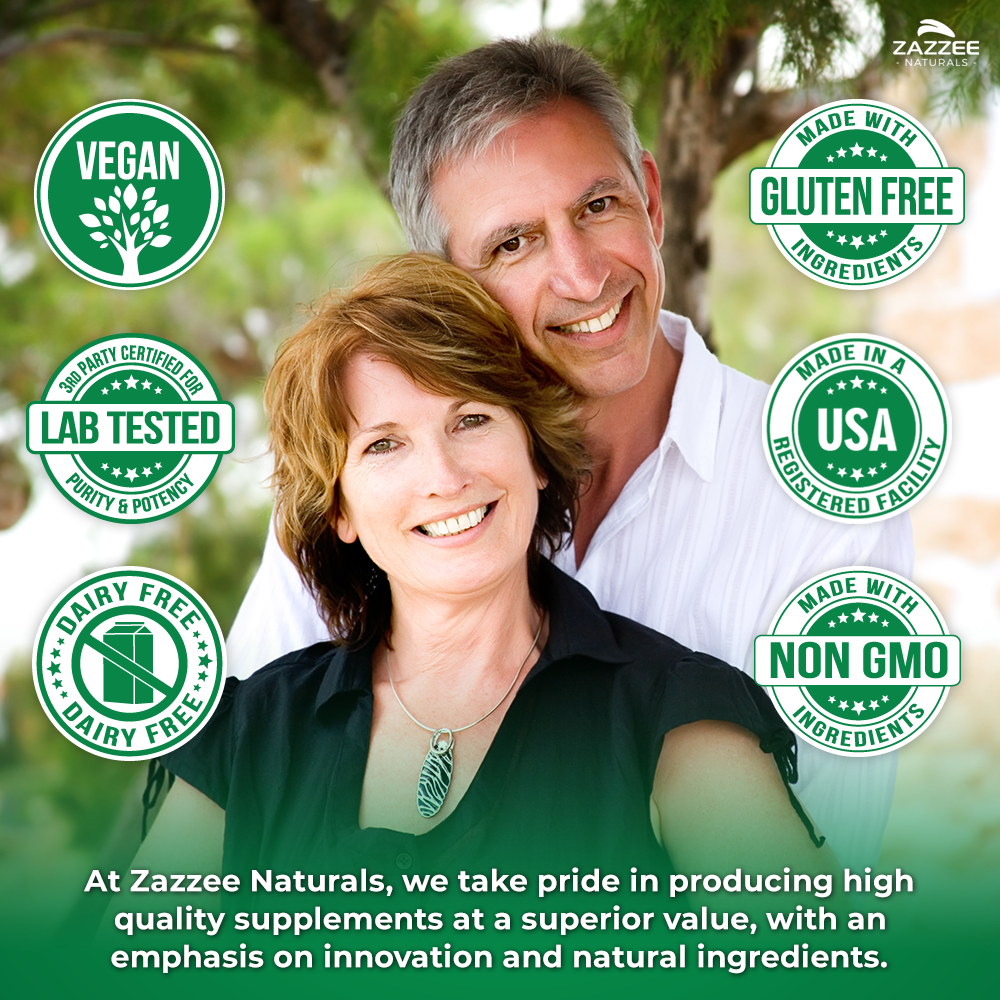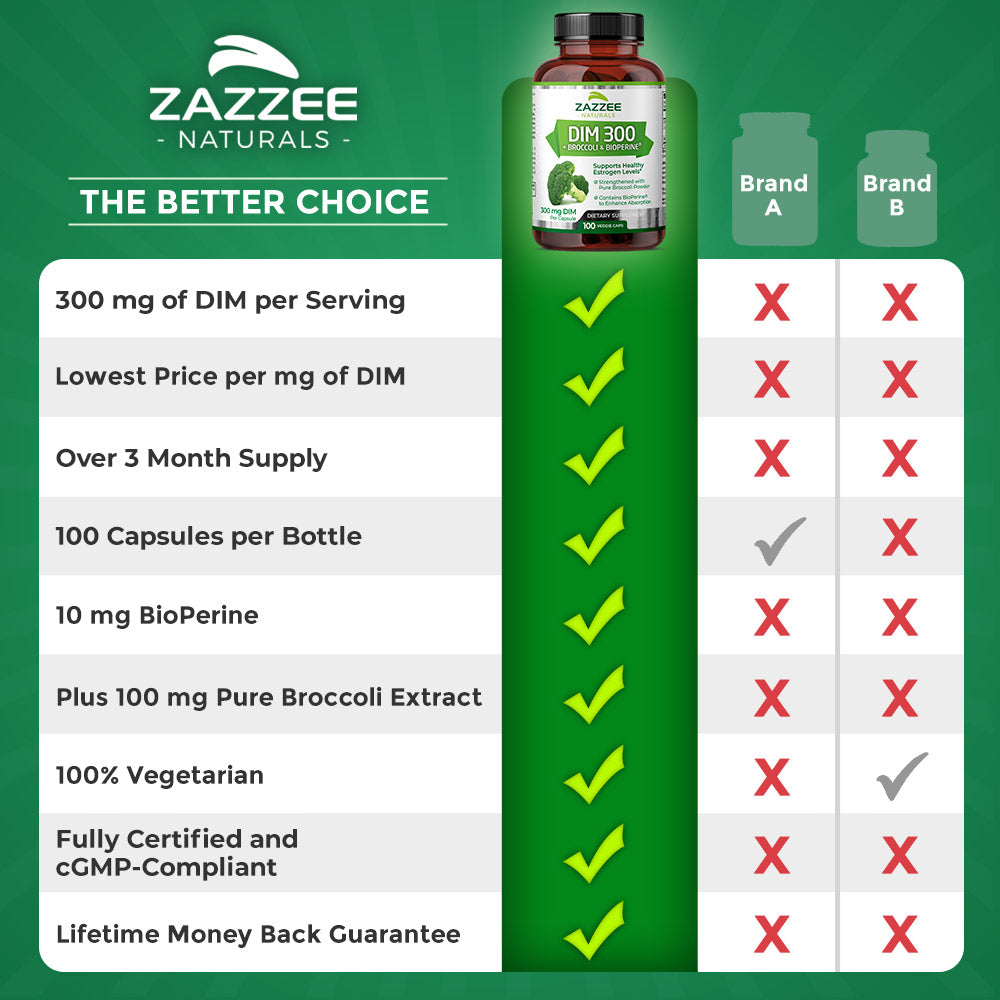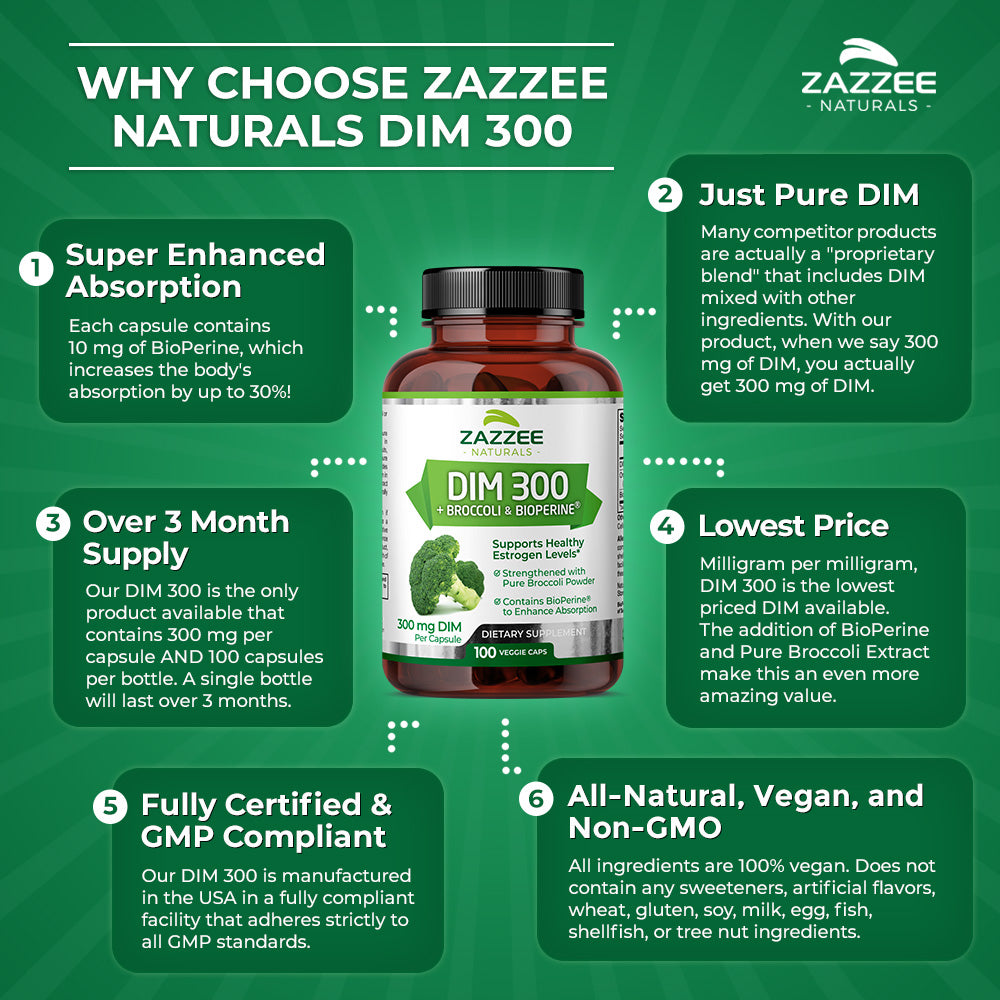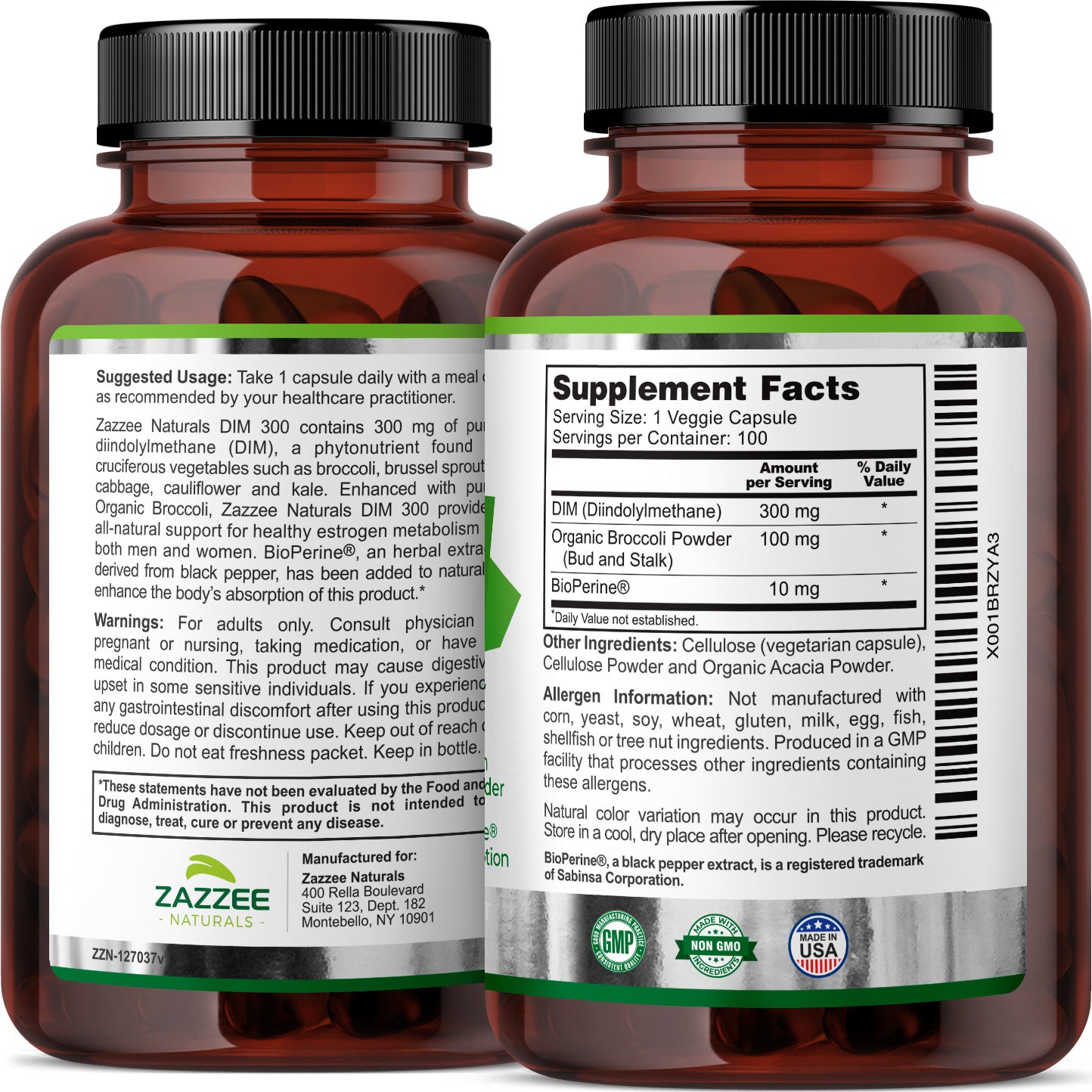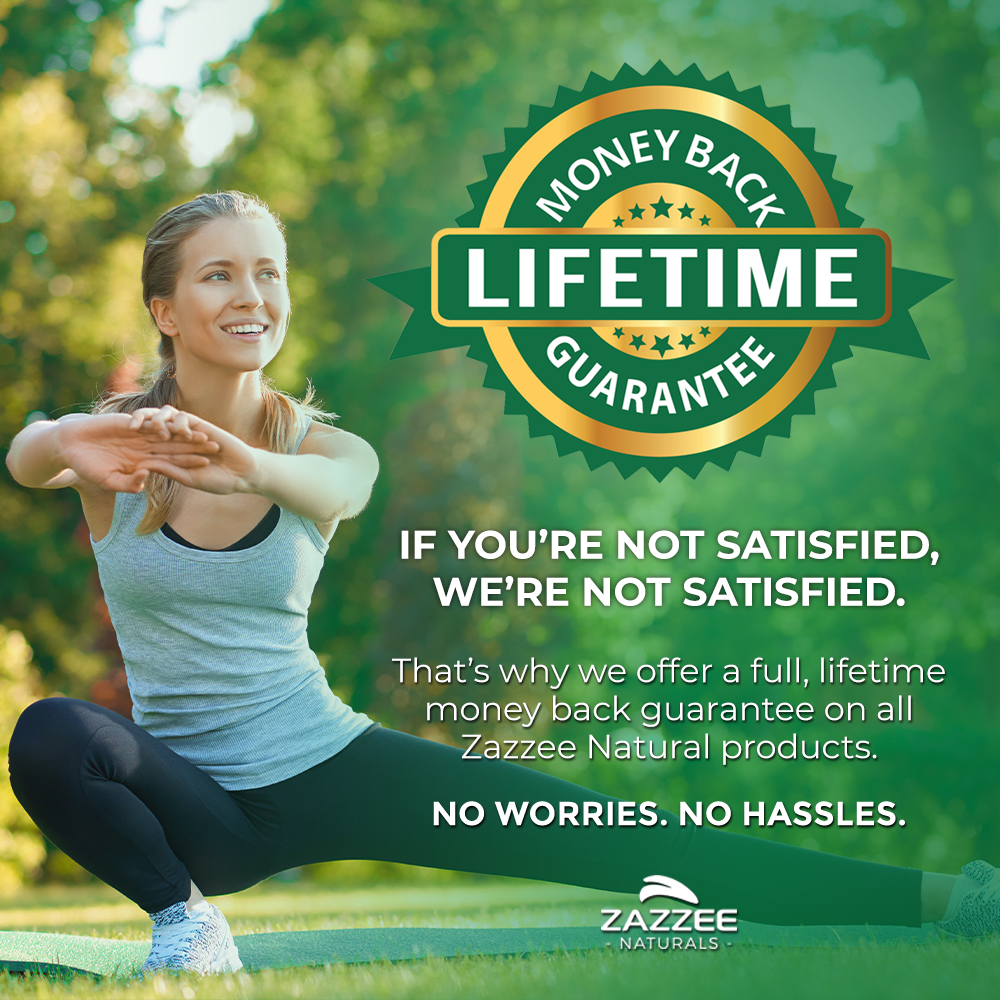 PRODUCT HIGHLIGHTS



Amazing Value!

Our DIM 300 is the only product available that contains 300 mg of DIM per capsule AND 100 capsules per bottle, making it the best value on the market. In addition, each capsule is enhanced with 10 mg of BioPerine for maximum absorption, contains 100 mg of Pure Organic Broccoli Extract, and is stabilized with Organic Acacia Powder, an all-natural prebiotic. With DIM 300, you get both the best value AND the most effective DIM supplement available!




Super Enhanced Absorption

Our DIM 300 has been enhanced with 10 mg of BioPerine, an all-natural extract derived from black pepper. Numerous studies have shown that the addition of BioPerine increase the body's absorption of other ingredients by up to 30%! The 10 mg of BioPerine is the highest amount of BioPerine in any DIM product, which means that with DIM 300, not only do you get more DIM, but your body absorbs more of it.




100% Vegetarian & Stabilized Organically

All ingredients, as well as the capsules, are 100% vegetarian and non-GMO. While other competing products use various chemicals as fillers, binders, and excipients, DIM 300 uses Organic Acacia Powder, an all-natural prebiotic. DIM 300 is free of gluten, soy, milk, corn, egg, fish, shellfish, and tree nut ingredients.




Supports Healthy Estrogen & Hormone Levels in Both Men And Women

DIM metabolizes excess estrogen, regulates estrogen production, and helps to maintain a healthy hormone balance in both men and women. For women, DIM helps ease the symptoms of menopause, promotes weight loss, restores energy, assists in treating PCOS, and can reduce acne. For men, DIM promotes lean body mass, supports weight loss, helps control acne, increases libido, and promotes prostate health.




Gold Standard Production

Your health and safety mean everything to us. For that reason, our DIM 300 is manufactured in the USA, in an FDA certified facility with adherence to good manufacturing policies and under the most stringent quality control. You can rest assured that you get the best value for your money!

OUR QUALITY ASSURANCES
Vegan

All ingredients are 100% vegan and made from the purest sources available.

Lab Tested

All ingredients are third-party tested to ensure quality, potency and purity.

FDA Registered Facility

Produced in FDA certified facility under the most stringent quality standards.

Gluten Free

All ingredients in this product, as well as the capsules, are 100% gluten free.

Non GMO

We ensure that all ingredients, including the capsules, are completely non-GMO.
Why Use Zazzee DIM 300 Plus BioPerine?
DIM metabolizes excess estrogen, regulates estrogen production, and helps to maintain a healthy hormone balance in both men and women.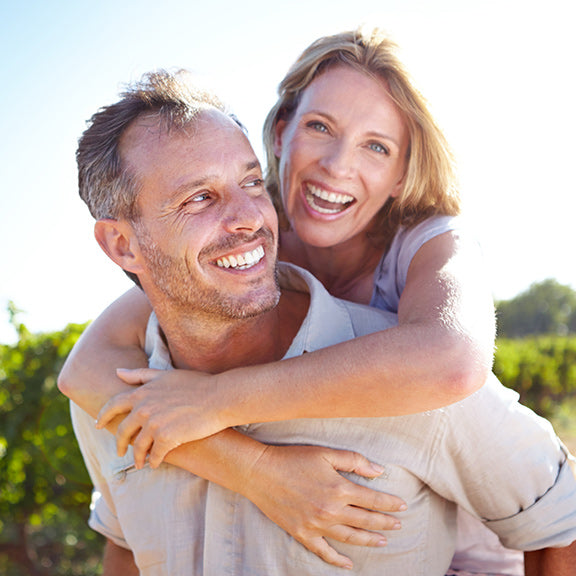 Five Star Reviews from Amazon
 Why didn't I know about this sooner?
This product is amazing. I only wish I knew about it 5 years ago, when my menopause symptoms started. After taking this for 2 days, I had a total attitude change. I was so positive and I actually wanted to go do things. It is not a "diet pill" where you get the jitters. It is a total mood changer. I am often very cranky, tired and don't want do much since my symptoms began. But now, I am up for anything! Much more energy and I am happy. I have been taking this for 2 weeks now and I never want to run out!!! If your skeptical, just give it a try. I would recommend it 100%.
Aug 8, 2018
Changed my life
I ordered This product after research on my irregular period, cysts, and crazy mood swing. Now I'm talking crazy like I attacked my husband crazy! It's only been about a week and a half, my period was regular, my cyst didn't flare up as it normally does during this time of the month and best of all I can handle whatever is thrown at me with out tears or aggression! Please if your considering this product try it! It changed my life for the better! Update: it's been months now and I know these pills work! If I miss a day I feel it, even if I forget in the morning, I take one when I get home in the evening and it's like magic! Poof I feel a million times better!
Sep 4, 2018
Hormone Regulating Magic
I took a different brand of DIM for about 4 years but I believe that this is just as effective if not more. I used this to help control my hormonal acne...It is a great value for the price. I will continue to repurchase.
Jun 2, 2018
 It really does WORK!!
I was diagnosed with PCOS for a number of years now and as a result I have terrible cystic acne and I also do not have a period at all.Everything that I have tried did not work. I decided to give this DIM supplement a try and Believe me what a pleasant surprise! Within 3 days i started to see a change in my acne. I have been taking DIM for exactly one Month and have not had a single cystic acne breakout. And what surprised me even more is that I now have a period. I am so thankful I found this Supplement. It really does help to balance your Hormones. Will continue to purchase!
Jan 23, 2019
This stuff is working
My wife has uterine fibroids, ovarian cysts, and high estrogen levels. She suffers from cystic acne, chronic pain, headaches, hormonally triggered depression, heavy bleeding & long/irregular cycles. She's taken this supplement + 1000mg vitex daily and has noticed better skin within 30 days and after a few months a more regulated cycle with less bleeding and pain. She says the changes happen every month and her mood stability has dramatically improved as well as lessened symptoms.
Nov 17, 2019