Regular price
Sale price
$34.97
Unit price
per
Sale
Sold out
2000 mg of D-Mannose per Serving
67 Servings per Container
Enhanced with 5 Billion CFU of Probiotics
Contains Pure Cranberry Juice Extract
100% Vegetarian
FDA and GMP Certified
Made in the USA
View full details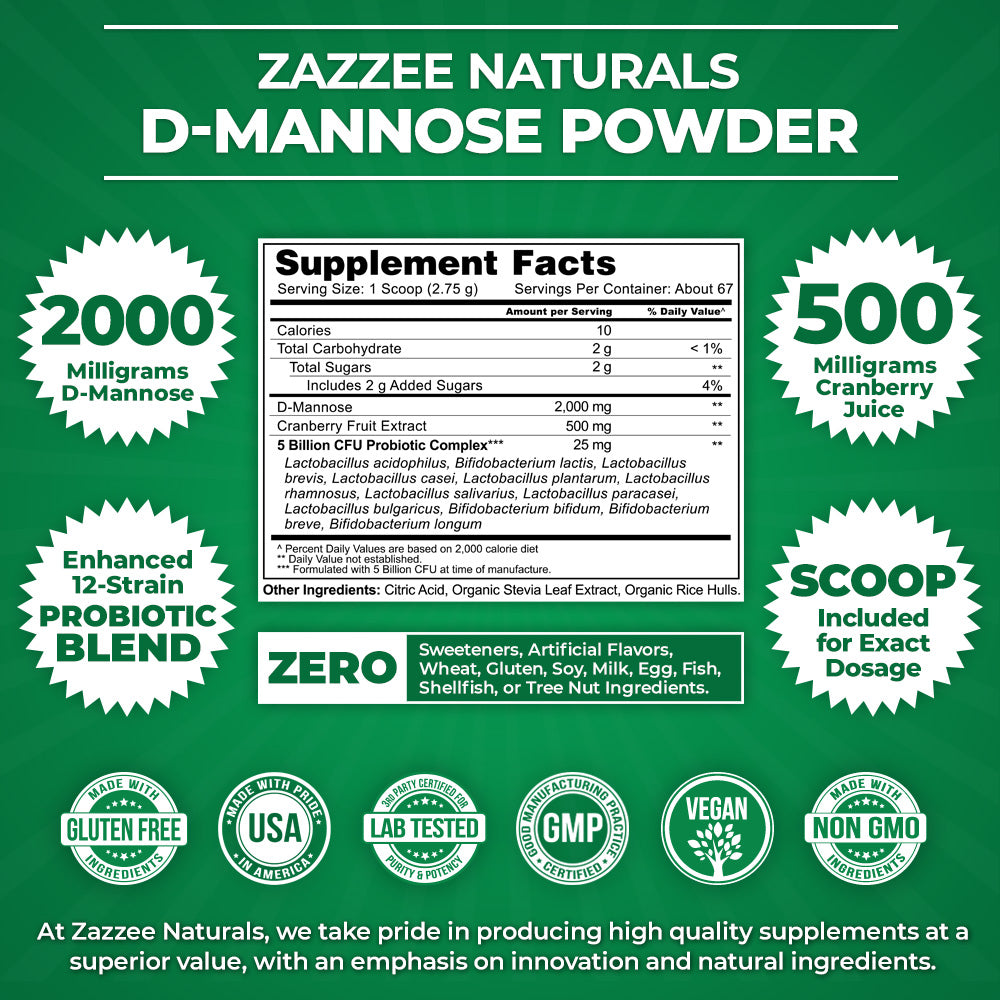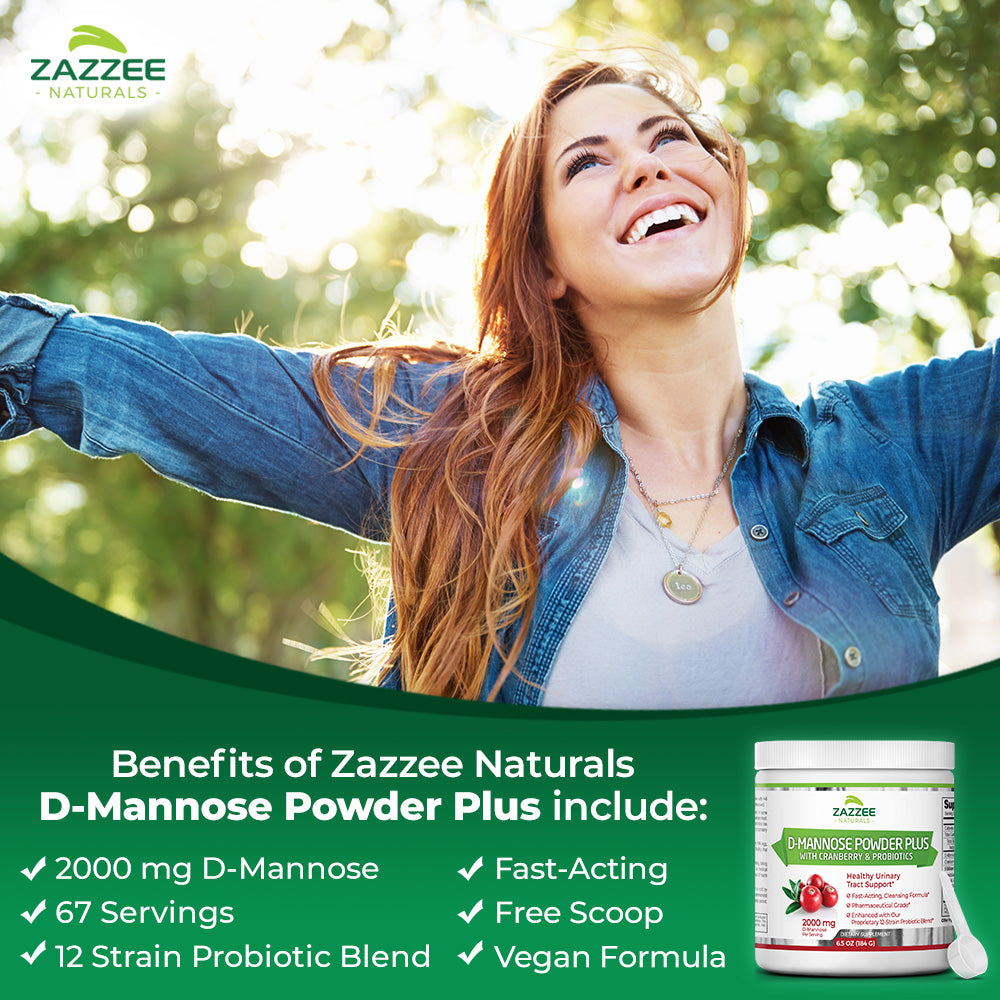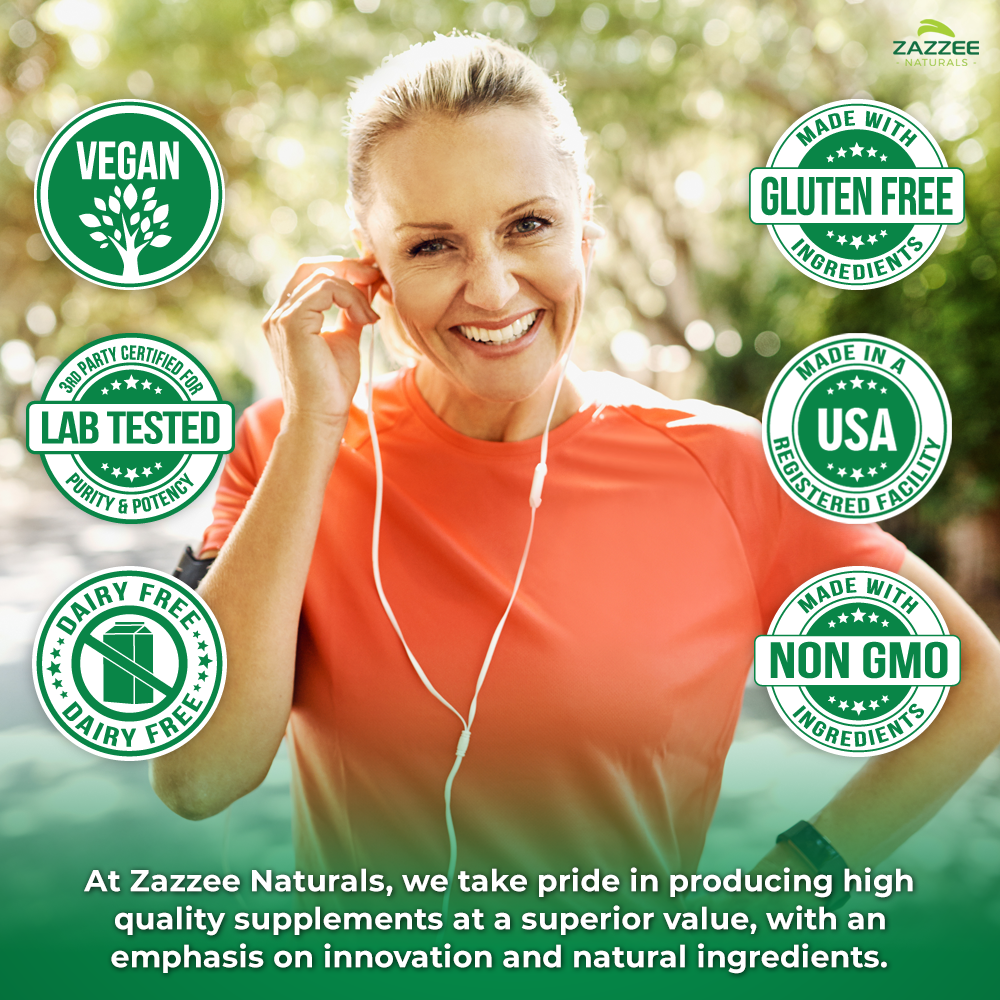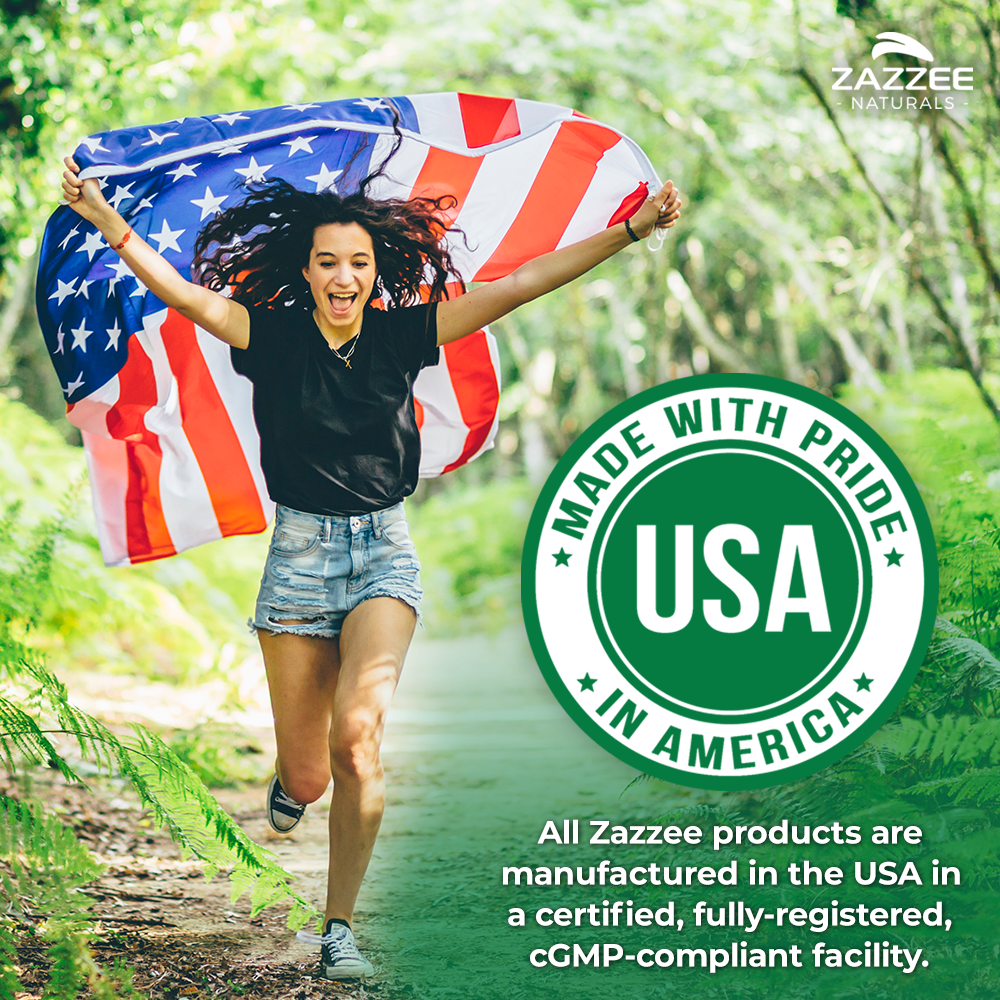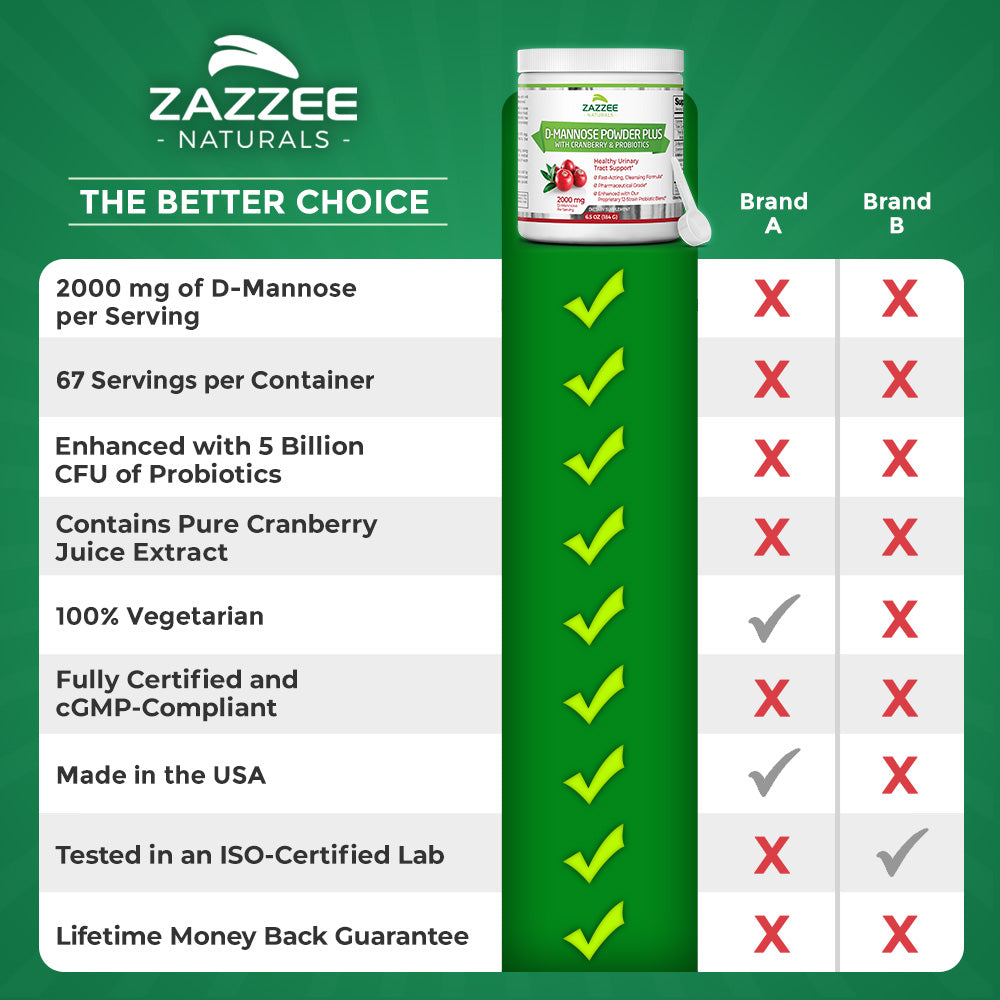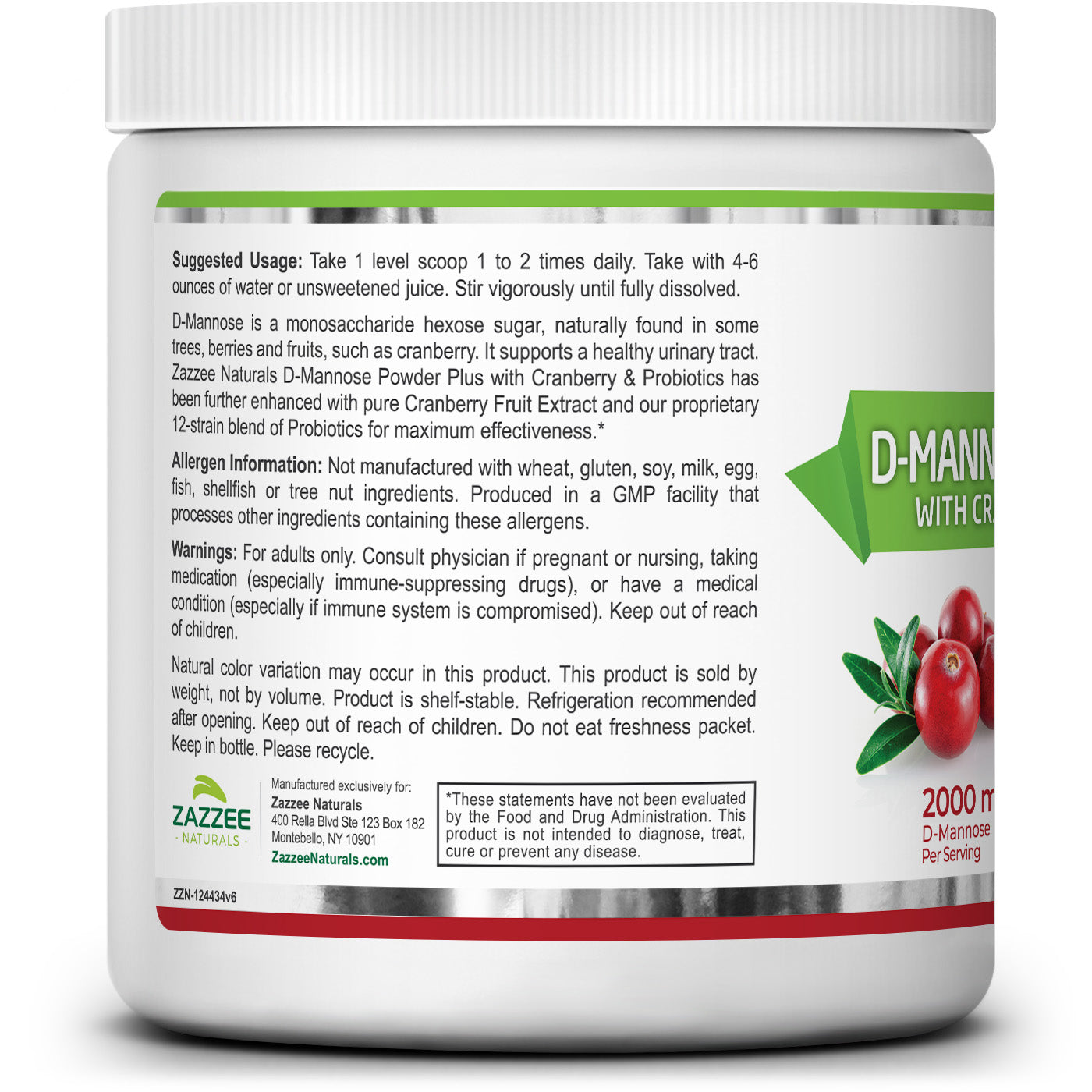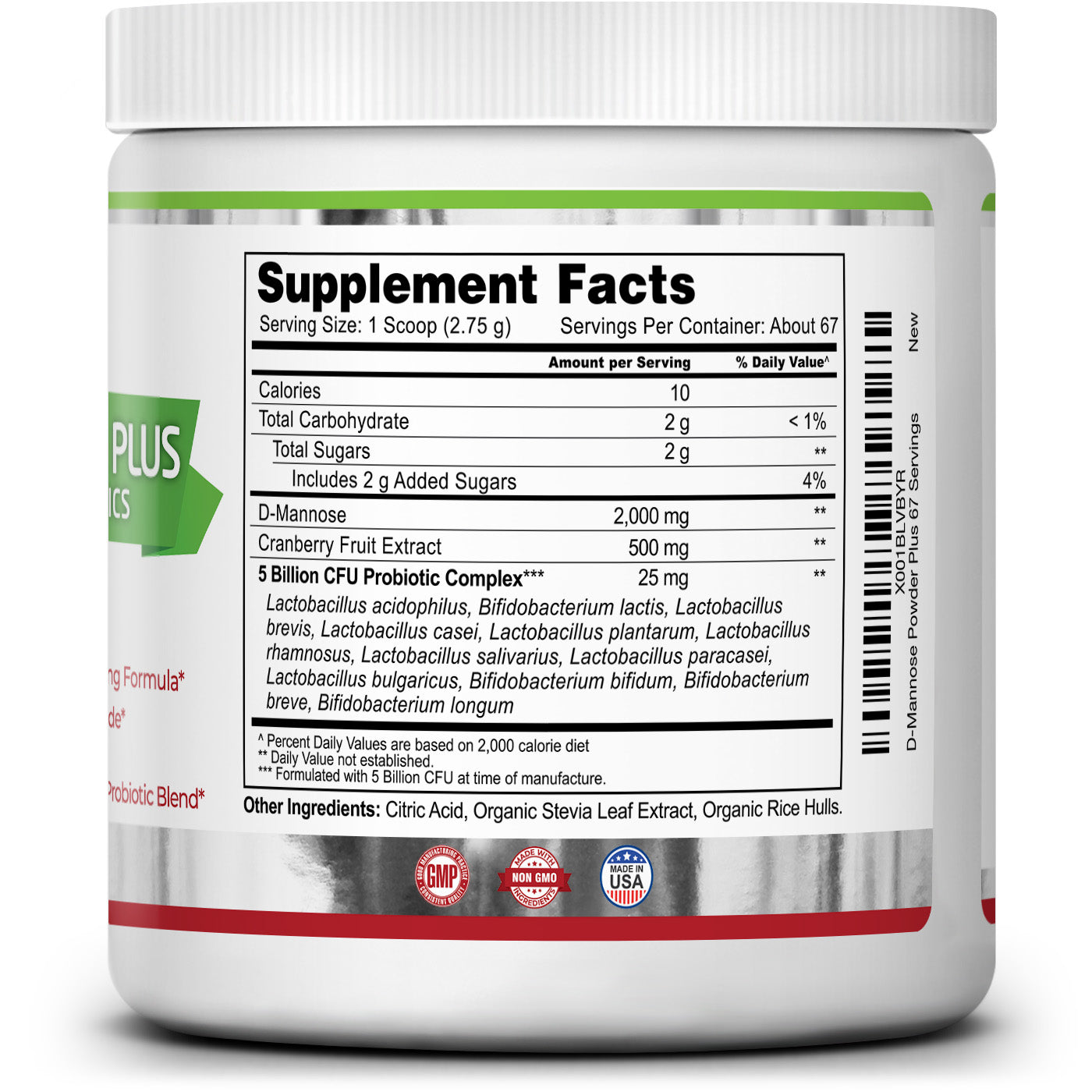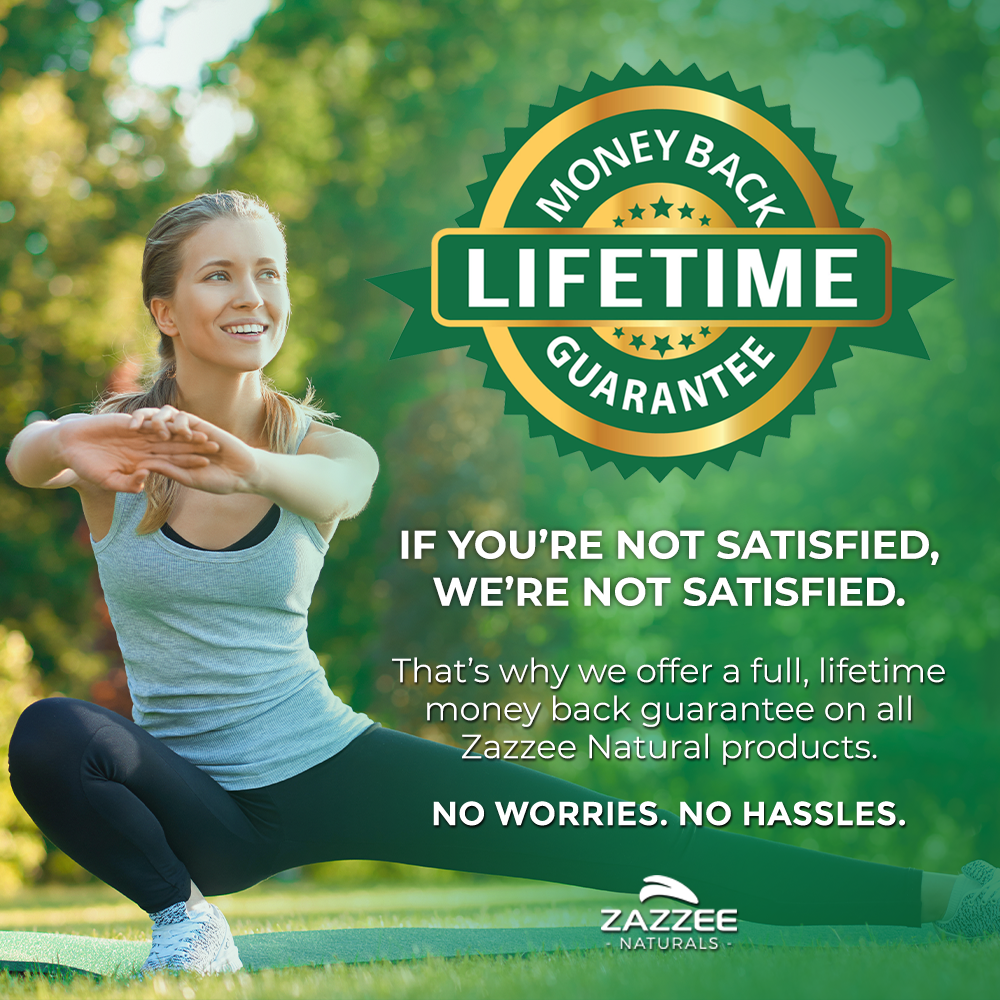 PRODUCT HIGHLIGHTS



More Effective Than D-Mannose Powder Alone

D-Mannose Powder is an effective, powerful, fast-acting approach to treating urinary tract infections. Our D-Mannose Powder Plus supercharges the effectiveness of this well-proven herb with a solid dosage of pure Cranberry Juice Extract. Even more, we have added our proprietary probiotics blend to further support improved urinary tract health.




Fast-Acting, Powerful, & Effective UTI Relief

D-Mannose Powder Plus is designed to be a fast-acting, potent, and powerful treatment for urinary tract infections. D-Mannose Powder Plus can also be taken regularly, as part of an overall approach to preventing the recurrence of urinary tract infections.




Includes Free Scoop For Exact Dosage

No more wondering exactly how much D-Mannose Powder you are actually taking. Each container includes a free, pre-measured scoop that holds exactly a single serving size. Rest assured that you are getting an exact dosage every time!




Long-Term Relief From Urinary Tract Infections

D-Mannose Powder Plus not only offers fast, immediate relief, but helps to prevent future urinary tract infections! One of the most effective ways to maintain a healthy urinary tract is to encourage the growth of healthy, beneficial bacteria. To support the body's healthy bacteria, D-Mannose Powder Plus is enhanced with 5 BILLION CFU of our PROPRIETARY 12-STRAIN PROBIOTIC BLEND.




Gold Standard Production

Your health and safety mean everything to us. For that reason, our D-Mannose Powder Plus is manufactured in the USA, in an FDA certified facility with adherence to good manufacturing policies and under the most stringent quality control. You can rest assured that you get the best value for your money!

OUR QUALITY ASSURANCES
Vegan

All ingredients are 100% vegan and made from the purest sources available.

Lab Tested

All ingredients are third-party tested to ensure quality, potency and purity.

FDA Registered Facility

Produced in FDA certified facility under the most stringent quality standards.

Gluten Free

All ingredients in this product, as well as the capsules, are 100% gluten free.

Non GMO

We ensure that all ingredients, including the capsules, are completely non-GMO.
Why Use Zazzee D-Mannose Powder?
D-Mannose Powder Plus combines the strengths of both D-Mannose Powder and Cranberry Juice Extract to provide powerful, fast-acting relief from UTIs. We have also added our proprietary probiotics blend to further support improved urinary tract health.
Five Star Reviews from Amazon
It has kept me UTI free
Pleasant taste. Dissolves easily. It has kept me UTI free. I've been taking this daily for over two months, and I've not had a UTI. And, since it also has probiotics, I don't have to take that extra pill.
Jul 22, 2018
No more UTI's!!
...This product is worth every penny and more to me!!! For 20+ years I've had to take an antibiotic prophylactically every single time after having sex or I would inevitably get a urinary tract infection and have to take even more antibiotics! I haven't had this product very long yet, but three times so far I've taken a couple doses of this afterwards and HAVE NOT GOTTEN A UTI!!! No ANTIBIOTICS!!! I will try to write a followup to this after more time has passed, but so far I am ecstatic over how well this has worked for me! I also LOVE that it's natural and that it's made here in the U.S.A.! The probiotics are a plus too! Thank you, Zazzee, for such a superior product... it will definitely be a part of my regular routine!!
Aug 9, 2019
Good protection!!!
I suffered UTI's over and over again. As soon as my antibiotics were done another infection would start. My urologist told me about d-mannose and have not had another UTI in months! It works! And I will add a BIG THANK YOU to the company. I recently had a urinalysis done as part of a physical. Everything AO
May 23, 2019
Quick relief of annoying symptoms
So happy I purchased this product. I had what I thought was a UTI that was not detected in a recent trip to the clinic. I had been having symptoms for a few weeks and they would get worse when drinking coffee or tea. The symptoms came and went. Then they became annoying. I was about to try the doctor again, but figured they would tell me things were still okay and no infection. I bought this and used it a couple times in some water for a few days. Things are much better now. I am drinking more water and have this on hand if needed. I would certainly buy this again.
Nov 12, 2018
This stuff works!
Finally! After years of recurrent urinary tract infections, rounds of antibiotics, visits to urologist, I have cured the most recent uti and have prevented recurrence while using this product. I used 2 scoops per day to cure, and now take 1 scoop per day as preventative. I had suffered 6 uti's in only 6 months prior to this. I am optimistic this product will be a helpful daily regimen and have bought more already. I have had no pre-uti twinges or side effects at all since taking this. Thank you!!
Jun 13, 2019