Regular price
Sale price
$21.97
Unit price
per
Sale
Sold out
1000 mg per serving
180 Capsules per Bottle
100% Pure (No Other Ingredients)
Lowest Price per Gram
100% Vegetarian
FDA and GMP Certified
Made in the USA
View full details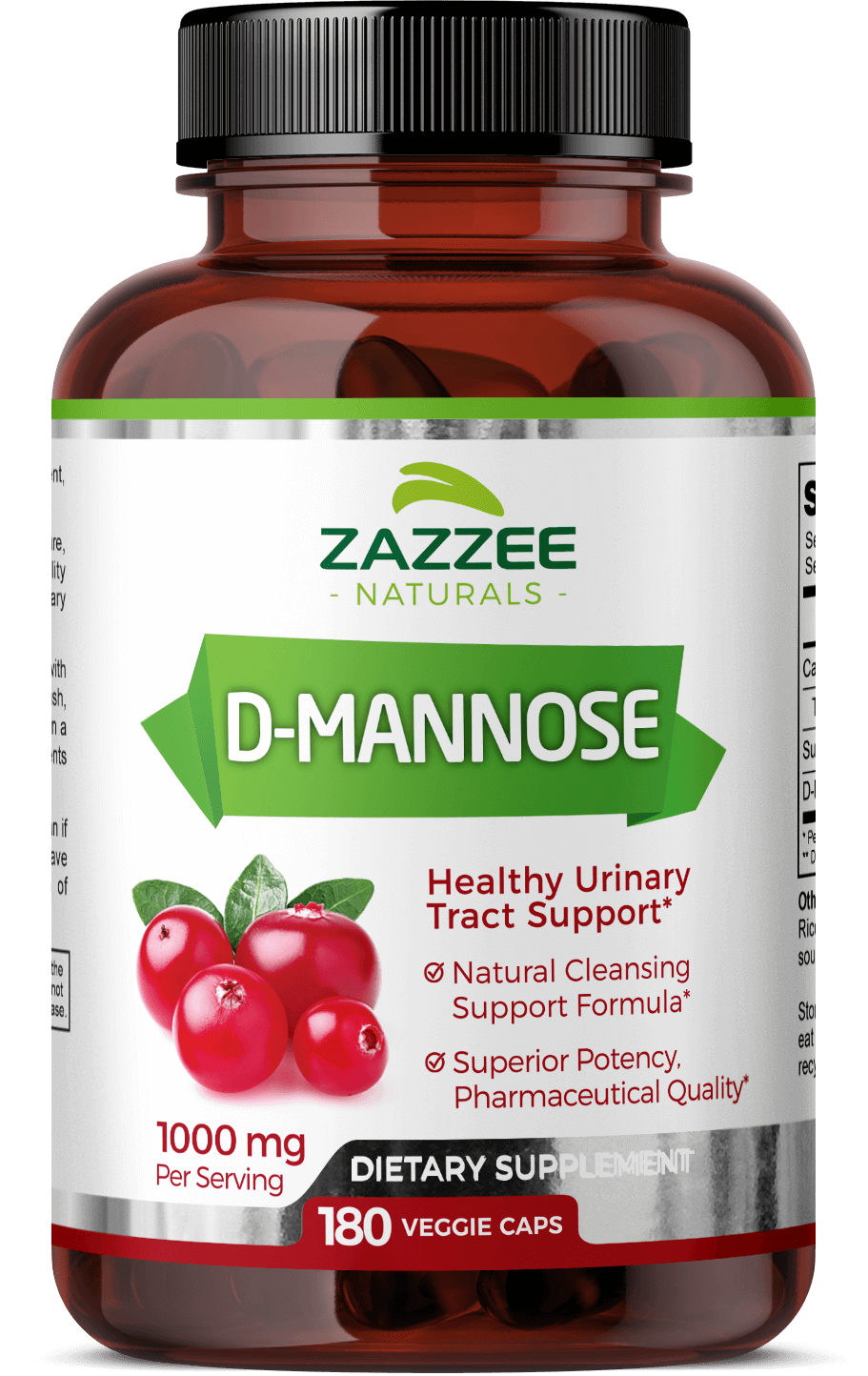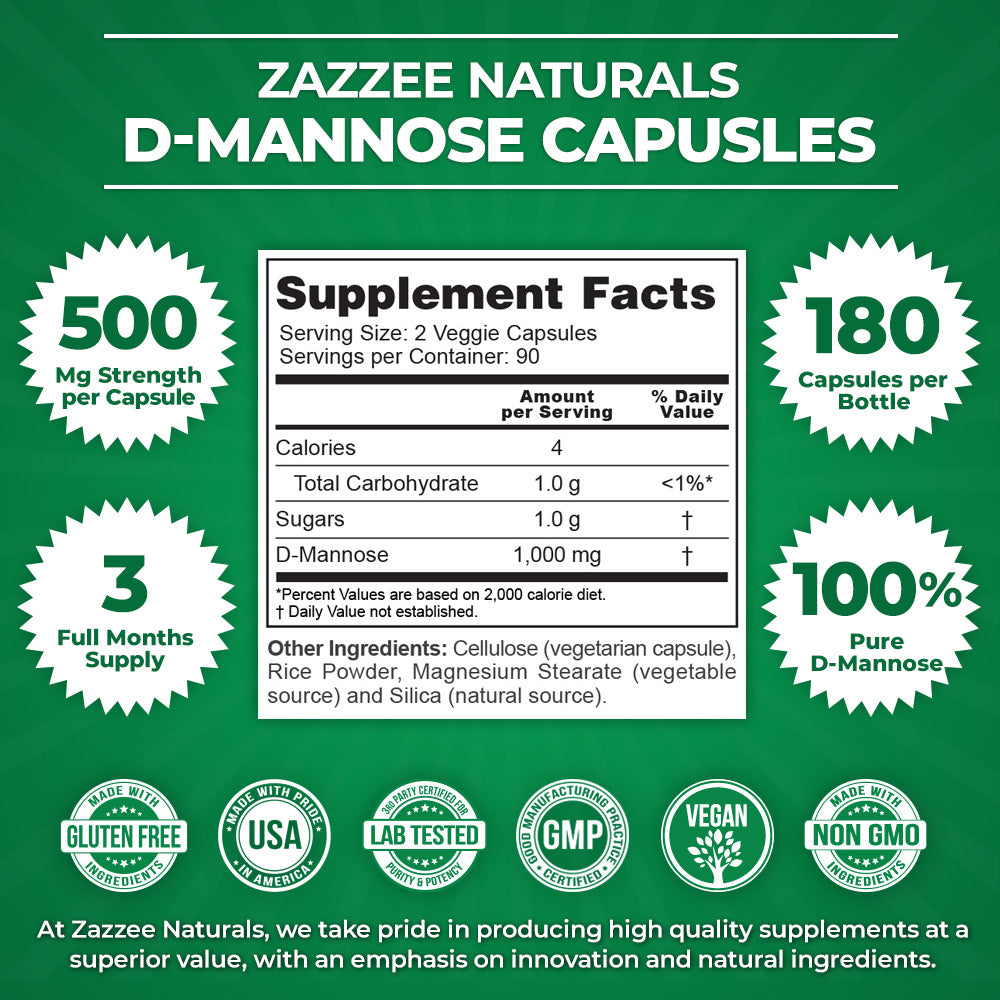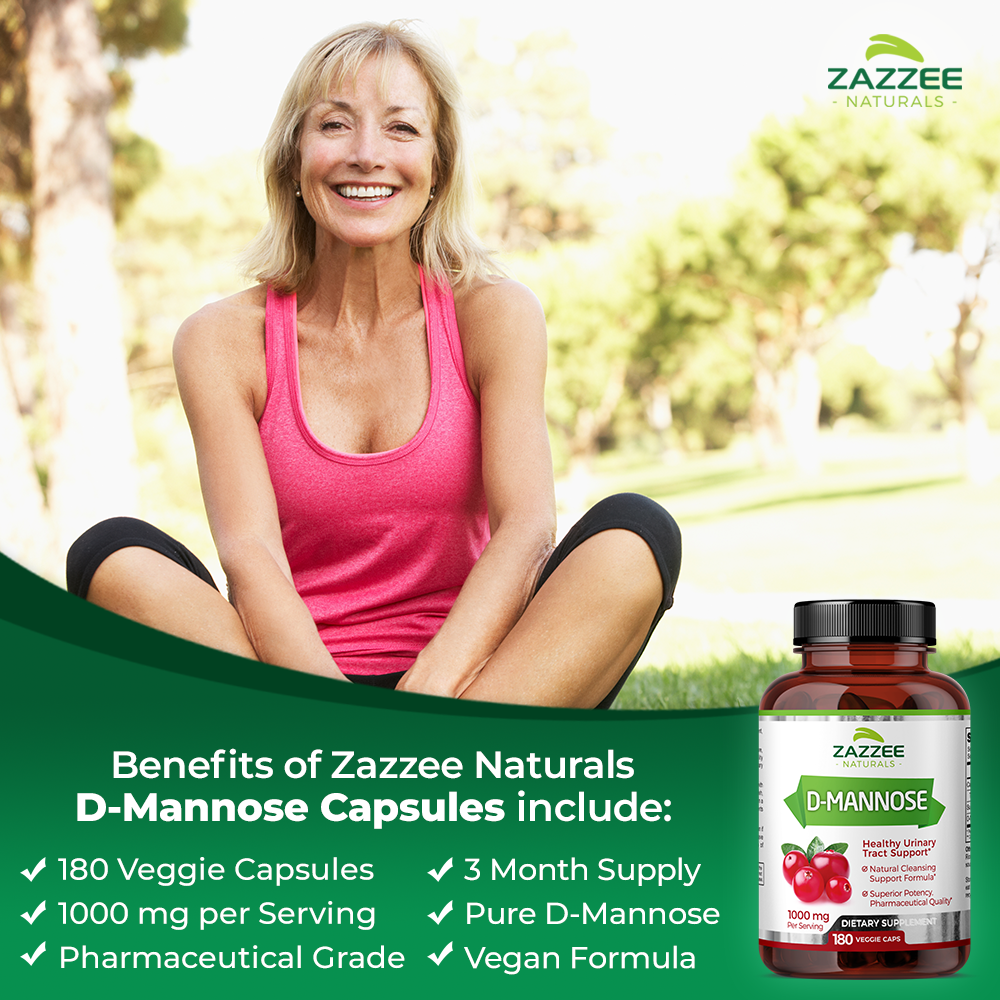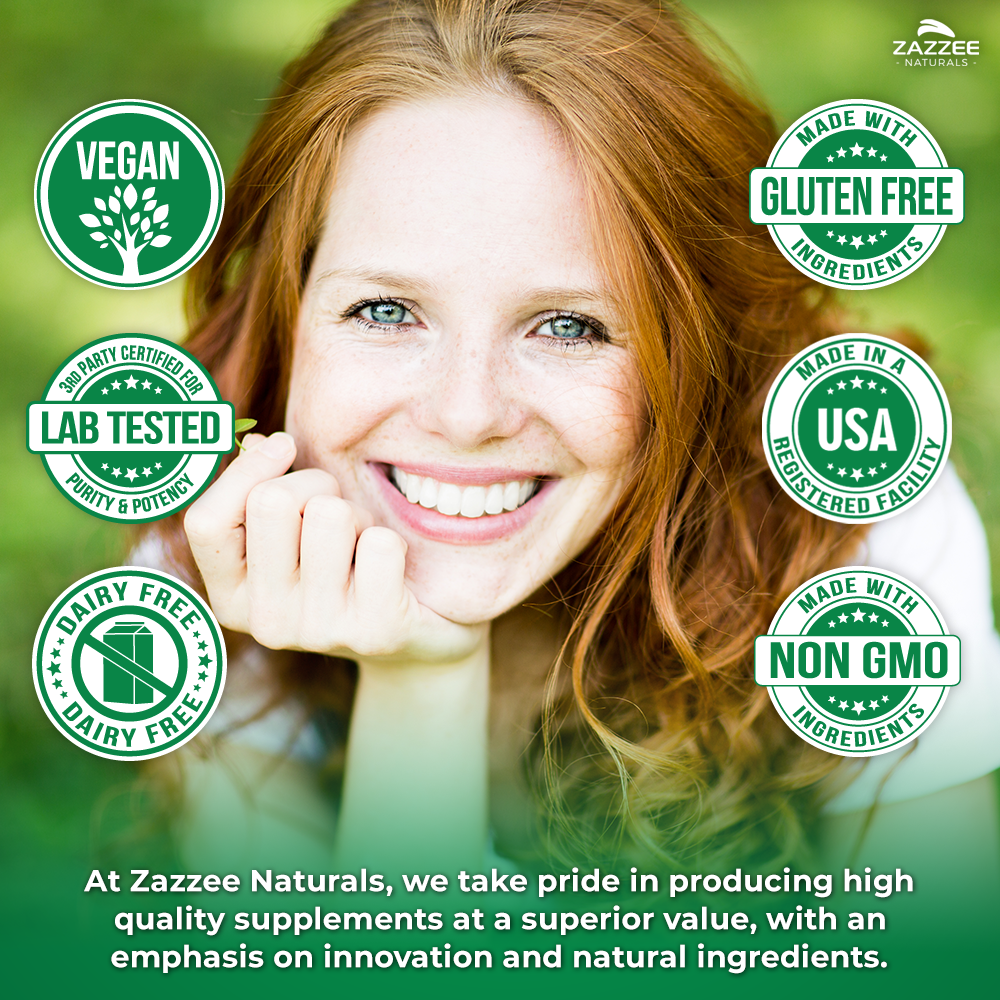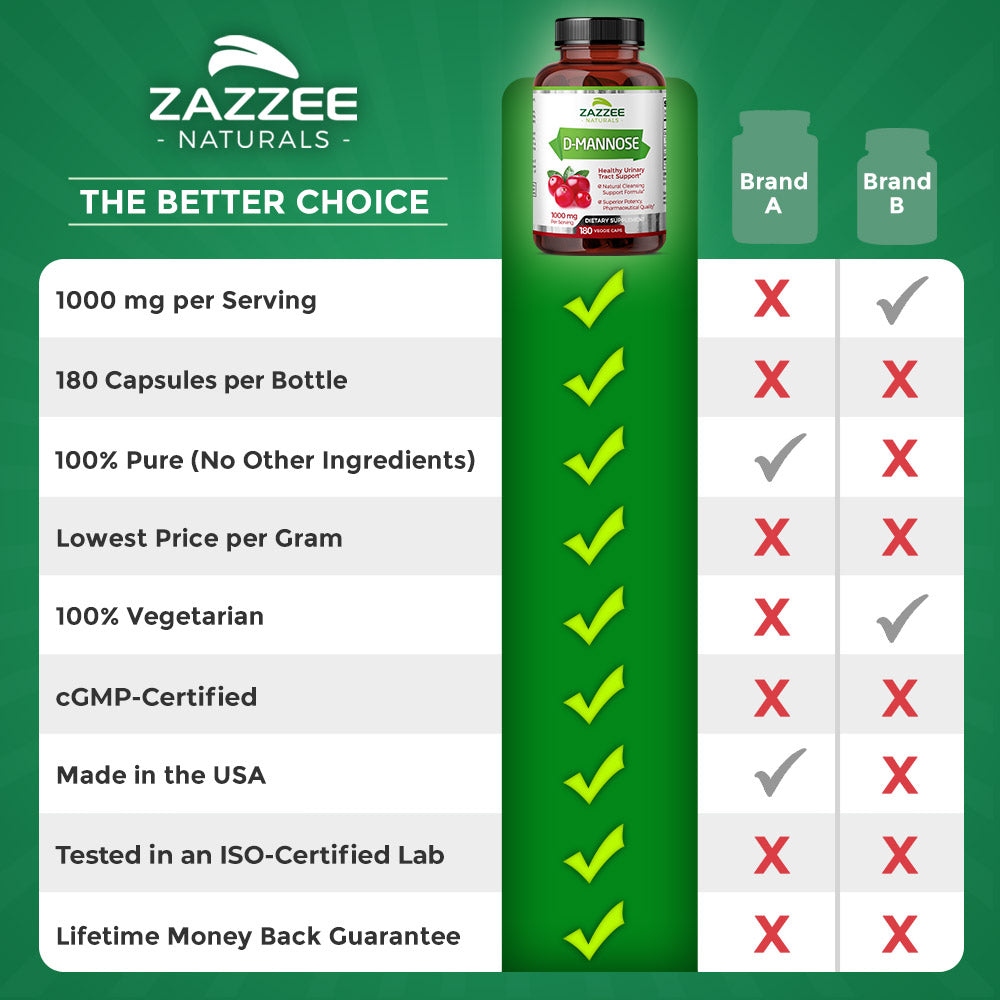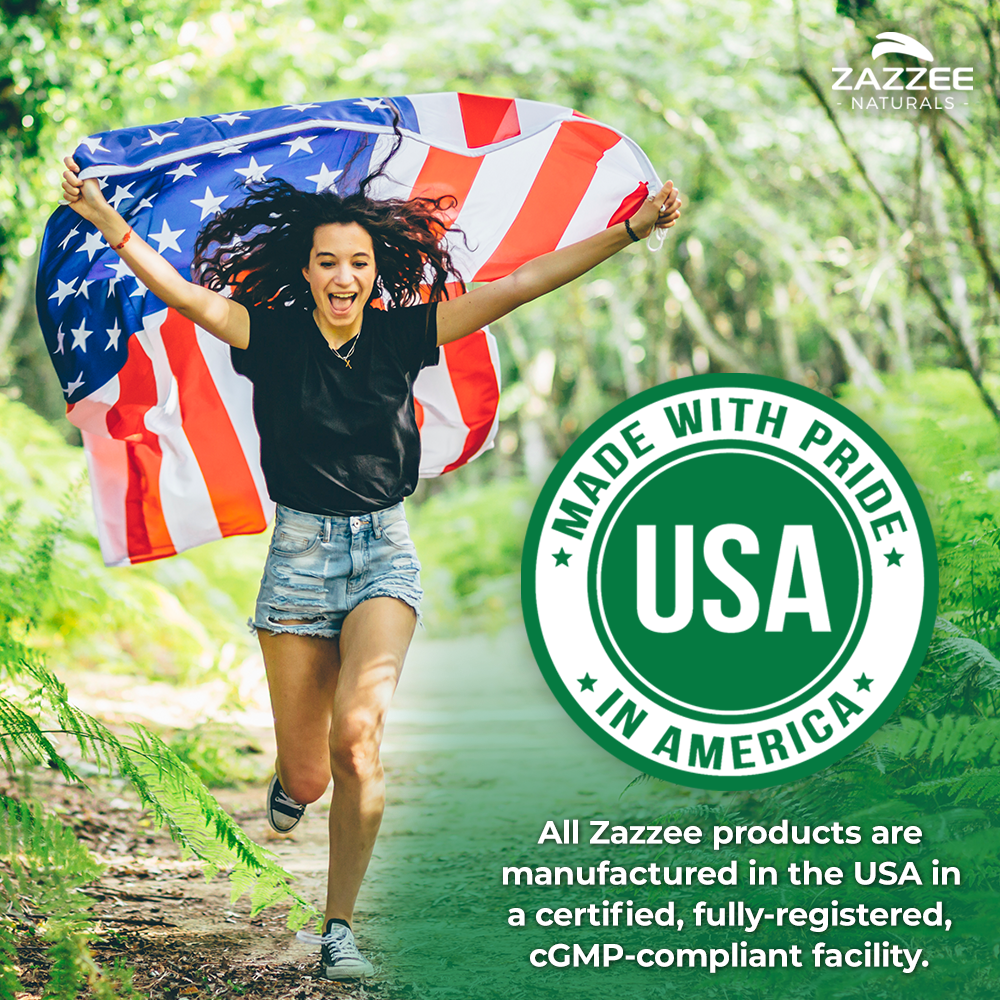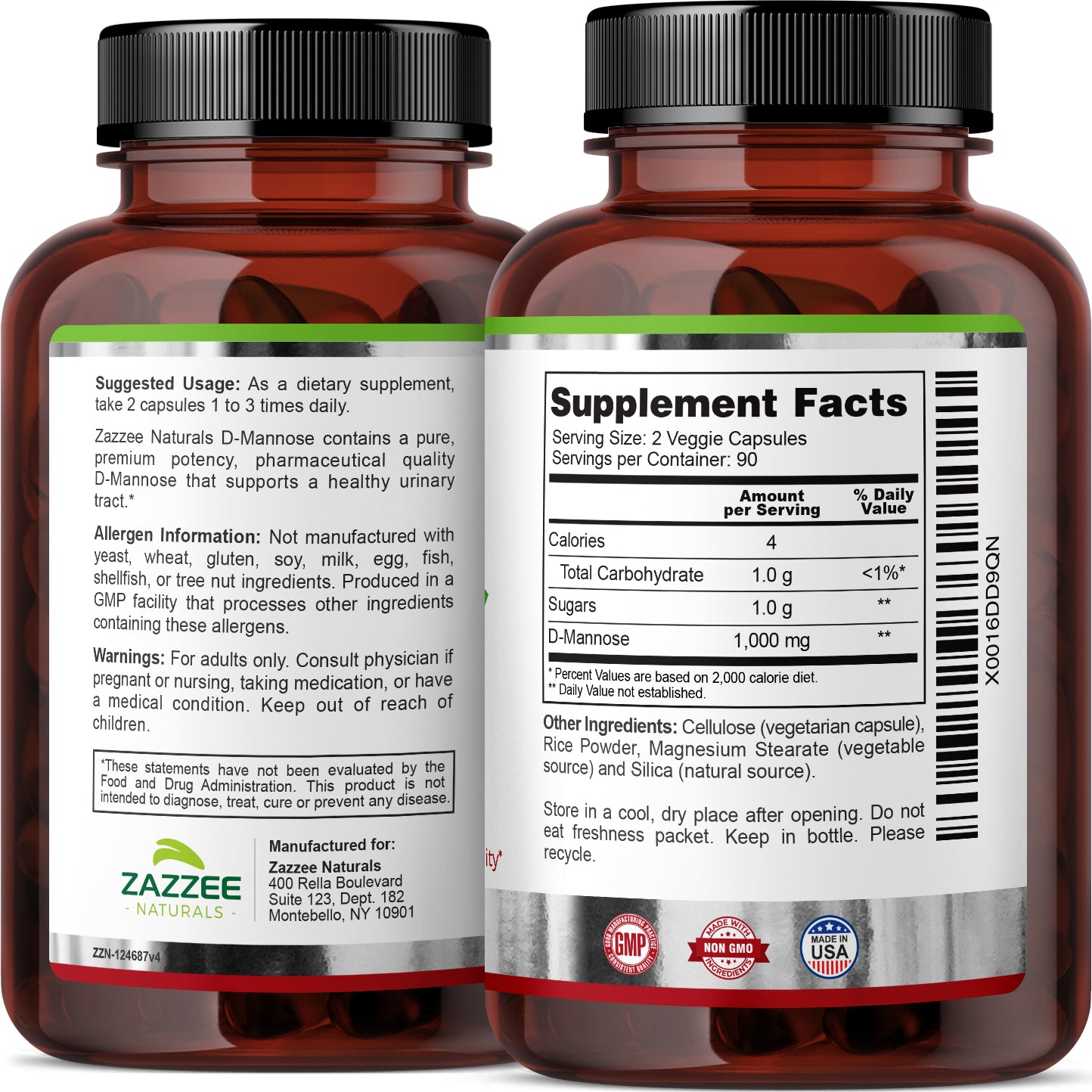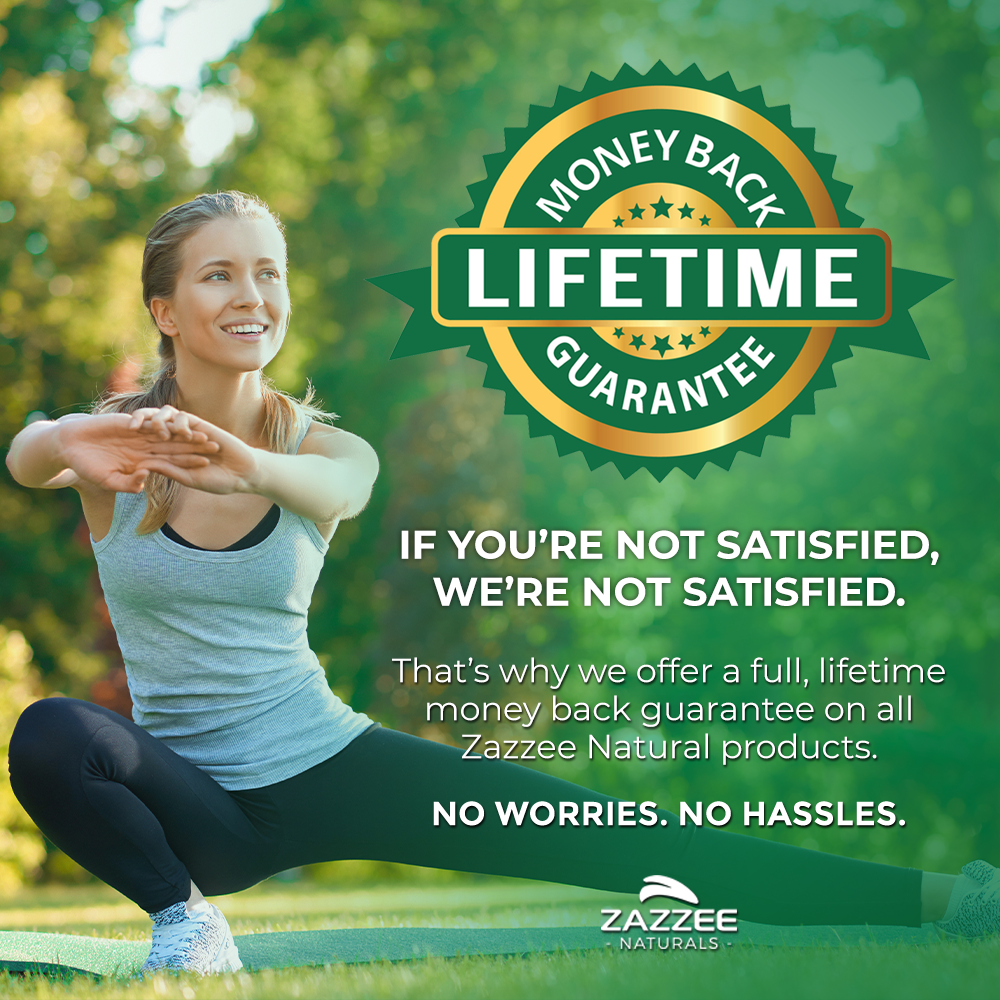 PRODUCT HIGHLIGHTS



Outstanding Value

Our D-Mannose Capsules contain 180 capsules per bottle AND 500 mg per capsule – an amazing value! With a serving size of 1000 mg (2 capsules), a single bottle contains up to a 3-month supply. Compare the cost per gram for our D-Mannose to all other brands, and you will see that our D-Mannose Capsules are the lowest price available!




Only D-Mannose for Maximum Potency

D-Mannose is the most effective way to fight and prevent Urinary Tract Infections. Our D-Mannose Capsules contain only D-Mannose, without including other additives like Dandelion Extract or Cranberry Juice. These other ingredients may sound good, but they weaken the potency of the product by taking up space that could be better used for more D-Mannose, which is many times more effective in treating UTIs.




Natural, Vegan & Non-GMO

All ingredients, including the capsule, are 100% vegan. Our D-Mannose Capsules do not contain any sweeteners, artificial flavors, wheat, gluten, soy, milk, egg, fish, shellfish, or tree nut ingredients.




Potent, Fast-Acting Urinary Tract Support

D-Mannose is all-natural, potent, long-lasting, and fast-acting! D-Mannose passes quickly into the urinary tract and bladder, where it naturally surrounds bacteria cells, the cause of UTI infections. These encapsulated cells then become free-floating, and are quickly passed out of the body in the urine. Enjoy quick, safe, and all-natural relief and prevention of uncomfortable UTIs!




Gold Standard Production

Your health and safety mean everything to us. For that reason, our D-Mannose Capsules is manufactured in the USA, in an FDA certified facility with adherence to good manufacturing policies and under the most stringent quality control. You can rest assured that you get the best value for your money!

OUR QUALITY ASSURANCES
Vegan

All ingredients are 100% vegan and made from the purest sources available.

Lab Tested

All ingredients are third-party tested to ensure quality, potency and purity.

FDA Registered Facility

Produced in FDA certified facility under the most stringent quality standards.

Gluten Free

All ingredients in this product, as well as the capsules, are 100% gluten free.

Non GMO

We ensure that all ingredients, including the capsules, are completely non-GMO.
Why Use Zazzee D-Mannose Capsules?
Our D-Mannose Capsules are particularly powerful because they contain only D-Mannose and nothing else, increasing the effectiveness of treating UTIs and cleansing the urinary tract.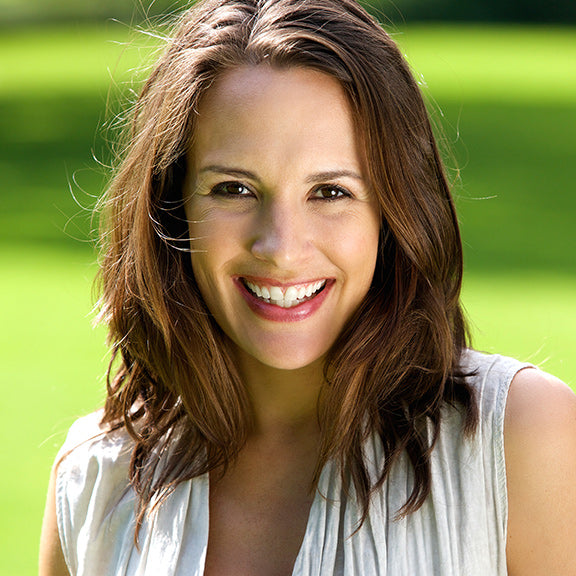 Five Star Reviews from Amazon
Life Saving Pill!!!!
Was suffering from UTI from a long time.... it was really destroying my life. Was always in fear of the horrible pain and fever that came along with it. This pill saved my life! An effective immediate prevention to uti! Dont think just buy it!
Oct 8, 2019
 It is a miracle!
Having been plagued with uti's throughout my life, many prescriptions for antibiotics, surgery to remove an extra band of skin in urethra, scar tissue that trapped bacteria, let's say I'm well acquainted with fighting them. D-mannose is a miracle medication. Knocks out an UTI immediately upon first symptoms, no trip to the doctor, no suffering, no antibiotics....can't even explain how grateful I am for this product!!
Mar 21, 2018
 Good protection!!!
I suffered UTI's over and over again. As soon as my antibiotics were done another infection would start. My urologist told me about d-mannose and have not had another UTI in months! It works! And I will add a BIG THANK YOU to the company. I recently had a urinalysis done as part of a physical. Everything AO
May 23, 2019
Works reliably and effectively
I have a bladder infection that is resistant to drugs. I take this dmannose as directed every morning and occasionally repeat during the day and this keeps my symptoms at bay. I depend on this d mannose!
Jul 7, 2019
Just GREAT!!!
I've been dealing with a persistent UTI for going on a month. I've taken way too many antibiotics, done a ton of cultures and had a renal sonogram to try to figure out how to combat this thing and it just would not quit. My doctor recommended D-Mannose and I was delighted to find this product; it was about an eighth of the price of several supplements she recommended, came in a large supply, and arrived promptly so I could begin treatment right away. Even more amazing, the company sent me a follow up email the day they were delivered with details and tips for getting the greatest effect from the supplement (amount of water to drink, whether or not to eat before ingesting, etc). After a week of taking the supplement, I finally felt relief from my UTI for the first time in a month and my urine culture was finally clear. I've never been so satisfied with a supplement in terms of price, effectiveness and customer service. Highly recommend.
Mar 18, 2019