Regular price
Sale price
$14.17
Unit price
per
Sale
Sold out
9000 mg Strength per Capsule
150 Capsules per Bottle
Min. 5% Caffeoylquinic Acid
Potent 20:1 Extract
100% Vegetarian
Fully Certified and cGMP Compliant
Tested in an ISO-Certified Lab
View full details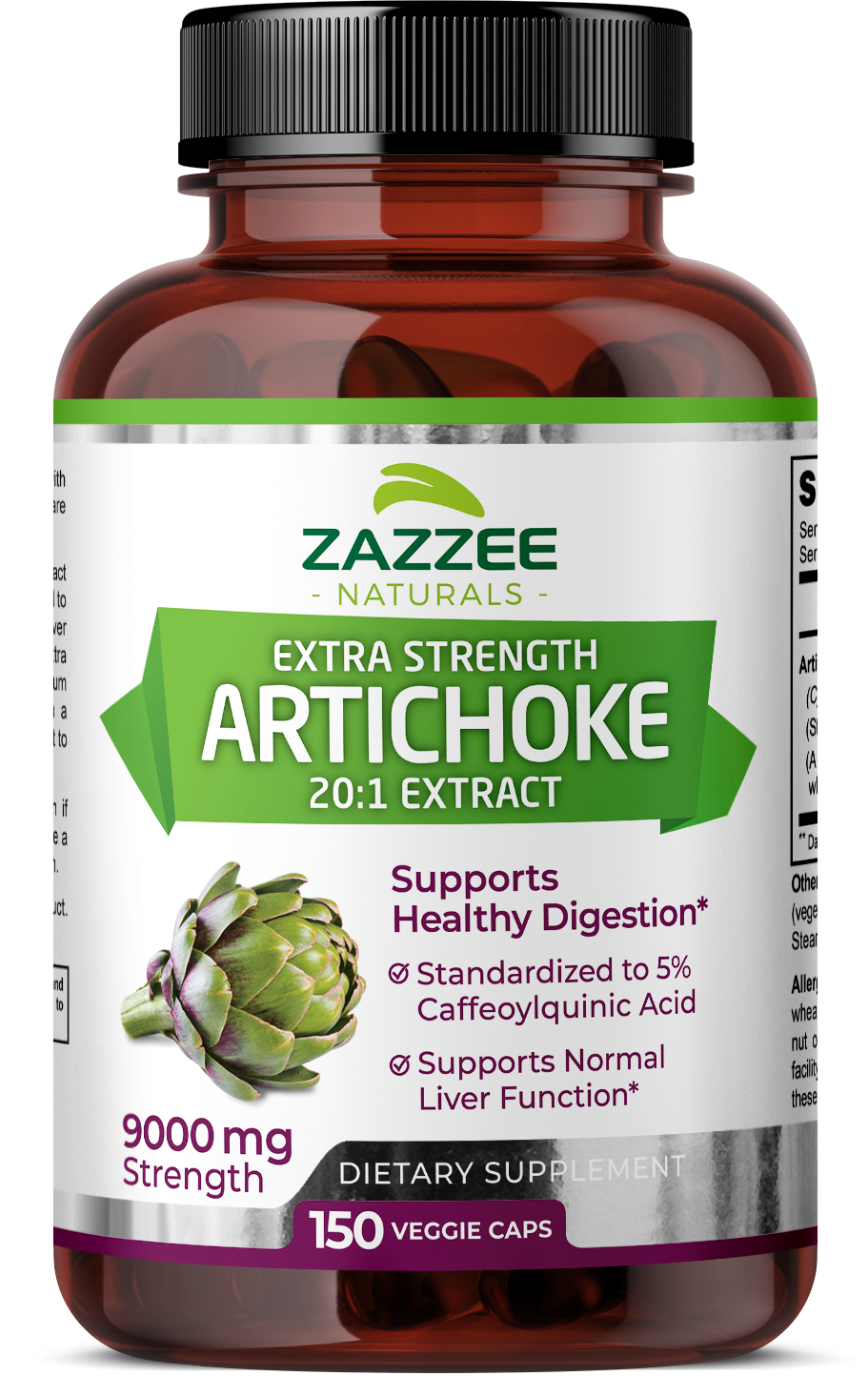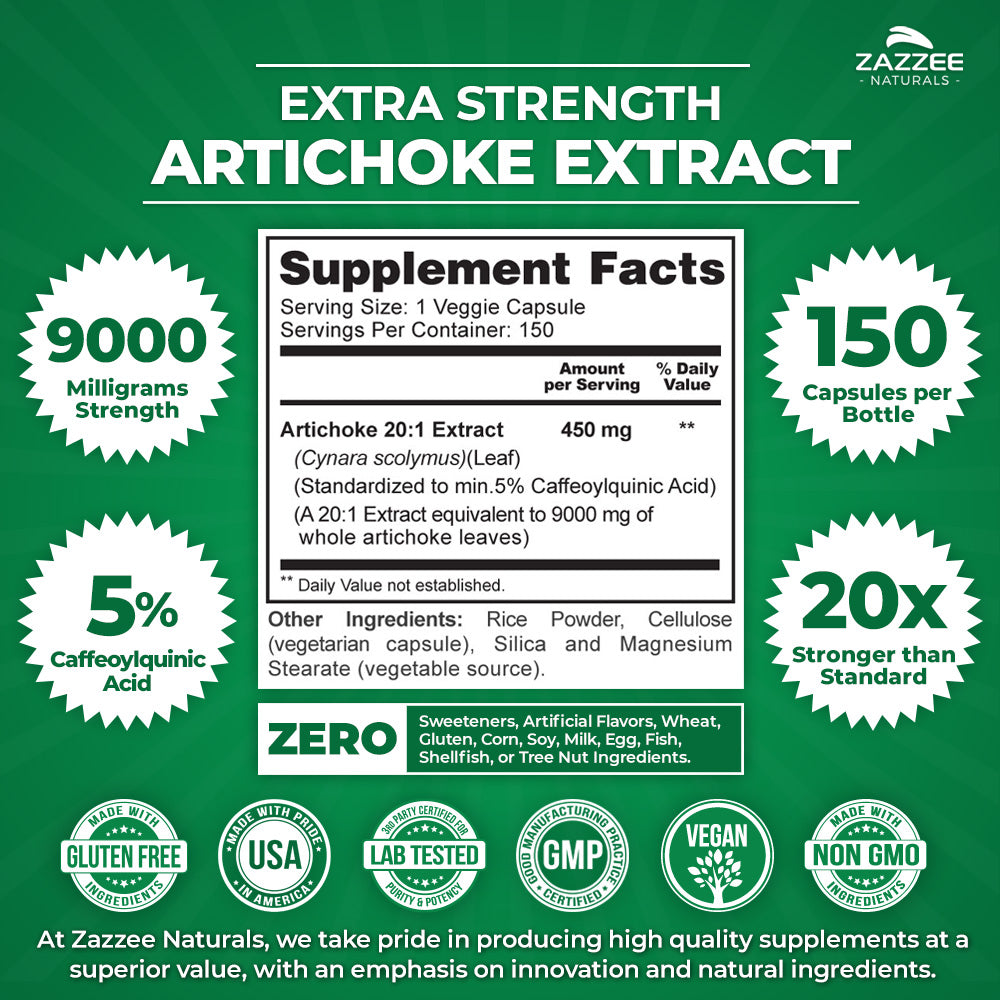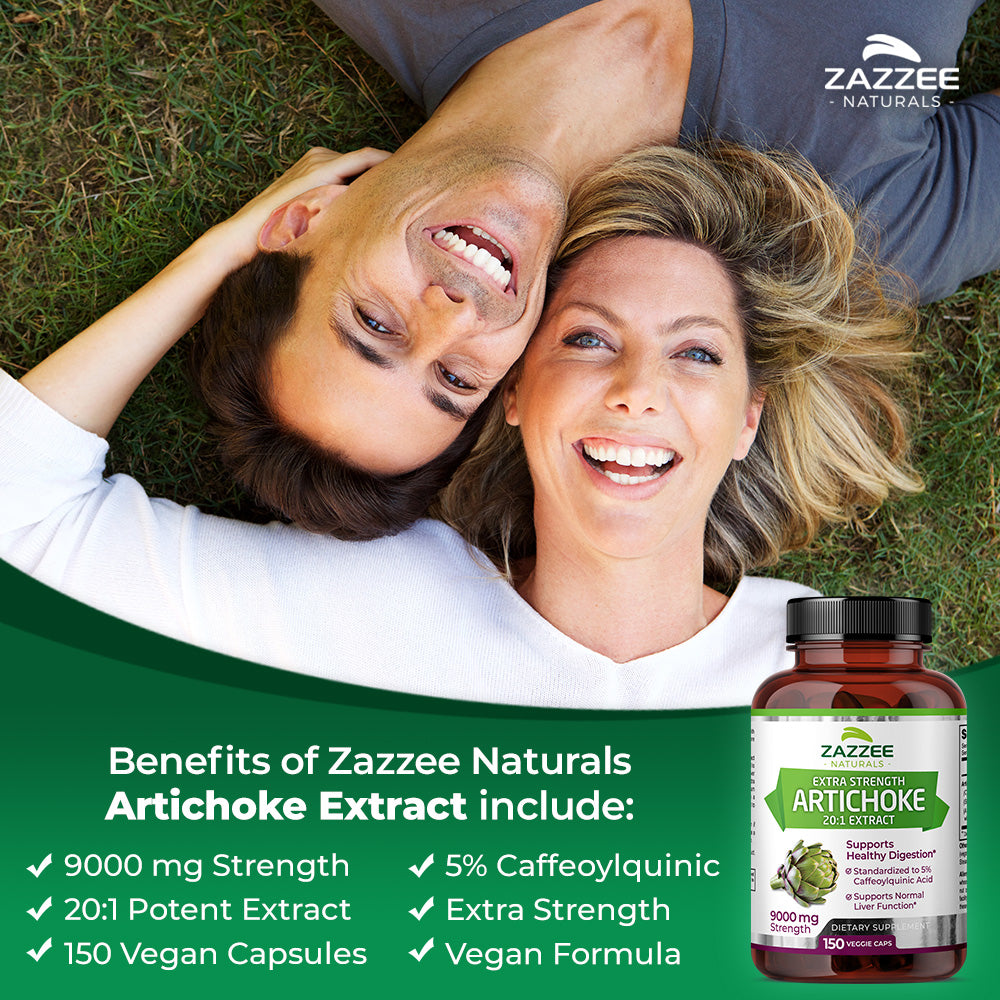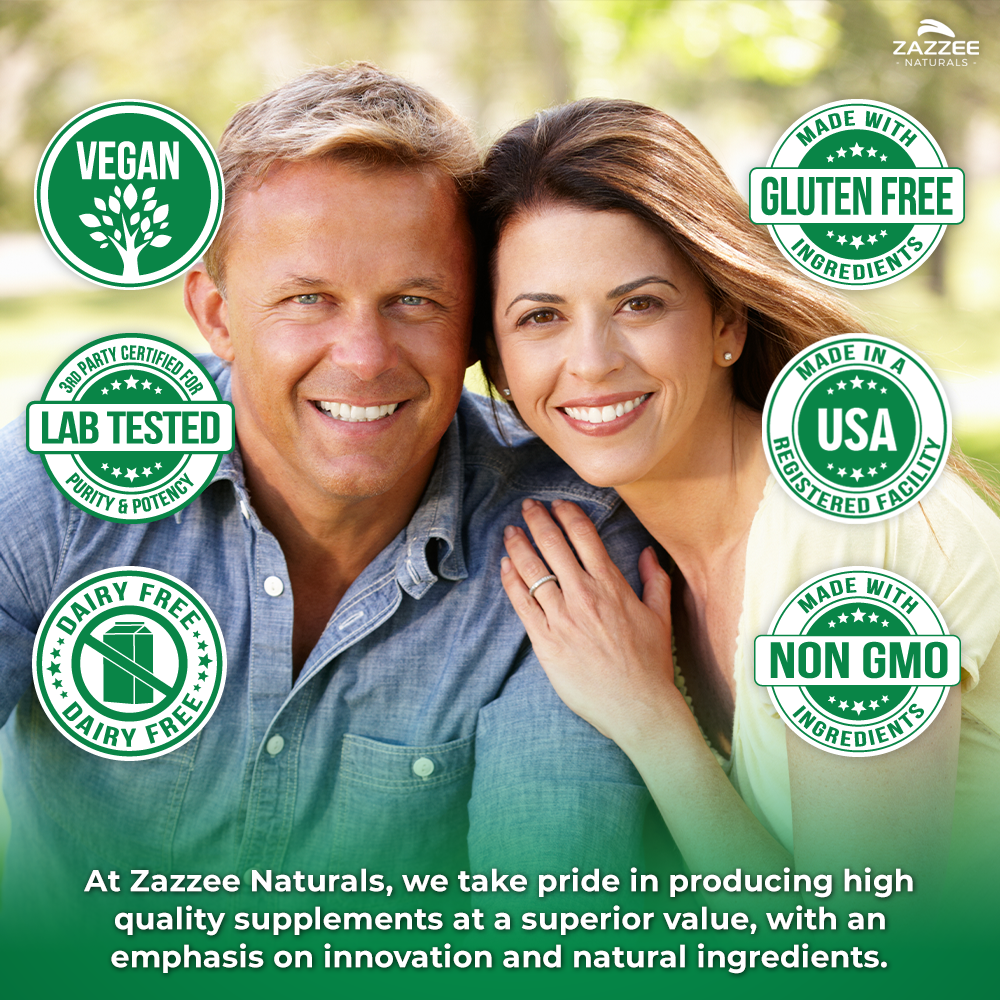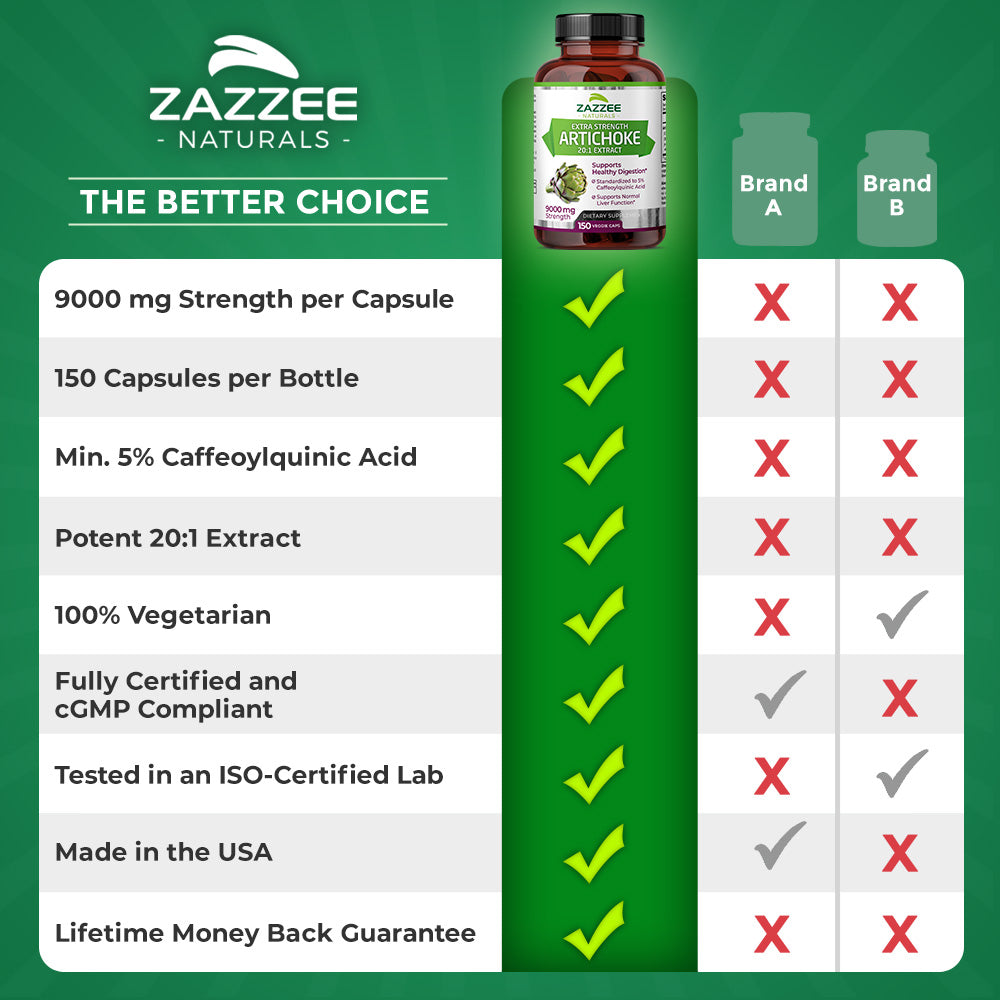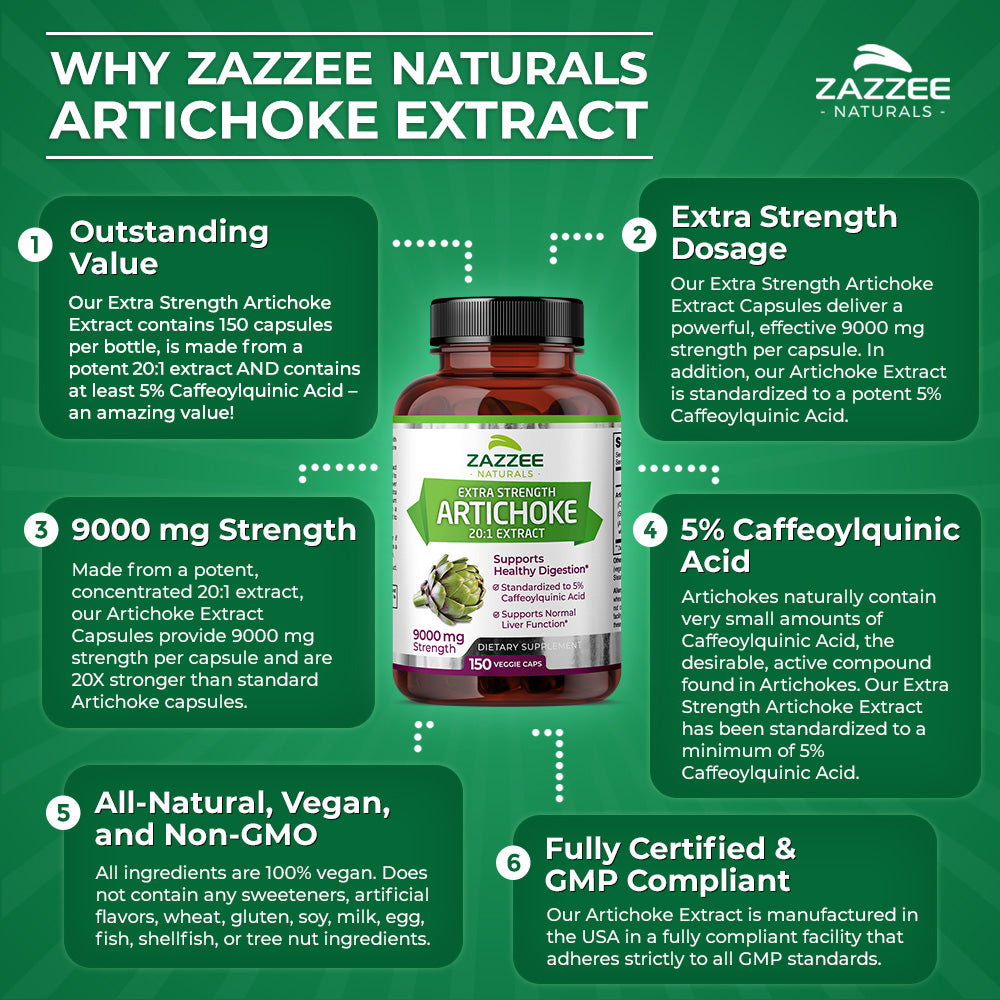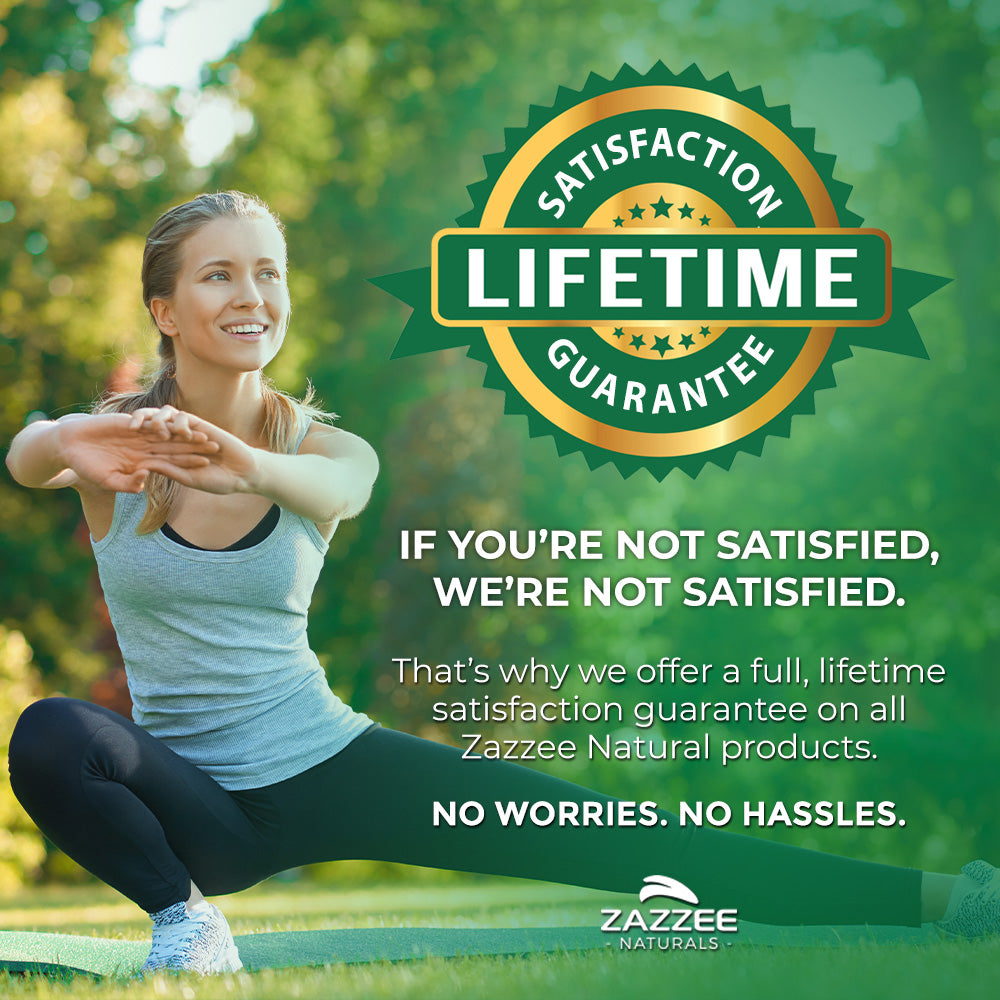 PRODUCT HIGHLIGHTS



Outstanding Value

Our Extra Strength Artichoke Extract contains 9000 mg strength per capsule AND 150 capsules per bottle – an amazing value! A single bottle contains a 5 month supply. Compare this to other leading brands that require 2 capsules per serving, contain less than 150 capsules, and use a much less potent, non-extract powder. Our Extra Strength Artichoke Extract is a bargain not be found elsewhere!




9000 mg Strength, Potent 20:1 Extract

Each capsule contains 9000 mg strength of Artichoke Extract from a potent, powerful 20:1 extract. Combine that with a minimum of 5% Caffeoylquinic Acid, and our Extra Strength Artichoke Extract is one of the strongest dosages available!




5% Caffeoylquinic Acid

Caffeoylquinic Acid is the "good stuff", the beneficial compound in Artichoke that provides the desired results. Our Artichoke Extract has been standardized to contain a minimum of 5% Caffeoylquinic Acid, which is one of the highest standardization numbers available. The higher the numbers, the more potent the extract. Clearly, not all Artichoke is created equal!




Natural, Vegan & Non-GMO

All ingredients, including the capsule, are 100% vegan. Our Extra Strength Artichoke Extract does not contain any sweeteners, artificial flavors, wheat, corn, gluten, soy, milk, egg, fish, shellfish, or tree nut ingredients. Enjoy the amazing benefits of our potent Artichoke Extract without worrying about what else might be hiding in each capsule!




Gold Standard Production

Your health and safety mean everything to us. For that reason, our Extra Strength Artichoke Extract is manufactured in the USA, in a fully certified facility with adherence to good manufacturing policies and under the most stringent quality control. You can rest assured that you get the best value for your money!

OUR QUALITY ASSURANCES
Vegan

All ingredients are 100% vegan and made from the purest sources available.

Lab Tested

All ingredients are third-party tested to ensure quality, potency and purity.

FDA Registered Facility

Produced in FDA certified facility under the most stringent quality standards.

Gluten Free

All ingredients in this product, as well as the capsules, are 100% gluten free.

Non GMO

We ensure that all ingredients, including the capsules, are completely non-GMO.
Why Use Zazzee Artichoke Extract?
Artichoke supports healthy digestion and normal liver function. Numerous studies have shown that Artichoke Extract helps minor stomach issues such as indigestion and heartburn.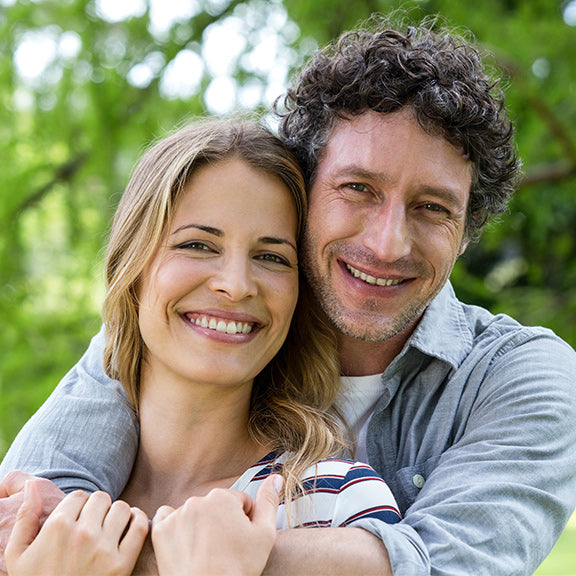 Five Star Reviews from Amazon
Trusted and Convenient Supply of Artichoke Extract
I have long been a fan of Zazzee's commitment to delivering top-quality supplements, and their Extra Strength Artichoke 20:1 Extract is yet another testament to their reliability. As a brand I know and trust, Zazzee consistently exceeds my expectations, and this artichoke extract is no exception. One of the key highlights of this supplement is the generous 5-month supply it offers. With 150 vegan capsules in each bottle, it's incredibly convenient, saving you the hassle of frequent reordering. This extended supply not only ensures you have a consistent source of artichoke extract but also allows you to experience its potential benefits for a more extended period. Knowing that Zazzee's products are made in the US under the highest manufacturing standards adds an extra layer of confidence in their quality and purity. This dedication to excellence is particularly important when it comes to supplements, and it further solidifies my trust in the brand.
Oct 2, 2023
Helps establish good gut flora
I feel this helps my digestion and digestion system, less discomfort when I take this.
Sep 30, 2023
Great product
I trust this brand and I order some other supplements from them. This one is also a good quality . I take it for my digestion and liver support. It works. I don't have any side effects.
Oct 4, 2023